How to Crochet Edges & Make Crochet Borders on Patterns
Bonus: Get our newsletter & special offers for free. We will not share or sell your email address. View our Privacy Policy

What is a Stitch in Crochet?
Learn about crochet stitches with this quick guide. It's a crochet 101 page that's perfect for beginners!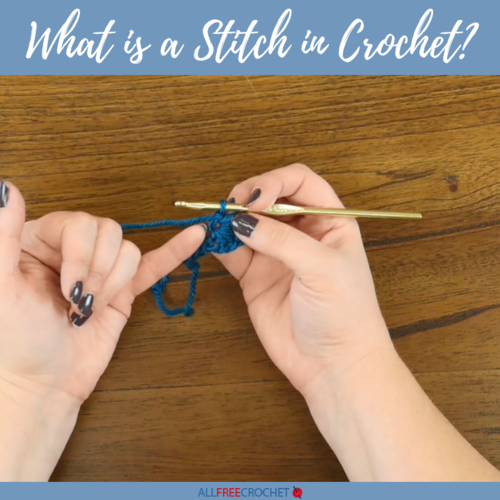 If you are an ultimate beginner who wants to learn everything there is about crochet, then you probably have this question: What is a Stitch in Crochet? A crochet stitch is a result of moving a crochet hook through yarn to achieve a specific shape and look in your crochet pattern. Its abbreviation is st for a single stitch and st(s) for more than one stitch.

You can learn basic crochet stitches with our helpful page, 20+ Basic Crochet Stitches. With that guide, you will be walked through the most popular stitches you'll need to know when learning crochet. There are written instructions and links to our video tutorials as well. It's such a great page and incredibly helpful for beginners.

On this page, we are going over the anatomy of crochet stitches so that you can better understand patterns, tutorials, and other crochet terminology. Although this seems super simple, it helps beginners to see and fully comprehend crochet from the very start.
 
Learn how to count your crochet stitches in your work. Plus, learn how to find crochet stitches in any crochet work. This is the page you should visit after this one: How to Count Crochet Stitches
What is a crochet stitch?
So, what exactly in crochet is the stitch? Well, a stitch can refer to each loop of yarn on a crochet hook or crochet piece or a completed named stitch that you have made using your hook.

If the stitch is named, the pattern will state it in full or with an abbreviation. Otherwise, it will simply state "stitch" and it's implied that it's the specific loop created previously or still on your hook that is described in the pattern.

You may have heard terms that include the word "stitch" such as slip stitch, v stitch, shell stitch. Some others may not include that word at all, such as the first stitches you'll learn: single crochet, double crochet, and triple crochet.

A stitch is a series of specific movements made with yarn on your crochet hook that will result in a finished stitch. It can be one movement or many movements, depending on what you are crocheting.

Crochet stitches with distinctive names tend to resemble the name. One shell stitch looks like one shell, one v stitch looks like a "v," and one popcorn stitch looks like a piece of popcorn. See the examples below.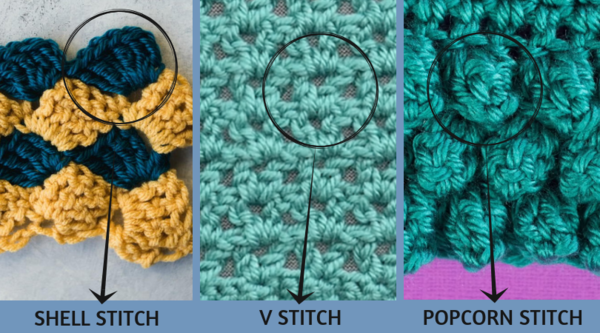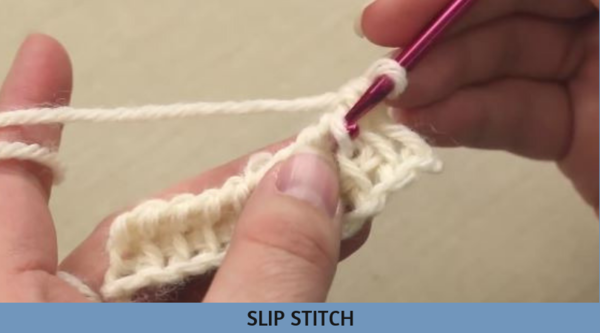 Now, here's the kicker: you use some crochet stitches to create other crochet stitches.

Single crochet is made by doing the following: Insert your hook into center of your next working chain. Yarn over and draw through the chain stitch and up onto the hook so that you have two loops on your hook. Grab the yarn and draw it through both loops on your hook, leaving just one loop on your hook. You've made one single crochet stitch.

A shell stitch is made by doing the following: Chain a multiple of 6. In the 4th chain from the hook, work four triple crochets. Skip 5 stitches. Work a single crochet into the stitch. Chain 2. Work three triple crochets in the same stitch. At the end work a single crochet in the final stitch. Change your color of yarn if desired. For your second row find that chain 2 space from your previous row. Work in that chain two space and do a single crochet. Chain 2. Work four triple crochets in that same stitch.

V stitch is made by doing the following: Chain 3 from your previous row. The chain 3 will count as one stitch, so skip your second stitch. Yarn over, insert your hook into the stitch. Yarn over and pull through the stitch. Finish your double crochet stitch by yarning over and pulling through 2, then yarning over and pulling through 2 more. To make this stitch a v stitch, you simply chain one and do another double crochet in the same stitch. You've now completed one v stitch!

So, as you can see, more complex stitches use the basic stitches to create the full stitch design. As you progress in crochet, you will see patterns that include multiple types of stitches or variations of stitches you know. These are often called "special stitches" and they are explained in the pattern or in a key on the pattern page.
 
Free projects, giveaways, exclusive partner offers, and more straight to your inbox!
Tags / Related Topics
Your Recently Viewed Projects
Images from other crochet readers


Something worth saving?
SAVE all your favorite patterns
ADD personal notes
QUICKLY reference your patterns