How to Make T-Shirt Yarn
Learn how to make t-shirt yarn from fabric with this helpful tutorial.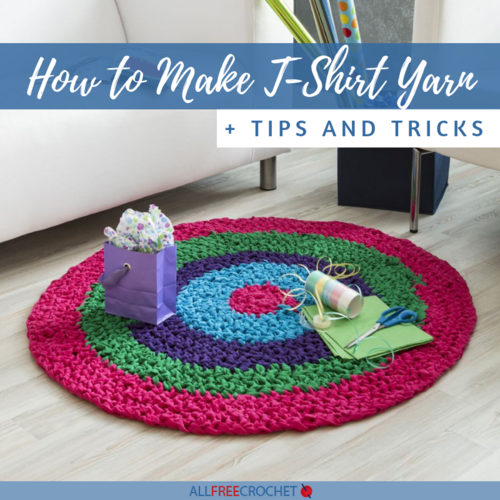 Do you love working with bulky, thick yarn but hate how expensive it can get? Are you longing to find a DIY alternative? Do you love the thought of crocheting with fabric strips?

We have good news for you: making your own t-shirt yarn is super easy! With this page, you'll not only learn about the characteristics of this interesting material but How to Make T-Shirt Yarn, too.

In this easy-to-follow t-shirt yarn tutorial, you will see how fun and simple it is to repurpose those old shirts into long fabric strips you can crochet with and put a whole new spin on your work. We also have expert tips and tricks from crocheters who work with t-shirt yarn to help you master it.

T-shirt yarn is thick, plush, and it creates a different look and feel than any other yarn out there. With this DIY yarn, you can work up rugs and bath mats and even thick and sturdy crochet baskets to keep everything neat and organized. Give it a go with this how-to guide!

What is T-Shirt Yarn?
T-shirt yarn is unique because it's a cotton or jersey material that results in, as mentioned in the intro, stretchy and thick. Ideal for many crochet projects (also knit and weaving projects) that need to be strong but soft, like rugs or pillows, but pretty great for everything else, too.
 
Most yarn companies have a t-shirt yarn line. Some of the most popular include Wool and the Gang's Jersey Be Good, Red Heart's Strata, Hoooked's Zpagetti Yarn, and Tarn (which is almost exclusively t-shirt yarn). The benefit of buying t-shirt yarn is that it is manufactured to curl and fray less than homemade versions.

However, making your own t-shirt yarn is a fun activity in itself and it allows you to not only repurpose old shirts you have but to save some money by DIYing it. One of the reasons we love t-shirt yarn crochet patterns is that it's thick, sturdy yet flexible, washable, and fun to work with. It's similar to bulky yarn and so most patterns require larger crochet hooks.

You don't need too much to get started, just an old shirt and some scissors. For the old shirt, it's preferable to be one without side seams so you get the smoothest yarn. Also, you'll want to try and choose shirts without logos since those parts of the shirt can be a little stiff. However, everything else is fair game.
 
How to Make T-Shirt Yarn
Materials List:
An old t-shirt or shirts
Scissors
Ruler
Pro Tip:
Rose from
Loopingly Made
has designed several pieces using
her own shirt yarn
and says,
"If you are cutting the t-shirt yourself be sure to make them as equal in width as possible. It does not have to be perfect, just similar. And also stretch them, this will make the curl inward and easier to work with."
Instructions:
Lay your shirt out flat, either on a desk or on a mat. Trim off the bottom hem and the top above the armholes so that you're left with a fabric tube. 
 
Fold your shirt in half, bringing both seamed edges together. Cut your shirt into strips, as thick or as thin as you want (typically an inch wide) from one seamless side almost all the way across to the other. Don't cut all the way through the extra space you left - leave about an inch or so of uncut fabric. 
 
Unfold your shirt and place your hand through the shirt to where your inch or so was that you didn't cut. Make diagonal cuts connecting the first cut to the second, the second to the third, etc. 
 
Starting with one end, pull the strip through your hand and stretch it a little. This will allow the edges to curl in and make a rounder yarn. 
 
Wind your yarn into a ball and you're good to go!
 
Tips on Crocheting with T-Shirt Yarn
Because it's stretchier than traditional yarn, there are several details to keep in mind when working with it. Many of these tips apply whether you are crocheting, knitting, or using it in some other manner. Be sure to check out the tips we have for preparing your yarn and caring for the finished pieces in the next section. We also have a couple of recommended further readings that will help you master working with this creative material.

Yolanda from All Crafts Channel is the designer of our fave T-Shirt Yarn Summer Handbag and she says that it's important to try to NOT stretch the t-shirt yarn out while working with it or else you get an uneven look with your finished product.

It's important to keep hand and wrist pain at bay when working with this type of stretchy material. Designer of many t-shirt yarn projects including the adorable One Skein T-shirt Yarn Basket (shown below), Nicole from Nicki's Homemade Crafts has some great advice about this. She says,

"T-shirt yarn is such a great way to add texture and sturdiness to a project. In my opinion, its the best yarn to create instant stability without having to use additional chemicals to make the project keep its shape. But even though you can buy t-shirt yarn or make it yourself - by cutting up old shirts into long strips - make sure you take care of your hands, wrist, and arms. Stretch them often and take breaks. T-shirt yarn is not very stretchy and flexible when crocheted so it can hurt your hands, wrist, and arm after a while. But I must tell you the process is worth it. Because projects made with t-shirt yarn look so amazing and last a long time."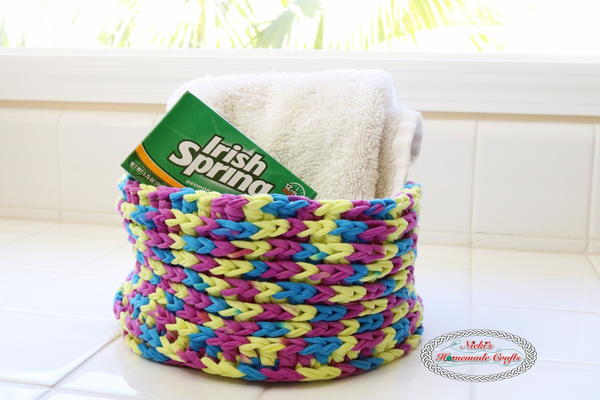 Marie from Underground Crafter also works with t-shirt yarn a lot (she is the designer of the pretty Glamping Trivet shown below) and she has some related tips on crocheting without becoming sore. She says,

"T-shirt yarn is pretty dense and it makes great structural projects. A lot of crocheters stitch tightly when working with t-shirt yarn to make their projects stiff. Be sure to take breaks and stretch your hands so you don't strain them while making your next t-shirt yarn project."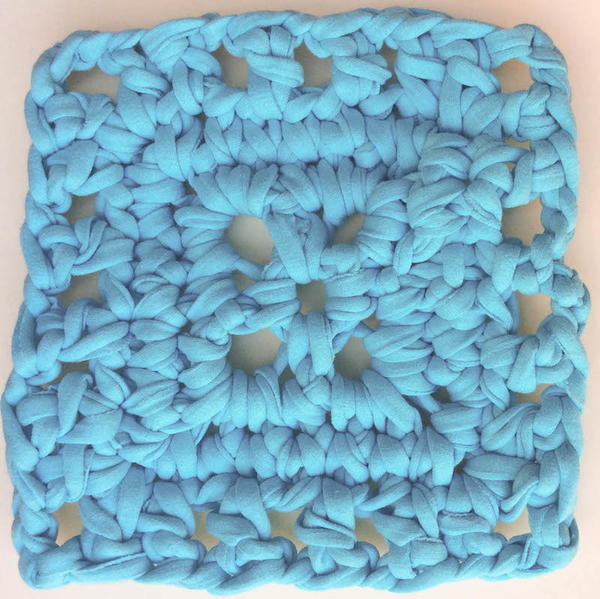 How about incorporating an old shirt into your crochet project? Melissa from Lovable Loops did this with her daughter's beloved shirt for this Up-Cycled T-Shirt Pillow. We asked her about this project and for her advice for anyone wanting to try it. She says, "This project was really special to me because my daughter outgrew the t-shirt that I used but was too attached to it to part with it. Upcycling the image from her favorite t-shirt into a pillow was a great way to allow her to continue to enjoy the shirt for many years to come. When upcycling an image from a shirt into a crochet project, I highly recommend leaving yourself lots of extra room around the image when you cut it out. You can always trim more off later but if you cut too close to the image and it rips, it will make it much more difficult to crochet neatly around the edges." Find it here:Up-Cycled T-Shirt Pillow
Tips on Caring for T-Shirt Yarn and Finished Projects
Prepping your new yarn before working with it is important, as is choosing the best type of yarn for the project you are creating. Sonya from Blackstone Designs not only has a review of Hoooked's Zpagetti and has designed this lovely Nautical T-Shirt Yarn Basket (shown below) but has some great tips for different versions of this yarn. She says,

"T-shirt yarn can vary greatly, as various fibers are used to make it. I suggest going through your stash and giving it a stretch before starting your project. Some will be super stretchy and some will have no give at all; you may want to keep this consistent throughout. For instance, if you're making a basket, you may want to use t-shirt yarn that has no stretch at all, while a bath mat wouldn't matter. This yarn is perfect for pretty much any home decor item, and it's great for bags too!"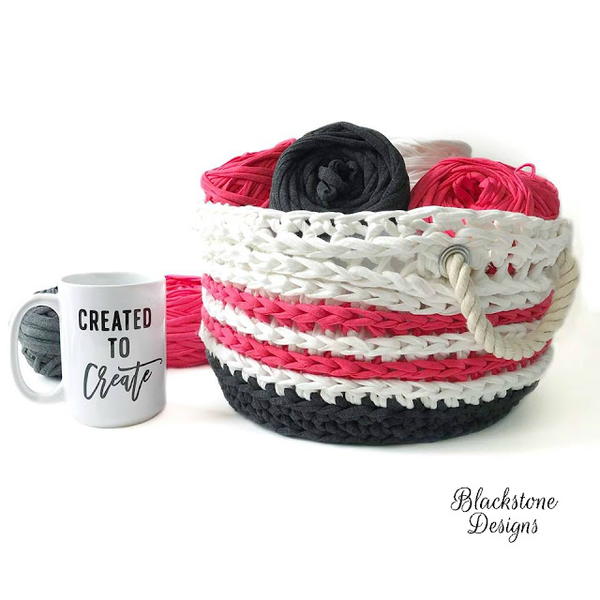 When it comes to finished projects, it's important to keep them looking as good as the day they were finished. Candy from Meladora's Creations and creator of the beautiful T-Shirt Yarn Rug says,

"It's really important to know how to take care of your rug so it lasts for many years to come. Be sure to wash it in a machine on wool setting at least twice a year. I do weekly maintenance by shaking it out really good and using an attachment that I used when vacuuming my couch, it's great for these rugs too!  Be sure to flip your run over and get both sides really well. Good luck!"
Additional Recommended Resources
For more in-depth tutorials or different styles of t-shirt yarn, along with tips, visit our friends:
What are your thoughts on t-shirt yarn?
Let us know in the comment section below!
Your Recently Viewed Projects
Join our community of 5 million crocheters! Right now!
Get free crochet patterns, exclusive partner offers, and more.
Thank You for Signing Up!
There was an issue signing you up. Please check your email address, and try again.