How to Use iPads for Crochet Patterns
There's no doubt that tablets such as the Apple iPad, iPad Mini, and Kindle are here to stay. In fact, people have said they are the "future of computing." Not only are they small and portable, but they are extremely user-friendly. iPads in particular are gaining popularity because of their easy-to-use touch screen. It's been proven that children (including toddlers) and older adults have an easier time using the iPad than traditional desktop computers because of the easier and more natural experience that comes with using a touch screen.
It's clear to see how these small but powerful electronic devices can simplify your life. Children love them because of all the fun (and educational) games you can play. Teens and adults love the social media connection, and working adults appreciate the constant access to e-mail. But have you ever wondered about the various iPad uses and benefits provided for crafters and crocheters? You may be plesantly surprised to learn about how helpful the iPad is to you and your craft, and how using this new device may actually help you become a better crocheter. Learn how to use iPads today in your crafting and crocheting.
How to Use iPads for Crochet Patterns
Benefits and Uses for the iPad
Thin & Lightweight: Weighing in at less than three-quarters of a pound, the new iPad Mini is lightweight enough to carry with you at all times. It's also just 0.29 inches thin, making the portability of the iPad Mini impossible to resist. For you, this means you will always have your saved crochet patterns with you at all times (assuming you will take your iPad Mini with you everywhere, and who wouldn't?) Also, you'll have an endless supply of crochet patterns right at your fingertips whenever you're connected to the Internet.
PDF Patterns: Having the ability to save patterns on your iPad means you'll not only save paper, but your precious and most-prized patterns will never get misplaced, lost, or destroyed.
Internet Access: Whether you're connected to the Internet at home, the library, a coffee shop, or through a wireless 3G network, having online access will help inspire and teach you how to be a better crocheter. Use websites like Google, Pinterest, YouTube, and AllFreeCrochet to find new patterns, get inspired, and learn a new stitch.
Crafting and Yarn Apps: Sure, you may have heard of the common apps like Facebook, Twitter, Instagram, Web MD, Skype, and Spotify. But did you know there are plenty of apps available that are made for crafters and crocheters just like you? Find some of our favorite crochet apps for the iPhone, iPod or iPad below.
Helpful Apps for Crafters
Lion Brand Yarn: Yep, even one of your favorite yarn companies has an app! Download it for access to thousands of free patterns, stay connected to find local yarn stores, and receive all the latest updates.
Easy Stitch: Find step-by-step instructions with full color illustration for learning not only crochet, but also knitting, and embroidery.
Crochet Decoder: If you help decoding all of those confusing crochet abbreviations or symbols, this app will help you out. It's great for both the new crocheter and the seasoned professional who needs a quick refresher.
Stitch Stash App: Stay organized and keep track of your current projects, yarn, and needles with this app.
HandiCraft: Sew Like A Pro: Find more than 150 patterns, 500+ pages of content, and HD instructional videos for crochet, as well as knitting, quiliting, and embroidery.
Free Crochet Patterns for Tablets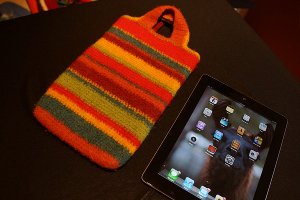 Once you've made the investment and answered the question of "how to use my iPad" (or other tablet), it's important to keep it protected with a case. Find our favorite free crochet patterns below that were designed specifically with the iPad, new iPad Mini, Kindle, and other tablets in mind. Crochet one for yourself, or make one for the gadget lover in your life.
Your Recently Viewed Projects
Join our community of 5 million crocheters! Right now!
Get free crochet patterns, exclusive partner offers, and more.
Thank You for Signing Up!
There was an issue signing you up. Please check your email address, and try again.