28+ T-Shirt Yarn Crochet Projects
T-shirt yarn crochet patterns result in soft, thick, and unique creations. See for yourself!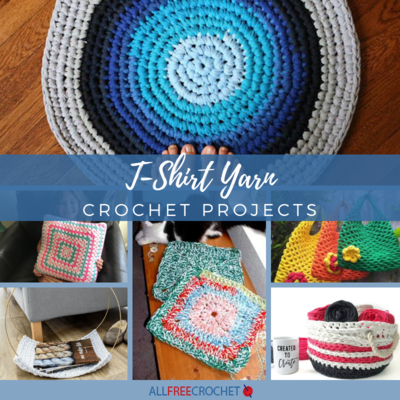 Have you ever worked with t-shirt yarn? It's a unique type of yarn because it's either made of shirts or created to resemble shirt fabric. Whether you plan on making your own from old shirts in your closet or buying it pre-made, we think you are going to love this collection of 28+ T-Shirt Yarn Crochet Projects.

You can either buy t-shirt yarn (most companies have a line of t-shirt yarn or comparable types) or make your own. Whichever you decide, any of these t-shirt yarn patterns should be a delight to make. You can also replace many chunky or bulky crochet yarn with this type of yarn, so your options for projects is nearly limitless!

Below, we have a few sections with some of the most popular t-shirt yarn crochet projects. First, t-shirt yarn rugs for your home, for pets, or whatever else you want. Then, we have awesome shirt yarn baskets and bags. Lastly, a few accessories that we know you won't want to miss.

PLUS! We have a video tutorial right below that will teach you how to make a Cozy Winter Crochet Headband. Because this headband uses any bulky yarn, t-shirt yarn can easily be swapped in. Press play to watch.
Table of Contents
Have you ever used t-shirt yarn? What do you think about it?
Your Recently Viewed Projects