What is a Crochet Temperature Blanket? + How to Make One
Learn how to make a temperature blanket with this guide!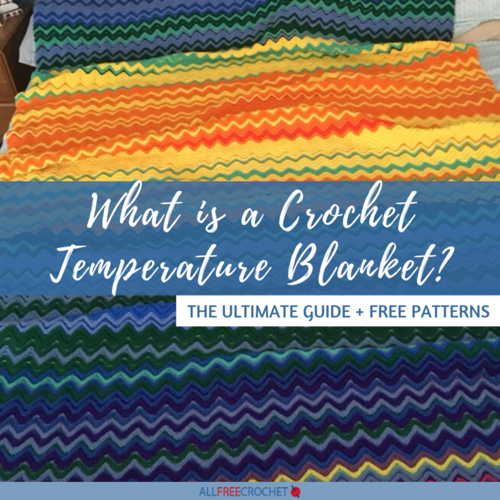 Scroll down for free temperature blanket patterns and color charts!
Whether you're scrolling Pinterest, Instagram, or Facebook, you've probably seen a temperature blanket pop up in your feed. Learn more with our guide, What is a Crochet Temperature Blanket?

We are also going to explain How to Make a Temperature Blanket. Once you've finished with this guide, you will be all set and ready to work up a beautiful (and sentimental) crochet throw for yourself or someone you love.

These stunning, striped, multi-colored crochet blanket patterns are hard to miss. They're so bright and stunning! These eye-catching blankets are created by hooking rows and rows of different colors to mark the temperature of days or weeks of the year.

There are about a million ways to make a crochet temperature blanket. From choosing different stitch and color scheme variations to how often you change colors (daily, weekly, monthly), the options for designing a temperature blanket are endless.

Tip: If you don't want the time commitment of a blanket, consider making a temperature scarf, amigurumi, or smaller project. There are so many unique ideas out there! And if you're interested in knitting a temperature scarf, check out How to Knit a Temperature Scarf from our friends at AllFreeKnitting.

Keep scrolling for an in-depth look at how to make a crochet temperature blanket (though it's the same concept for knitting or sewing one, too!). We've got tons of tips on the best stitches to use, how to plan out your project, expert ideas on how to keep your colors organized, and (of course) free crochet patterns!

Sign Up For More Free Patterns
What period of time would you like your temperature blanket to represent?
Your Recently Viewed Projects