3 Crochet Temperature Blanket Charts
Download our free temperature blanket color charts and get started on this awesome project.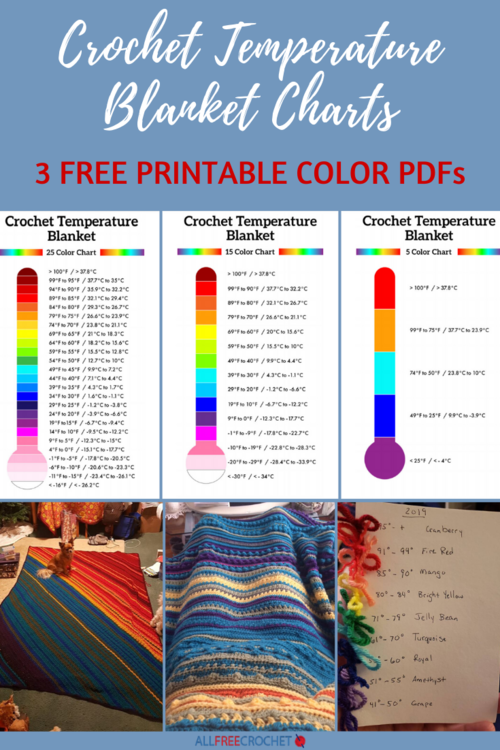 If you're looking to make your own crochet temperature blanket, it can be difficult to figure out where to start! There are so many options out there and picking your colors can be daunting. Luckily for you, we've created 3 different crochet temperature blanket charts for you to choose from. 

Sometimes called a thermometer blanket, this type of blanket can be crocheted, knitted, or even quilted. The idea is to mark a time period with different colors.

When you choose your own color blanket, it can be drastic in terms of the time period (a week versus a year, for example). It could also be the temperature fluctuation during it (what variation in colors do you want to use for the number of degrees, for example), so there's a lot to think about.

Having several options will help you make a decision about what colors to incorporate into your blanket as well as how many colors you want to add. Looking to make a more complicated blanket, pick our 25 color option!

Want to start with something simple, pick the 5 color option. Look out below for our 3 free downloadable crochet temperature blanket color charts. Use these guides or choose your own color blanket with similar parameters.

For colors, we chose a standard color gradation but those can be viewed as place holders for whichever colors you want. Stick to what you see in the chart or print it out and mark your own, it's all up to you!

Be sure to scroll all the way down for some expert tricks for keeping track of your yarn colors and our favorite yarns for hooking temperature blankets.

PRO TIP: Not up for a big project? Make a temperature scarf or similar small project. Some crocheters have even made temperature granny squares or amigurumi!
 
How Many Colors Should My Temperature Blanket Have?
This is entirely up to you! It also depends on the climate you live in. Many places have pretty steady weather year-round while others fluctuate like crazy.

If you live in a temperate climate, a 5 color option might work for you. If you live somewhere with frigid winters and hot summers, the 25 option might be more up your alley!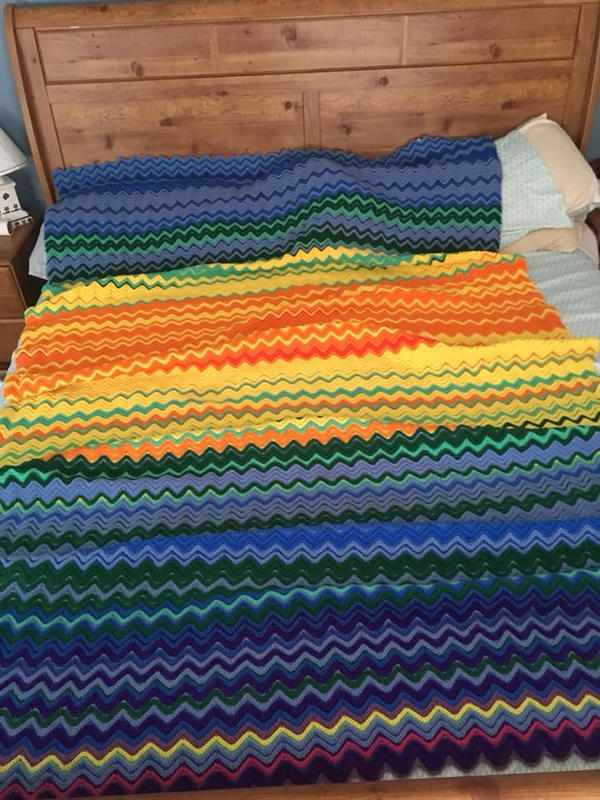 Crochet Temperature Blanket Chart Downloads
Crochet Temperature Blanket: 25 Colors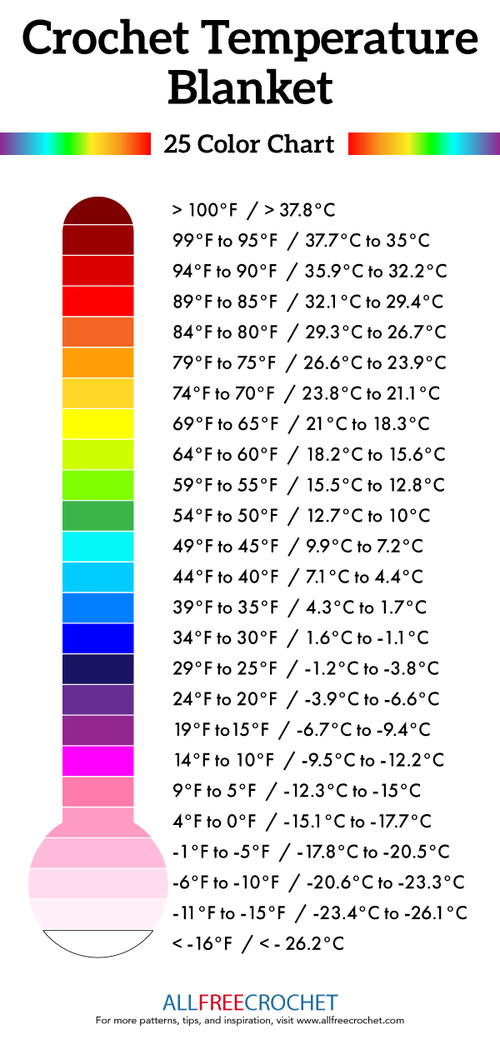 Crochet Temperature Blanket: 15 Colors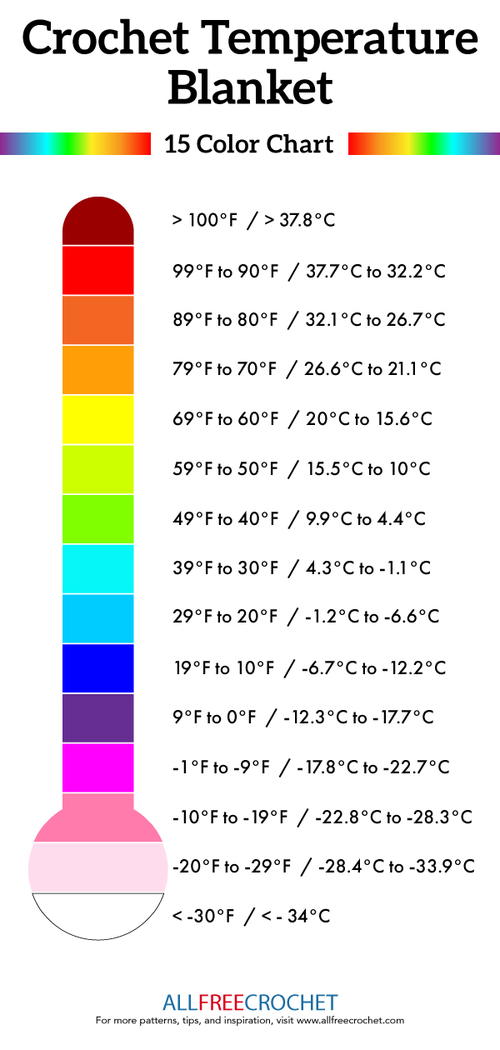 Crochet Temperature Blanket: 5 Colors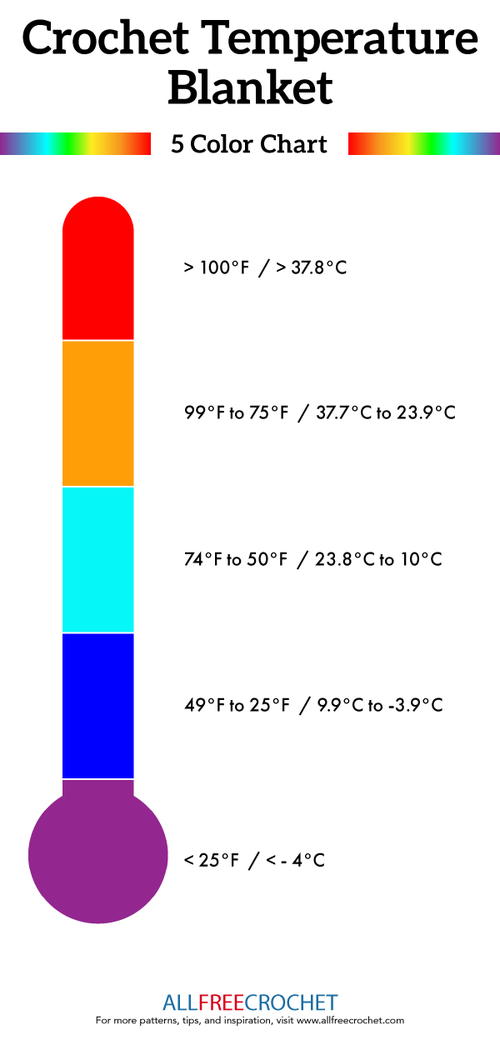 Keeping Track of Your Temperature Blanket Colors
We highly recommend you keep track of your colors once you settle on them. A great way to do this is to print out the chart above and write down the yarn brand, weight, and name on the paper.

You can also create a simple chart using small scraps of each yarn yo keep you organized.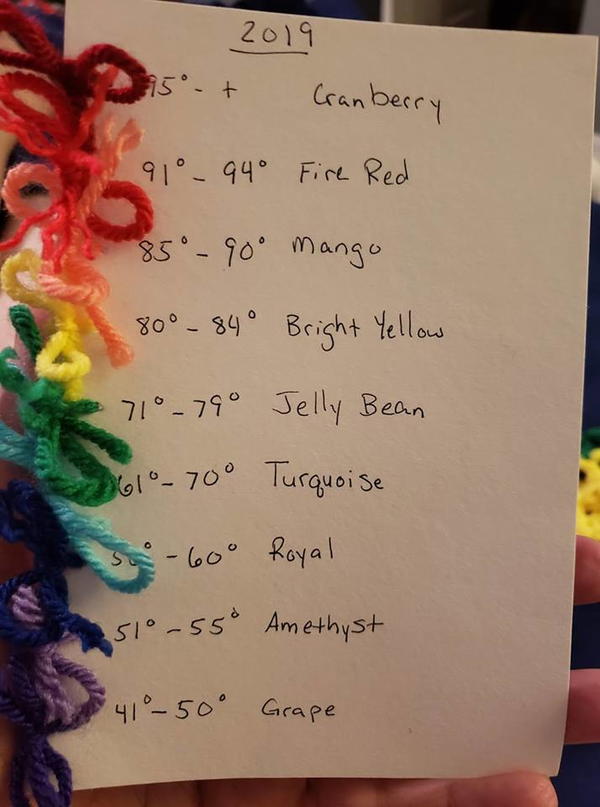 Yarn Suggestions for Your Temperature Blanket
When picking your yarn for a crochet temperature blanket, we recommend picking a type of yarn that you can get in multiple colors. This will help you achieve a blanket that is consistent in shape, style, and texture.

While combining multiple yarns of the same weight (like worsted weight) is totally an option, we're particular to sticking to one brand or type.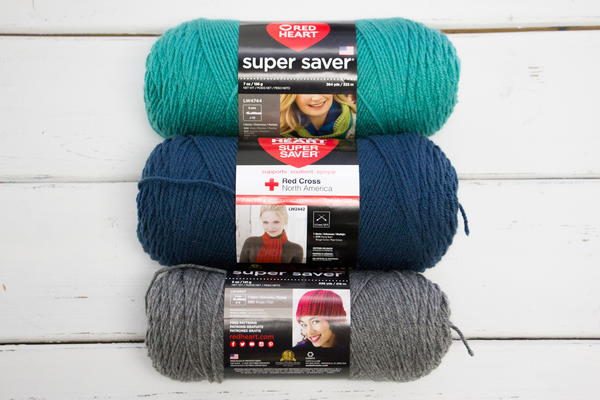 Where to Find Temperature Data for Temperature Blanket
If you are making your blanket in real-time, then you can check your favorite weather service website and write down the high, low, or average (your choice!). You can also check one of these websites to find past temperatures:
Your Recently Viewed Projects