What is Yarn Bombing? A Guide on Guerilla Yarn Art
Learn the pros and cons of yarn bomb art, everything about it, popular groups and events, and more!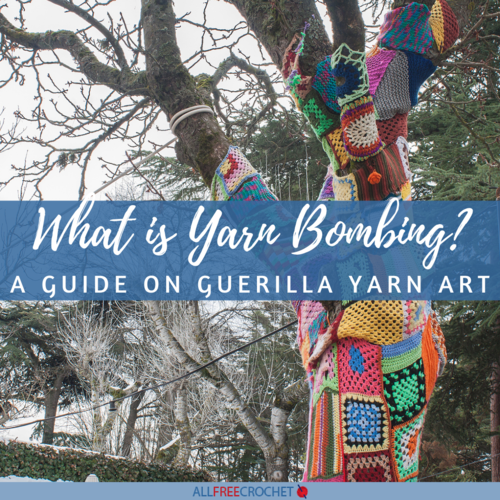 What is Yarn Bombing?
If you are a fiber artist or involved in the craft world, you may have heard the term "yarn bombing" a few times.

So, what is yarn bombing? It's an art form using yarn in different ways. There is no set definition of yarn bombing but it's well known as a colorful art installation using knitted or crocheted pieces. Usually done in secret for a surprise element.

It is also known as guerrilla knitting, kniffiti, grandma graffiti, urban knitting, graffiti knitting, wool bombing, and yarn storming. Despite the knitting-heavy phrases, it's quite popular with crochet as well.

It has gained popularity through the years, though it is not without criticism, either. There are many questions surrounding this activity and we're doing our best to answer all of them.

These knit and crochet yarn pieces are usually made as coverings and are found "bombing" trees, hydrants, fences, buildings, street lamps, and similar everyday items.

Read on to learn about the history, if these art installations are illegal, the pros and cons, yarn bombing groups and events, and much more.

History of Yarn Bombing
As most creative projects come to be, the history of yarn bombing involves scraps and imagination. According to The New York Times article, Graffiti's Cozy, Feminine Side, yarn bombing started in Texas:

"Many...people also reached out to Magda Sayeg, a 37-year-old Texan who is considered by many to be the mother of yarn bombing. By her recollection, it started on a slow day in 2005 at Raye, her quirky boutique in Houston. On a lark, she knitted a blue-and-pink cozy for the shop's door handle, a piece she now calls 'alpha.'"

Magda kept going by adding more and more funky knitted elements to objects around her shop and street. People started noticing and it took off, not only in the United States, but around the world.

Is yarn bombing illegal?
It can be! It depends on what you're planning to "bomb" and where. Many areas consider its legality in the same vein as street art, which can be removed by the city if in public areas and certainly if added without permission on private property.

We're going over this in the next section, but it's meant to be a non-permanent art installation for the most part. Therefore, if you do bomb something, have a plan to remove it or it might be removed for you. It can be considered litter if left to decay.
What is the Purpose of Yarn Bombing?
Fun: It's a step outside of the traditional knitting and crocheting which people enjoy. It's a way to share your joy with others many people love that aspect.

Art: With the colorful and creative coverings, the artistic aspect of yarn bombing may be the most important and popular reason for doing it. Many art installations, such as the Urchins in Liverpool by architects Jin Choi and Thomas Shine, bring in tourism and attention from all over the world.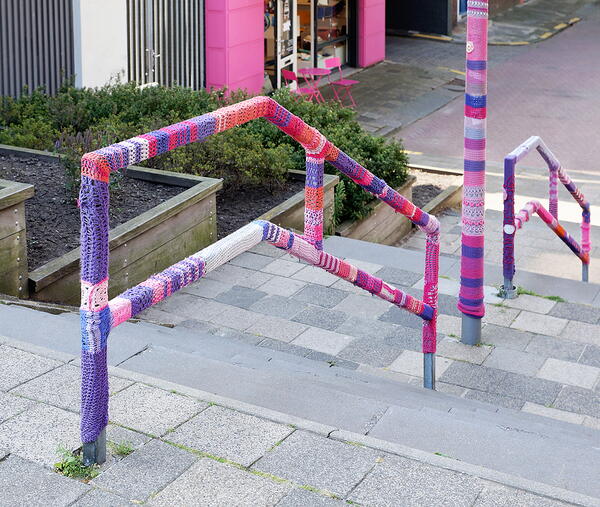 Activism: Yarn bombing is meant to brighten up cold and boring spaces but it can also have a political or social element. For example, there have been several tanks bombed with bright and cheerful yarn, a sharp contrast to the purpose of the military vehicle. Calling attention to something in this way is one of the ways that artists speak through their art.

Charity: You may have been a part of yarn bombing even if you haven't set up the installation yourself. Many artists and groups collect granny squares or pieces of yarn work and then attach them for installations, many times linked to a charity location or organization. Similarly, many artists are sponsored and donate the money they receive to charity. Another way to spread awareness and create joy.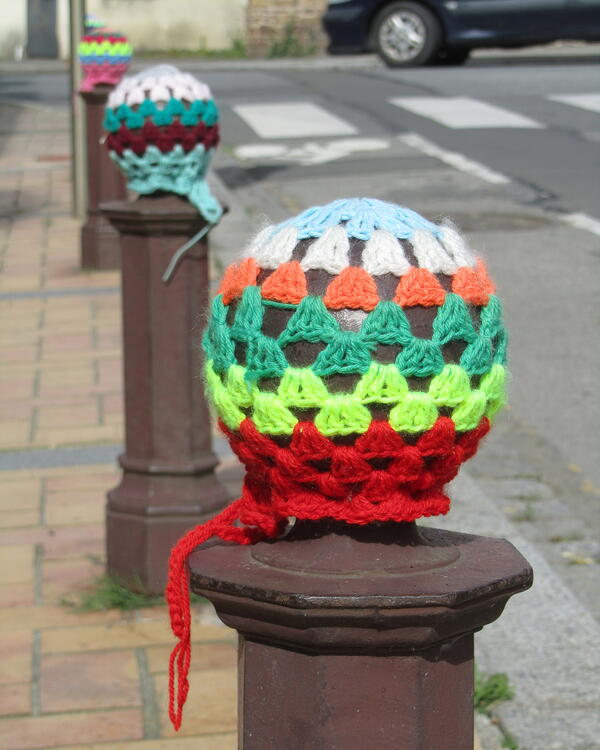 Popular Crochet Items Used for Bombing
Since we're all about crochet here, we thought we'd add a section specifically about the type of crochet projects used in yarn bombing. As you've noticed, there is no set rules in this "guerilla" art but there are a few common items that work well. Quick and small pieces that are then sewn up as one large piece make it more manageable and fast. Because of this, it's best to crochet any of the following:
Swatches (you can use your leftover gauge swatches!)
Lap blankets (or larger blankets)
Old sweaters
Mistakes you don't want to frog (rip out)
Yarn Bombing Trees: Do or Do Not?
There is a haughty debate about whether or not yarn bombing is good or bad. People are truly divided, but why?

Mainly, it's environmental reasons. The most common question: is yarn bombing harmful to trees and nature? Not right away but if it is left, then it might be damaging to the trees and the area.

Even the most natural wool is processed and should not be left to fall apart and mix with nature. It can harm animals and plants.

Then there are the actual fittings. Unless you are bombing a dead tree, the growth is hindered by the "sweater" on the tree. Yes, trees grow slowly but it will still cause problems. Moisture from the yarn being exposed to outdoor weather, added weight from the yarn, and damage to the bark or animal habitats are a concern.

That's not to say that you should never bomb trees with yarn, but do not leave it up for more than a few weeks.

The other benefit of removing the bombing materials after a short period of time is that they won't decay and look bad. This art is beautiful but once it faces the elements, it won't stay that way. Make a plan to remove anything unnatural outdoors.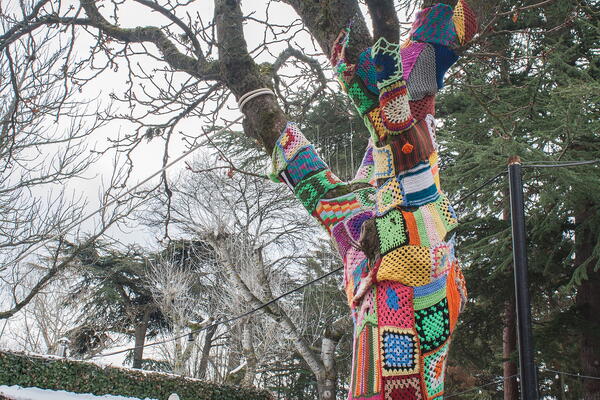 What Else Can Be Yarn Bombed?
If you want to play it safe and stay away from trees, you have some other great options. We're not suggesting you disobey the rules or ordinances but, if it's safe and legal to do so, buildings, statues, posts or pipes, benches, bikes, fences and gates, mailboxes, or playgrounds.

Just keep in mind that you should not cause a hindrance to the object (don't cover the mailbox or gate opening hinges, for example).
Pros and Cons of Yarn Bombing
The positive things about yarn bombing include the fact that it's beautiful and creative. Imagine turning the corner and seeing a tree covered in vibrant yarn decorations and not smiling at the sight. Or a statue wearing an outfit made of yarn. It's unique and original and gives fiber artists another project to bring themselves and others a little more happiness.

We've also already discussed the art, activism, and charity aspects and those are all positive elements to this style of art. Producing or hosting a stunning display that ushers in new visitors or brings attention to something in an unexpected way will get talked about, written about, and shared. Like this article!

We also love the community element. Because it's difficult to do this alone, most projects are done in groups, which creates a collective hive mind with good intentions. People make lifelong friends and get out of the house doing something creative for others.

Now to the negative things about yarn bombing. As we've mentioned, damage to trees and nature is one of the biggest. If it's temporary, great! If you don't clean up after the bombing, it's irresponsible. The charity aspect is also a negative for some, but in a different way. People sometimes consider it a waste of yarn because it could be used to make actual charity items, such as hats or sleeping mats. 

We thought we'd see what our AllFreeCrochet Facebook Community thought about it and it was quite the mixed bag of reactions. Everyone made valid points, though, on whether or not they appreciated yarn bombing. As only members can see the post, here are a few comments:

"I've never participated but I would. What a lovely way to bring color to the area and raise awareness of our craft!" — Taniqua

"I am against it. It beautifies an area for a couple of days until the yarn has collected dirt and debris, then it becomes an eyesore, and who is responsible for the clean up? I believe that the yarn could be used for better things like helping out different charities (homeless, animal shelters, hospitals, cancer centers, etc)." — Amber

"I have mixed feelings. On one hand, I love the creativity and all. On the other hand, the trees are already beautiful, maybe leave them alone." — Beverly

"Waste of good yarn. Make hats, mitts, lap blankets, etc for homeless or needy is a much better use of yarn, time and money." — Patty

"I'm for it as ART. But it should be kept up with DAILY! Like "raising a flag"
If not, I don't like the added moisture to trees- it's damaging. I don't like that it attracts molds to our trees. And isn't healthy.
As far as "waste of resources", to me, that's a fickle argument. Christmas decorations are a waste, new year's party decorations, gift bags with a hoard of tissue paper, wedding favors, most everything we use...WASTE.
We're wasteful. It's not nice, but it's true. We're a WASTEFUL people.
Having a tree wear a fabulous sweater on a lovely spring day, is no different than a tree wearing a star on it in winter, or a crocheted snowflake, angel, Santa hat, or whatever.
But.....take the decor OFF, be sure it's cared for properly, and let the tree get dressed up again for a special occasion. Don't ruin a lovely frock due to laziness.
If it's art....care for it like ART." — Dawn

"I organised yarn bombing in NZ several times. I also regularly yarn bombed a tree outside a library where we had a crafting group. One of my groups was invited several times to design, make and install yarn bombs at an outdoor sculpture exhibition. Such fun. I also found the politics fascinating!" — Jennifer

"I have so many patterns and so much yarn saved for babies and seniors and cooks and artists, for teens and tweens for others and for me... can't see me doing this one." — Cheryl

"Wichita has great statues downtown and people put hats/scarves on them. I did ponchos. I prefer "yarn drops" like art drops where artists leave small artworks for people to find." — Anne 

"I enjoy seeing power poles, fences, letterboxes yarn bombed but leave nature alone!" — Jassy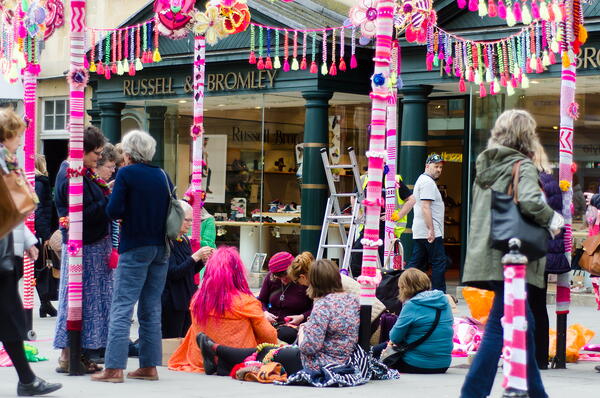 Yarn Bombers and Guerilla Groups
There are many popular guerilla groups and well-known yarn bombing artists behind this idea. Here are a few: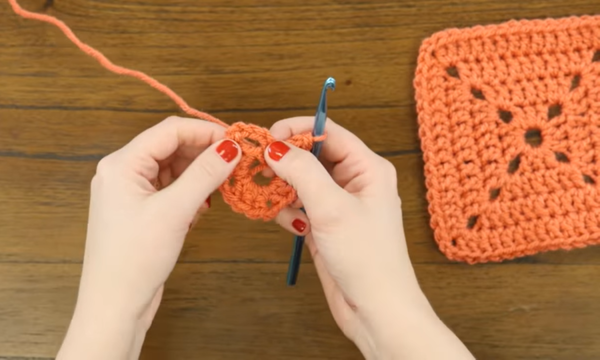 Yarn Bombing Day and Popular Events
International Yarn Bombing Day is June 9th. According to the BBC, "The world will be covered in string this Saturday (9 June) as ambitious knitters cover public structures such as benches, pay stations or trees in crocheted patterns." Started in 2011, it's a popular event and many groups create projects and get-togethers on this day.

A quick search online will also result in various local programs and events, along with larger art installations that are either in progress or up for viewing. Just keep in mind, like most art installations, it's temporary.
How to Yarn Bomb
A few important steps to yarn bombing, but there is no set way to do it.
Plan out where you will be bombing. Get permission if needed. Take measurements and make notes about what you will need. You may also want to do a fitting before the final installation.
 
Crochet one or multiple pieces, such as granny squares.
 
Attach the yarn items. You can do this in a few different ways:

Sewing the pieces together on-site is an option, but this takes longer and is best for small projects. However, if you already did most of the sewing at home, sewing the final piece onto the object you are bombing can be quicker.
Adding yarn or fabric ties on the wrapped yarn item and joining it tightly.
Attaching the yarn piece to the object with binder clips or cable ties.
 

Add a tag or post on social media to add awareness (optional).
 
Clean up completely once finished.
We love these
Ten Tips for a Successful Yarn Bomb
from Emma Leith. She says it's important to always tag your hard work and leave no trace when you are done.
Yarn Bombing Crochet Patterns
We'd recommend using inexpensive yarn since this is a temporary project, but it's up to you. For some ideas and free patterns to use, check out: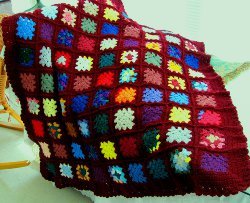 Your Recently Viewed Projects
Join our community of 5 million crocheters! Right now!
Get free crochet patterns, exclusive partner offers, and more.
Thank You for Signing Up!
There was an issue signing you up. Please check your email address, and try again.