What is Amigurumi?
What is amigurumi crochet and how can you make your own? Check out everything you need to know right here!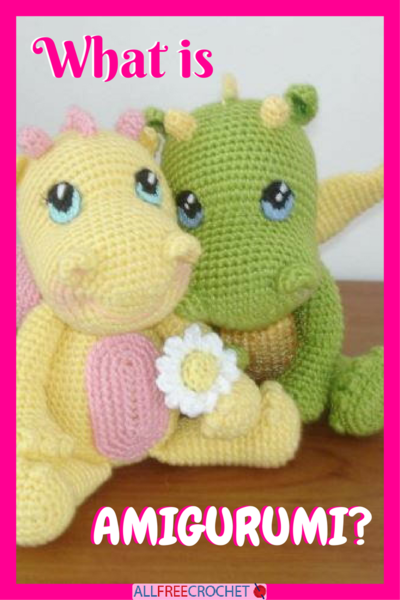 Have you ever heard the word amigurumi? Amigurumi are crocheted or knit stuffed toys. Perhaps the cutest of all crochet and knit techniques, amigurumi dolls can be animals, people, and inanimate objects.

The amigurumi definition is a crocheted or knitted stuffed doll. However, where does it come from? The word amigurumi is formed from two other Japanese words. The Japanese word "ami" means knitted or crocheted. "Nuigurumi" means stuffed doll.

This Japanese art form is unique and creative, allowing both crocheters and knitters to make any object they desire. In this page, we will focus on crochet amigurumi but if you want to see the knitted versions, check out the amigurumi knit patterns on our sister site, AllFreeKnitting.

These little creatures and figures are not only fun to play with, they are fun to make, too. Check out the patterns at the bottom of the page to find something to crochet today.

Besides patterns, we are going to go over how to pronounce this Japanese word and the history of the technique. So, keep scrolling down and learn all about amigurumi!

 
Table of Contents
Amigurumi Pronunciation
How do you pronounce amigurumi? Ah-mee-guh-roo-mee. It takes a few tries but once you start pronouncing it, you will be able to speak it with ease. The same goes for writing it.



Amigurumi Pronunciation:
AH-MEE-GUH-ROO-MEE
Like the famous Japanese paper folding technique origami, amigurumi is a Japanese phrase that has become well-known in English-speaking countries as well. In fact, knowing how to say "origami" may help you pronounce amigurumi as they have similarities and end the same.   
Amigurumi History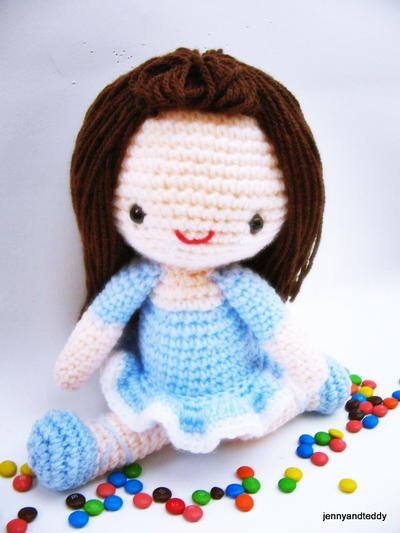 Making dolls is nothing new. Many cultures have created dolls and toys from various materials. As mentioned above, nuigurumi is a stuffed doll in Japanese. Though, nuigurumi usually involves sewing which is why they altered the work to include yarn crafting.

Although amigurumi has only been trending in the United States for the past ten years or so, the true origins of amigurumi aren't well known. It has been a popular craft in Japan for decades longer than in The U.S. and other areas of the world, it is somewhat unknown where it originated.

In the early 1900s, western women helped teach needlecraft to the Japanese, including crochet. So, it may very well be that amigurumi is a combination of both Western and Asian cultures.

Jennifer Ramirez of The Sun and the Turtle and author of the book Amigurumi, has researched the origins of amigurumi extensively. She says, 

"During the last three years I have been researching the origins of Amigurumi and wrote a book called "Amigurumi" where I documented the origins of Amigurumi during my visit to Japan where I had the chance to Interview some Amigurumi Artists and associations as well as gather data regarding the origins of it.

As I wrote in the book the first records of crocheted motifs in Japan are dated 1920 in Japan (found by Dai Watanabe). Even though the word Amigurumi was not used until the middle of the century the art of creating dolls in crochet might have arrived in Japan during the cultural exchanges during the Meiji Era. Even though all these are speculations there are some evidences that place the origins of the word "Amigurumi" in circa 1951."
Hello Kitty and other "kawaii" Japanese products gained popularity in the U.S. in the 1970s, which may also be a factor for the current popularity of these adorable creatures. The internet also helped because crafters could discuss and sell creations from different parts of the world which may not have been well known elsewhere.
Now,
amigurumi is a fun crochet technique
 that allows artists to design classic animal patterns, design cute versions of inanimate objects, and turn their favorite pop culture characters into crochet creations. Though they are toys, many make and buy amigurumi for aesthetic purpose. They make great tchotchkes.   
Amigurumi Basics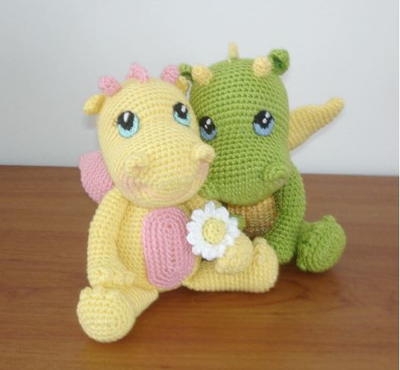 There is no set crochet hook size, yarn type, or stitch for amigurumi which is one of the reasons it elicits such creativity and freedom for crocheters.

Amigurumi are usually crocheted in the round because they are three-dimensional but patterns vary. Most patterns use simple stitches. Single crochet is the most common in amigurumi because it is easy and uniform. Double crochet is also found in amigurumi patterns as well. The clean and simple appearance of amigurumi pieces is one of their draws.

The definition might as well be "crocheted cuteness overload." There is no way to look at amigurumi and not smile. These dolls are usually teeny tiny or small but they can big enough to hug. No matter what size, every amigurumi pattern is adorable and fun.

Ready to crochet amigurumi? Try this darling Crochet Amigurumi Dragon pattern. AllFreeCrochet offers a full tutorial with written instructions and step-out pictures.
 
Tips for Amigurumi Crochet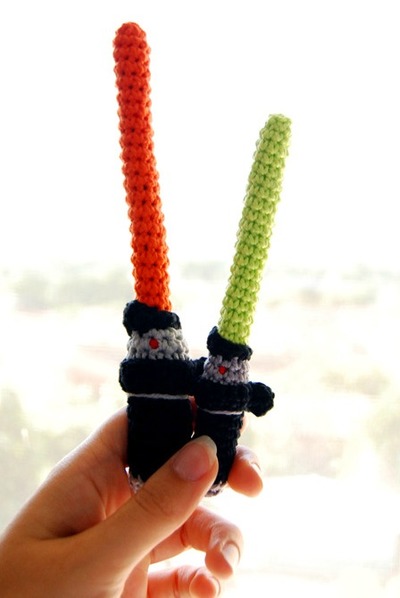 We asked some of the crocheters who have created the patterns featured below why they love amigurumi and what tips they have for those wanting to learn. This is what they said:

"I feel that the biggest tip that one could give to someone who wants to start making Amigurumis is to be resilient. 
Perhaps in the beginning, you might see that your stitches are not as tight or that your Amigurumis will not look as you envision them in your brain. Don't worry about that as they will improve with time.

We tend to be very self-critical and diminish our efforts quite often but learning a new skill takes time and concentration. When I started I could not crochet at all and sometimes felt that my Amigurumis were not as pretty as the ones I saw online but hey! That's part of the process and if you persevere and keep making your dolls, in no time you will be able to crochet Amazing creatures and experiment giving them your very own style and even write and design your own patterns." — Jennifer, The Sun and the Turtle
​

"My love from amigurumis mainly comes from the fact that I'm a very impatient person. When I learned to crochet, I immediately loved it, however making scarves, hats, and blankets quickly fed me up because they are so repetitive to make.

I have a bunch of tips and tricks on my blog, but if I had to choose one, I'd say to be careful and stay on the right side of the work, as the "wrong" side (well, there's nothing wrong with the wrong side but...) tends to show all the little imperfections of the work, like increases and decreases."
 — Ophelie, Ahooka'migurumi

"I love ami because they are so cute and very easy to make and after you make one, you can't stop to make more!

The tip is crochet tightly because you do not want to see the hole between the crochet stitch and I normally use a small crochet hook to crochet amigurumi. I have 
wrote some tips about  the beginner guide  to start to make your own ami here." — Jane, Jenny and Teddy

"I love amigurumi because you can make every plush you want. With this technique, you can make the cutest and most unique gifts for people of all ages. Of course, you can keep them for yourself too!

The best tip I can give is to be patient when you working on an amigurumi. If you're not completely satisfied with the plush you need to keep doing some parts over and over until you get the perfect amigurumi."
— Sabrina, Sabrina's Crochet

"I love that you can make so many amazing projects with something as simple as yarn. Adding extra, simple details creates so much character! I think my favorite thing about amigurumi is gifting. A handmade softy made with love and personalized with them in mind? No greater gift!

The biggest advice I give to people who are just starting out is to take your time. A lot of the time people aren't happy with their project because they rushed sewing on limbs or didn't take the time to stuff enough!"
— Kali, The Friendly Red Fox

Check out Kali's amigurumi tips and tricks here!​
Amigurumi Crochet Patterns
On the surface, making amigurumi seems like it's only applicable when making gifts for children, but there is so much more to this crochet technique.

Yes, they make fantastic gifts for children, but adults love amigurumi patterns just as much. Amigurumi crochet can range from stress balls to holiday decorations. You can also make a cute desk decoration for your coworkers.

Take a look at these too-cute amigurumi patterns and see for yourself how irresistible they are. You will have to make at least one! There's a range of skill-level and style, which means there is something for every crocheter.
 
What's your favorite amigurumi design?
Free projects, giveaways, exclusive partner offers, and more straight to your inbox!
Tags / Related Topics
Your Recently Viewed Projects
Images from other crochet readers


Something worth saving?
SAVE all your favorite patterns
ADD personal notes
QUICKLY reference your patterns