Crochet Weighted Blanket Benefits
This resource details everything you want to know about crochet weighted blankets.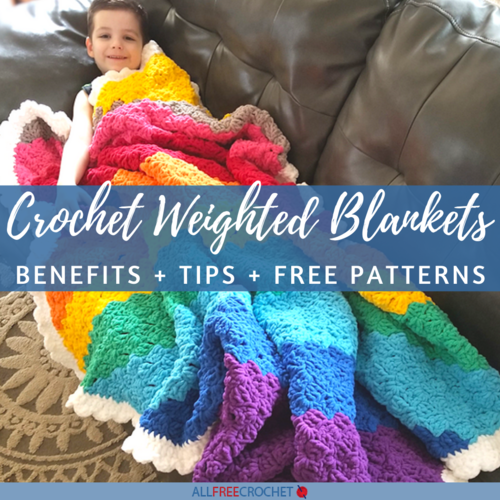 What are weighted blankets?
Weighted blankets are, quite simply, blankets that are made heavier than most blankets people buy. Sometimes they are referred to as gravity blankets, too.

They range in added weight, from 4 pounds up to 30 pounds, and they're used to help people with insomnia, anxiety, or even those with various types of Autism Spectrum Disorder (ASD).

By helping to calm you down and soothe you, weighted blankets help people, adults and children alike alleviate stress and anxiety and fall asleep at night.

Of course, we're not doctors at AllFreeCrochet, but we're all for cozy ways to calm down and help us fall asleep at night!

If you are interested in learning more about crochet weighted blankets, the benefits, tips for making one, and free patterns, then take a look at this page and see if it's right for you or anyone you know.

(main image credit: Sunshine on a Cloudy Day DIY Weighted Blanket by Stephanie Pokorny from Crochetverse)
The weighted blanket only needs to be big enough to cover the person, not necessarily the entire bed. To have a frame of reference for blanket sizes, though, be sure to reference our blanket size chart onHow to Make a Crochet Blanket Bigger or Smaller
What are the benefits of making a crochet weighted blanket?
There have been numerous studies on the effect of these weighted blankets, and it's been shown that these blankets, by pushing your body down with their weight, or "grounding" your body, reduce levels of stress hormones in your body, similarly to being held or hugged.

When used at night, a lower level of stress will help a restless sleeper or an insomniac fall asleep easier and have a more restful night's sleep as well.

Weighted blankets also simulate a type of hands-on therapy called deep pressure touch (DPT) that is used to help reduce high levels of anxiety and stress. This process increases the release of serotonin, which can help counter depression. 

Plus, the fact that it's weighted can be subtle. Using a heavy yarn for a weighted blanket doesn't have to dramatically change the look. Take this gorgeous Modern Granny Crochet Weighted Blanket by The Crochet Crowd (pictured below). It looks like a classic granny square blanket but it's much thicker than most.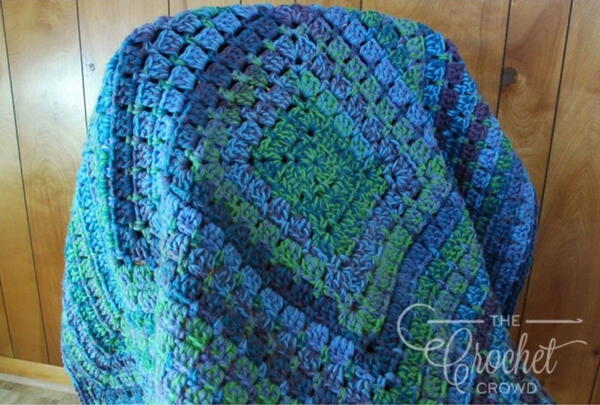 How heavy should a weighted blanket be?
To DIY a weighted blanket, you're going to have to get creative with ways to make it heavier. According to numerous manufacturers, the blanket should be around 10% of your body weight. All of that extra weight introduces another consideration - heat!

Try and avoid synthetic fibers and fabrics as all that extra weight will also add extra heat. You want your blanket to breath a little, and you don't want to be uncomfortably hot under all that weight so try and pick natural fibers, such as cotton, that are able to breathe.
 
The tips in this guide will not only help you take care of the crochet items you already have but help you in the future with brand new projects. Don't fret about spending tons of time and money on a beautiful design only to ruin it in the wash or wear. Find it here:

 Caring for Crochet Items: 8 Tips You Need To Know
Tips for making a heavy crochet blanket
How can you make your own weighted blanket? Well, there's no specific pattern for a crochet weighted blanket, you just have to create a very heavy blanket. Just a fair warning that you'll most likely need a LOT of yarn, unless you play on lining your afghan to help create weight.

Ways to DIY a weighted blanket include:
Use varieties of heavier blanket yarn, a smaller hook, and a tight, dense stitch
Use "heavier" stitches like front post or back post crochet stitches
Use t-shirt yarn (or denim yarn)
Crochet with multiple strands
Sew two blankets together
Our recommendations would be to find heavier blanket yarn or creating a LOT of t-shirt yarn to crochet a weighted blanket with.
If you're interested in sewing a heavy blanket or want more tips on different ways to make one, be sure to take a look at their 
Simple DIY Weighted Blanket Tutorial
 (pictured below), thanks to our friends at
AllFreeSewing
.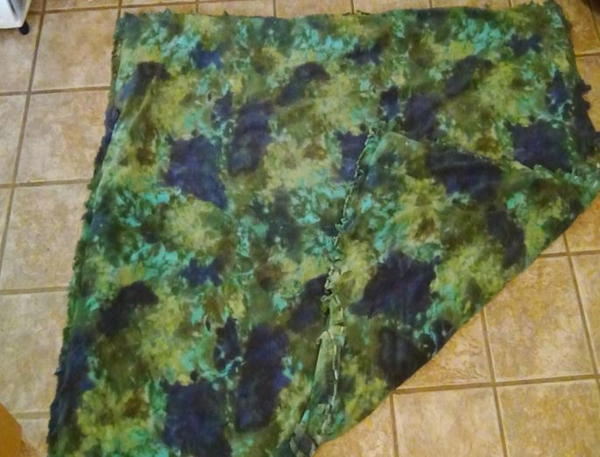 Try Hand Crochet for Weighted Blankets
Have you ever tried hand crochet? No tools needed and guaranteed to result in a luxuriously thick blanket. It's a unique and exciting option for crochet weighted blankets. Learn more about this uncommon crochet technique with our guide, Hand Crochet: Everything You Need to Know, and decide if you'd rather go that route with your stress-relieving project.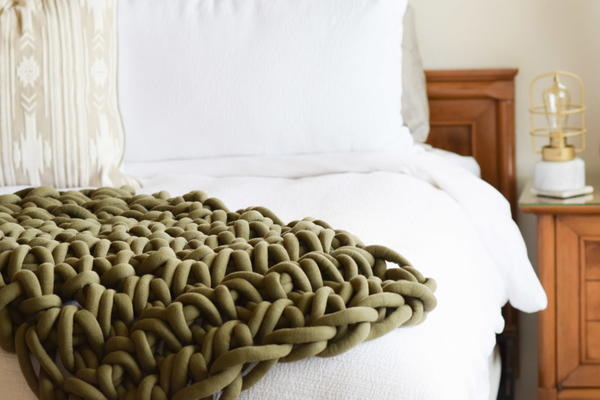 Free Weighted Blanket Patterns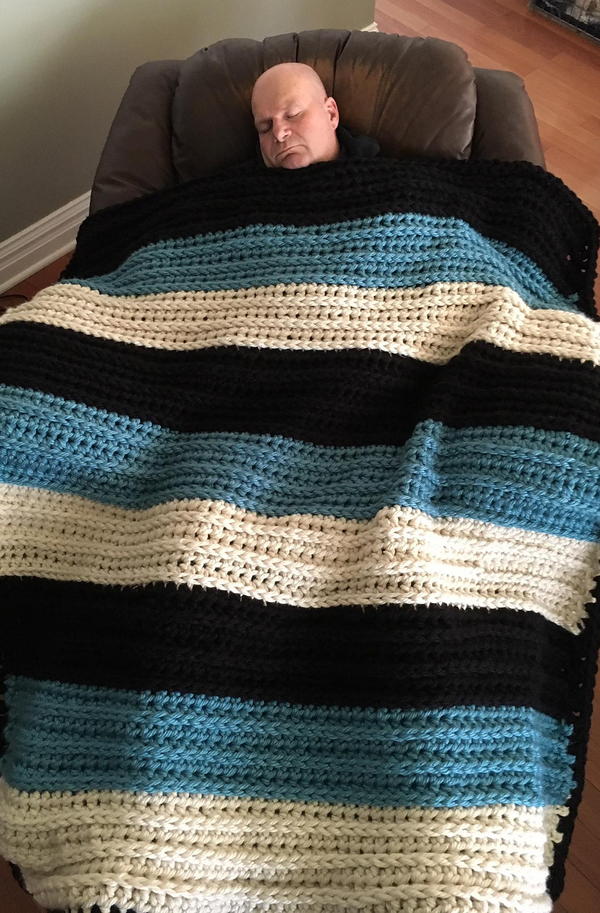 Stitch Away the Stress!
Did you know that your crochet hobby may be helping you to reduce stress and anxiety? Learn more about the health benefits of yarn crafts and the habits of your fellow crocheters with this downloadable PDF infographic: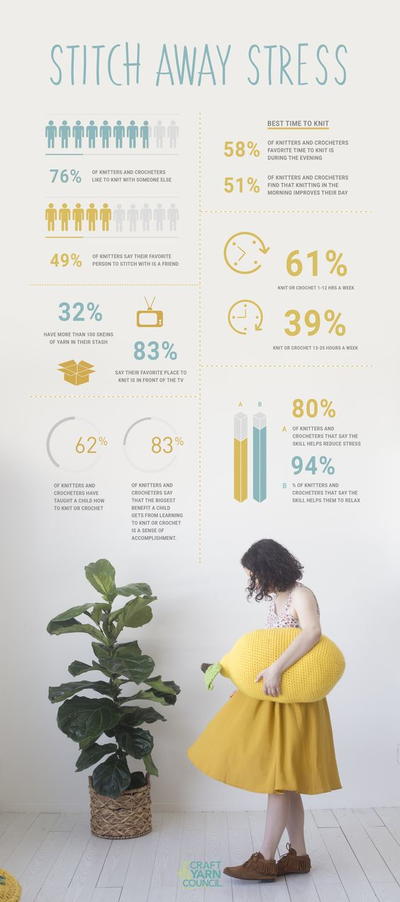 Your Recently Viewed Projects
Join our community of 5 million crocheters! Right now!
Get free crochet patterns, exclusive partner offers, and more.
Thank You for Signing Up!
There was an issue signing you up. Please check your email address, and try again.