What Does PM Mean in Crochet?
The crochet abbreviation pm comes up a lot. Learn what it stands for, what it means, and how to do it!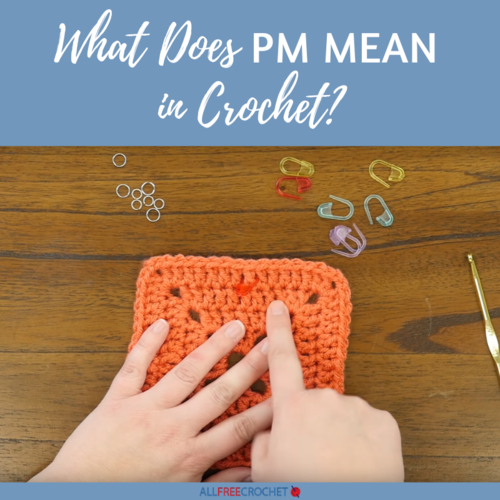 On this page, we will go over the common question, What Does PM Mean in Crochet? PM in crochet patterns means "place marker."

As the name suggests, it's a spot in the crochet pattern that you will need to keep track of. There are various reasons for this and we will explain them all. You can also use many objects as place markers as well.

Some of the abbreviations in crochet are more straightforward than others. We have gone over some of the more common terms, like What Does SP Mean in Crochet? and What Does Turn Mean in Crochet? but there are so many more that need lots of explanation.

Once we explain more about the actual term, we will explain what it means in crochet, along with the materials, actions, and steps required to follow it within crochet patterns.

By looking into what the crochet abbreviation pm means, you will better understand crochet instructions and crocheting in general.

We promise that this is essential knowledge for any crocheter to know. Once you fully understand a crochet pattern inside and out, you will have no problems getting your crochet completed faster and more efficiently. So, take a look at the sections below and learn all about PM in crochet.
 
Table of Contents
Examples of PM in Patterns
Most brand patterns will have an abbreviation key at the bottom of the pattern but some do not. Also, if you are looking at a pattern from another crochet designer, they may think that certain terms are known and will simply overlook explaining the mentions of PM in the pattern or instructions.

Sometimes, instead of PM, you will see SM or Sl M. As PM stands for place marker, SM stands for slip marker. You may also see stitch marker. A stitch marker is the place marker, which you will learn more about in the next section. PM is common in both crochet and knitting. The term SM is more common in knitting as you will slip the marker from one needle to the other. 

For an example, let's look at the pattern for this Bernat "Take it From the Top Pullover":
In the part of the pattern [pictured above], it tells the crocheter to complete actions such as, "3 hdc in the next ch and PM on center hdc."

What does it mean?
In the sentence above, it uses several crochet abbreviations and reads, "Do 3 half double crochets in the next chain and place marker on the center half double crochet."

As you can see on the right side of the image, it reads, "PM on Fronts in 2nd hdc from each end of last row. Overlap Right Front over Left Front at markers and pin in position."

What does it mean?
In this case, you see the mention of "markers" along with PM. It reads, "Place marker on Fronts in the second half double crochet from each end of the last row. Overlap the Right Front over the Left Front where you put the marker and then pin it into position."
What Are Place Markers?
Place markers can range from a piece of yarn to a large plastic piece that is hooked onto your crochet piece. A place marker can be anything that is attachable to (and removable from) your crochet project. Some people buy special stitch markers and others use what they have.

 This infographic from our friends at AllFreeKnitting shows all the odd items people have used as placeholders while working with yarn. Download your copy on their page here.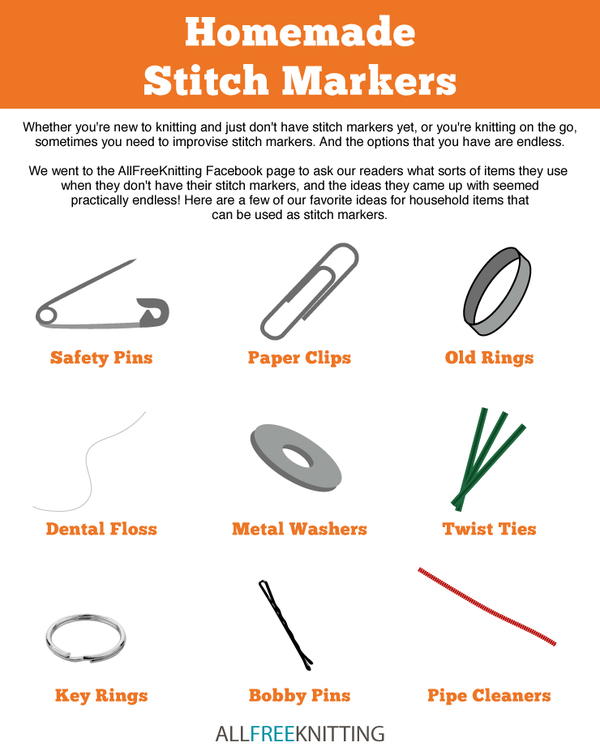 If you want to buy place markers, then you'll have to choose between a few different types. The two main types are open or closed. Open is preferred for crochet, closed is preferred for knitting. Then you have to choose within those specific types and what will work best for you. Since we are mostly discussing crochet, let's quickly go over open stitch markers. Learn more about these crochet tools on our page, How to Use Stitch Markers.

Lock ring stitch markers look a bit like safety pins but are usually wider and made of plastic.

Split ring stitch markers look like a slightly coiled circle with just enough space for a piece of yarn to fit through.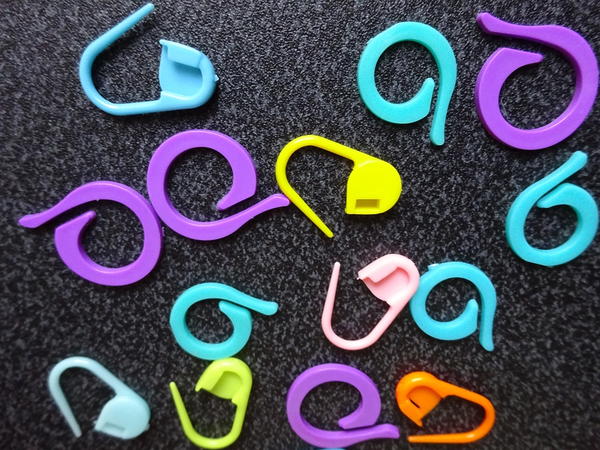 How to Use Place Markers
As you can see, you will simply find the place you need to mark and use one of the stitch markers you have on hand. Clip, twist, or tie it on and you will be ready to move on without losing your place.
Your Recently Viewed Projects
Join our community of 5 million crocheters! Right now!
Get free crochet patterns, exclusive partner offers, and more.
Thank You for Signing Up!
There was an issue signing you up. Please check your email address, and try again.