7 Free Crochet Preemie Blanket Patterns
Discover beautiful NICU crochet blanket patterns in this collection.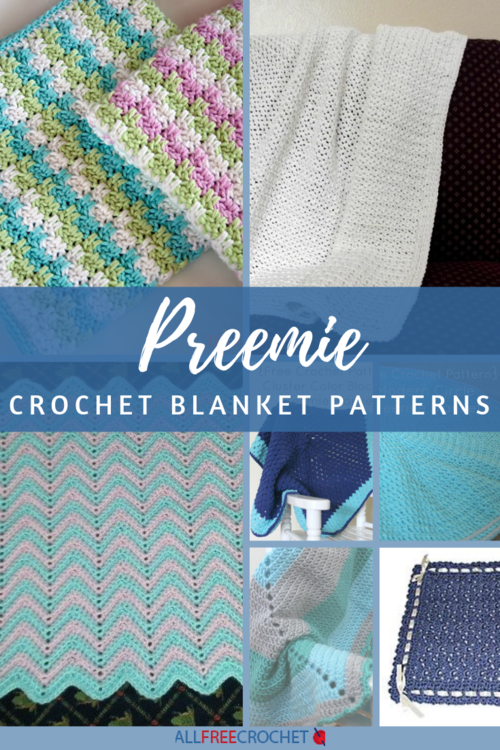 These sweet free crochet preemie blanket patterns come in a variety of small sizes for premature babies born very early or just a little early.

To get started, you need to know that the standard preemie crochet blanket size is approximately 24"x24". However, this can vary depending on how early the baby was born. One crocheter said she made 16"x16" blankets for her preemie twins which worked out well for her. Others say 18"x18", and you can do rectangles as well of say 24"x36". You also might want to consider making the blanket a bit bigger anyway since preemies grow so fast!

Bev's Country Cottage is a wonderful resource for sizes. Here is what she suggests:
Micro Preemie: 12"-14" square (30.5 cm - 35.5 cm)
Small Preemie: 18"-20" square (45 cm - 50 cm)
Medium Preemie: 20"-22" square (50 cm - 56 cm)
Large Preemie: 22"-30" square (55 cm - 75 cm)
Full Term Baby: 32"-36" square (80-90 cm)
Read her sizing suggestions for making a variety of crochet items here:
Sizes for making various items at Bev's Country Cottage
If you find another crochet baby blanket on AllFreeCrochet that you love, you can always work it up a bit smaller to give to the preemie baby in your life. In the meantime, here are some of our favorite preemie blanket crochet patterns!
Need more help resizing crochet patterns? Learn
How to Make a Crochet Blanket Bigger or Smaller
.
Free Crochet Preemie Blanket Patterns
Daydream Summer Blanket
This lovely blanket is perfect for everyone, so if you want to make another version for Mommy you can! This pattern comes in sizes starting with preemie and going all the way up to queen. Don't these stitches just look squishy and delicious?

Get the Pattern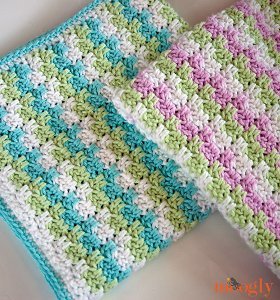 Dandy Baby Blanket
Because this pattern is so simple and mindless to work up, you can easily adjust it to be any size you need, especially depending on how young the preemie baby is! The stitches create a nice look to the fabric on both sides as well.

Get the Pattern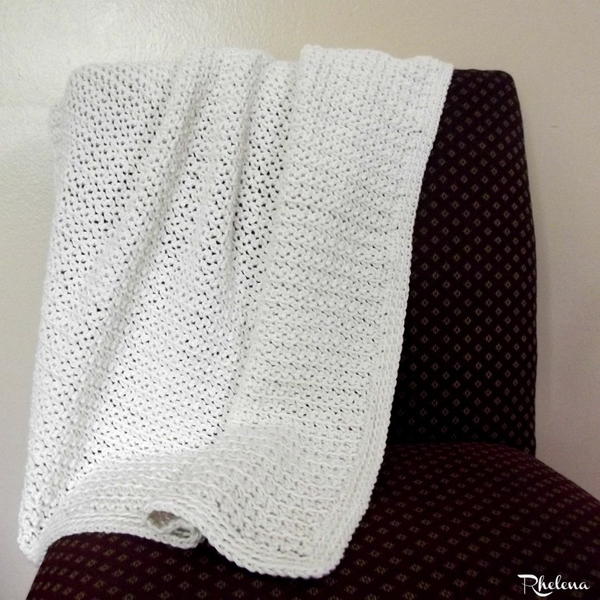 Baby Ripple Afghan
If you love the look of ripples, give this cute afghan a try! It's the perfect pattern for a baby shower where the Mom hasn't revealed the baby's gender since it's blue AND pink. This pattern comes in a 15 x 17" preemie size and a 30 x 34" newborn version.

Get the Pattern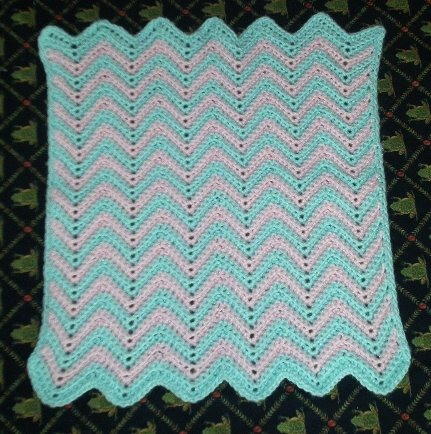 Modern Circle Preemie Blanket
If you're looking for preemie blankets to crochet, this circle blanket pattern is WONDERFUL because you can adjust the blanket to be exactly the size you need, depending on how young the sweet preemie baby is. The gray border is a really nice finishing touch.

Get the Pattern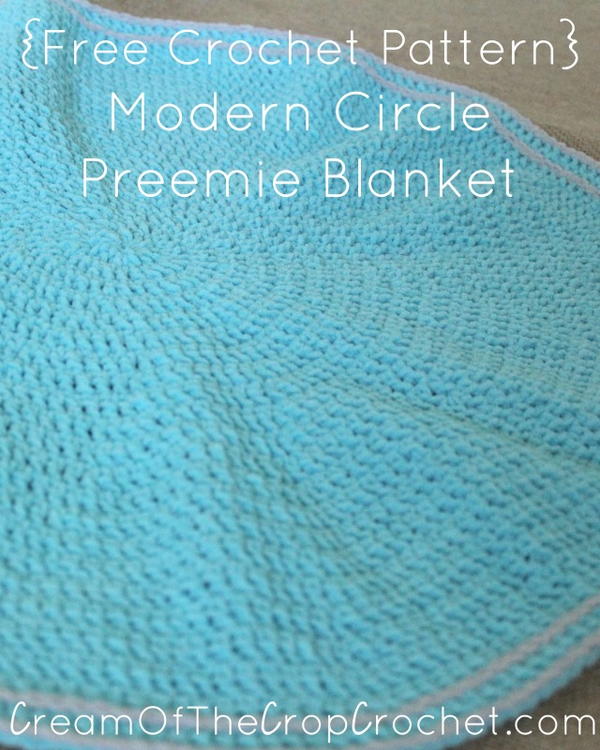 Sharon's Preemie Afghan
This sweet afghan features gorgeous eyelet stitches and a wonderful ribbon border for added detail. It's a simple yet beautiful design with a traditional look and feel. This is an heirloom that might be passed down for generations.

Get the Pattern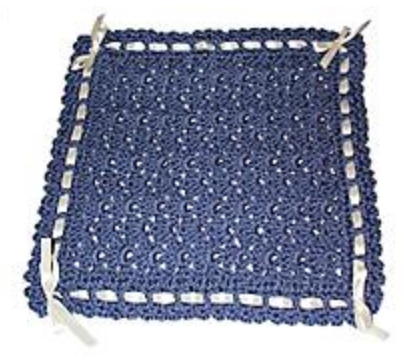 Ocean and Seas Preemie Blanket
Create a blanket that looks like waves for a summer baby! Shades of blue and gray create the loveliest oceanic blanket. The eyelet holes add a nice detail to the overall look.

Get the Pattern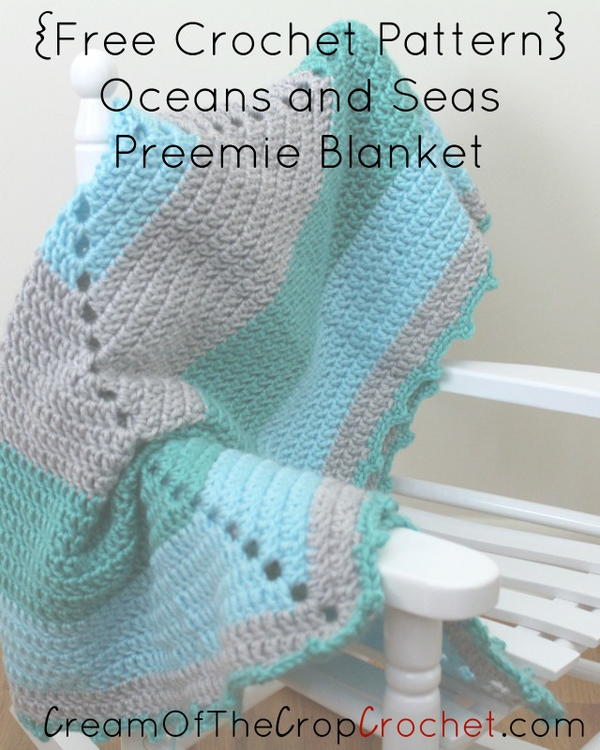 Cluster Color Blocked Preemie Blanket
Do you love making granny squares and granny square blankets? The cluster stitch is so fabulous because patterns work up so quickly when it's used! Make a beautiful hexagon-shaped preemie blanket crochet pattern.

Get the Pattern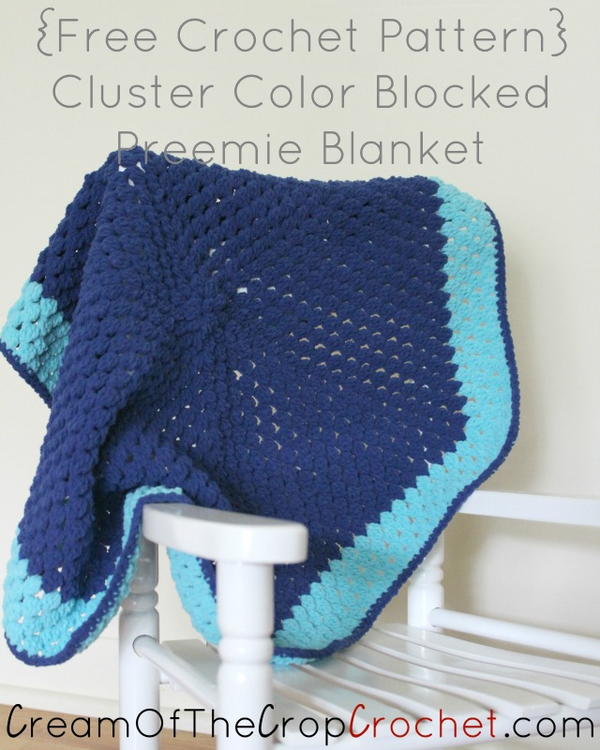 Your Recently Viewed Projects