Free Crochet Tips and Tricks: Organization Ideas, How to Crochet On the Go, and more
Bonus: Get our newsletter & special offers for free. We will not share or sell your email address. View our Privacy Policy

How to Keep Pet Hair Out of Crochet Projects
Looking to keep cat and/or dog hair out of your projects? Check out these tips for keeping your projects as pet hair free as can be.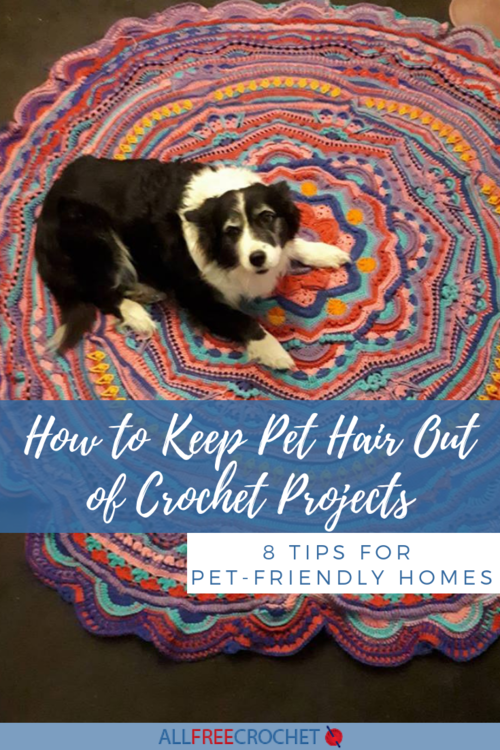 If you have a furry family member and are an avid crocheter (or knitter), you probably know exactly how tough it can be to separate your crochet projects from all the cat and dog hair tumbleweeds blowing through your house.

The truth is that owning a pet means you have pet hair on just about everything. There's no way to escape it! All your projects will absolutely have some kitty confetti or canine flair worked into the stitches. In truth, there's no way to keep pet hair completely out of your crochet patterns and projects.

Still, there are a few steps you can take to make sure the yarn to pet hair ratio is a little better.

Looking to keep cat hair out of your projects? Check out these tips for keeping your projects as pet hair free as can be.

Note: Since pet dander does travel, be sure to warn anyone you gift your crochet patterns that pet hair might be included. This will allow them to take the necessary precautions for anyone with an allergy at home.

If you are selling crochet items, be sure to add a disclaimer to all projects and explain that they were made in a cat-friendly, dog-friendly, or pet-friendly home.

"This square blanket has a fun ribbed texture. The close stitches keep a pet cozy. Although the instructions are for a small 14" (35.5 cm) square blanket, this pattern can be easily customized. This blanket is sized for donation to an animal shelter as part of the Snuggles Project." Adjustable Mitered Square Pet Blanket
How to Keep Pet Hair Out of Your Crocheting
Use a lint roller on your clothes and furniture before you start crocheting.
The number one way dog or cat hair finds its way into your projects is when it is on you first. Before you sit down to start hooking, lint roll your lap, arms, and belly as well as any surface you might rest your WIP on.

Train your pets to stay away while you're knitting and crocheting.
Chances are when you aren't busy working on a project, your pupper or kitter cat likes to crawl up for some cozy snugs. Make sure to train your pet not to lay on top of you while you're crocheting. This is especially useful if your pet is brand new and still learning the house rules. 

If you do this, consider crocheting at one particular spot and not allow them on the chair. This will make it easier for your pet to learn what furniture they can and cannot cuddle up on.

Store projects in a plastic tub or Ziploc bag when you're not working on them.
Just like dust, pet hair settles on just about every surface of your home. In order to avoid excess hair sitting on your WIPs, consider storing them somewhere while you're not working on them. Many crocheters recommend ziplock bags, but bigger projects can be tucked into plastic tubs or large bags like bedding bags or even garbage bags between crochet sessions.

As cute as Oakley (owned by I Like Crochet editor, Caitlin) is with that yarn, she was not thrilled to walk in the room and see him running around with it in his mouth!

Have a crochet-only room your cat or dog is not allowed in.
If you really want to keep pet hair out of your crochet, consider moving all your crocheting into a pet-free zone. Start a craft room or crochet in a space like an office or bedroom where your animals are already not invited.

Crochet at work or at a coffee shop.
You can also crochet far, far away from your furry little bundle of joy by completing projects at work during your lunch hours or at a local coffee shop. This is a great tip to use sparingly when you are creating an item for someone who you know is allergic.

Besides, starting a crocheting and/or knitting group at work can be fun.

Vacuum and keep your house clean.
Keeping your space clean is a great way to limit the amount of pet hair that works its way into your projects. The cleaner your space is, the cleaner your projects will be! Make it a point to vacuum your floor and furniture often

Wash and dry projects once they have been completed.
In addition to keeping hair out while you are crocheting, it can be helpful to remove the hair after the fact, as well. Once you finish a project, clean it and dry it before gifting it to a friend. 

Place completed and washed projects in a Ziploc bag for those sensitive to pet hair.
As soon as projects are completed, stick them somewhere safe like a ziploc bag or plastic tub. This will make sure that the project doesn't collect any more dog hair and dust. 
Pet Hair + Clothing Moths - A Yarny Warning
Clothing moths are the nasty little bugs that sneak into your closet and attic and munch holes in your clothing. What you might not know is that they LOVE to munch on yarn, too. These icky bugs seek out animal fibers to chomp on which is why they get ahold of silks and nice wool sweaters. If you work with wool, alpaca, angora, etc. yarns, your yarn stash could be in trouble if you don't take proper precautions. 

Did you know that pet hair can make your projects and stash more at risk for this icky issue? If there is pet dander or hair in your stash, these moths can find it much easier! 

Never fear! Our friends at AllFreeKnitting have ALL the answers. Check out their full article on keeping projects safe from clothing moths.

Clothes Moths & Yarn: How to Protect and Preserve Your Yarn

 
Crochet Patterns for Your Furry Friends
Free projects, giveaways, exclusive partner offers, and more straight to your inbox!
Your Recently Viewed Projects
Images from other crochet readers


Something worth saving?
SAVE all your favorite patterns
ADD personal notes
QUICKLY reference your patterns