26 Crochet Scarf Designs and Crochet Cowls
Your teeth are chattering, your neck is cold and you just want to be laying next to a warm kindling fire. I painted a pretty picture didn't I? Try to stay warm during the fall and winter months with some crochet scarf designs and crochet cowls. We have a plethora of patterns to choose from in 98 Free Homemade Crochet Designs along with other winter gear, home decor and accessories.. The winter patterns we have come in a variety of crochet stitches for scarves and crochet cowls. Using a lighter yarn allows you to make these scarves for any season. Most of the scarves and cowls are easy to work up, but the skill level varies on certain patterns depending on what crochet stitches are used. If you're looking for a new way to accessorize your outfit then this is the way to go!

When crocheting scarves and cowls you might come across some crochet abbreviations you're unsure of. That's not a problem because here at AllFreeCrochet, we always provide you what you need. In this fabulous collection of crochet scarf designs you'll see some openwork patterns, some crochet patterns for neckwarmers and some lacy patterns. Let the fashion show begin!
26 Crochet Scarf Designs and Crochet Cowls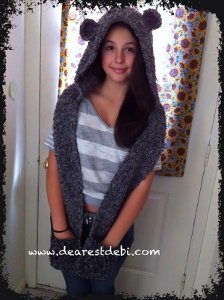 Snow Bear Hooded Scarf - This hooded scarf is great for those colder winter days. Not only can you keep your neck warm, but the hood keeps your head warm as well. If you don't feel like wrapping the scarf part around your neck that's not a problem. Keep your hands warm in the pockets! Crochet scarf designs like this are multifunctional and will keep you wanting more.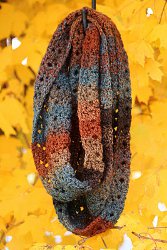 Autumn Infinity Scarf - This crochet infinity scarf tutorial has amazing colors perfect for the fall season. This is a stylish and chic scarf that uses Lion Brand Tweed Stripes yarn giving it that self striping look. You can work this scarf up in less than four hours allowing you to wear it the same day you make it!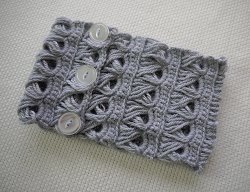 Broomstick Lace Scarf - Crochet stitches for scarves can turn one plain pattern into something completely different. This broomstick lace scarf (or crochet cowl) can be worn as a collar to accessorize your outfit. It's worked in rows and adorned with buttons once the pattern is complete. Using soft yarn gives it that crisp look.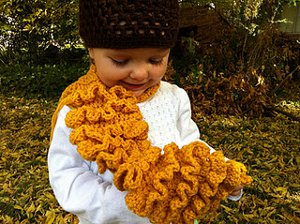 Mustard Colored Ruffled Scarf - The ruffled design of this crochet scarf is a fun one that kids will love to wear. The bright color will allow you to spot your child from a mile away when they're going down that sled hill. You can even make yourself a matching scarf just by making the pattern longer!
Check out the full collection of crochet scarf designs and crochet cowls!
And don't miss out on 98 Free Homemade Crochet Designs where you can find all these scarves and a TON more!
Your Recently Viewed Projects