Fauxchet Crochet Easter Eggs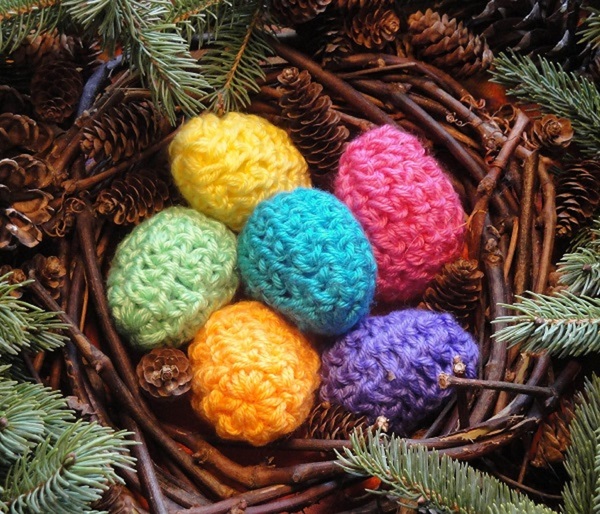 Add a little pizazz to your spring decor with these Fauxchet Crochet Easter Eggs. Using plastic eggs and some brightly colored yarn you can set out these Easter eggs in a cute bowl for your spring decor; they're easy for beginners to make! Using the easyloop fauxchet tool you'll work the single stitch through the front and back loops. After you work most rounds you'll stuff the plastic egg inside and then finish. It's easy, it's fun and it's something new to try this spring season.
Materials:
1 oz. worsted yarn (green, yellow, pink, blue, purple, orange)
Yarn Tool: Easyloop® fauxchet® tool
Multi-colored plastic eggs
Finished size
: One size (2" x 3")
Tool tension
: Using the easyloop® fauxchet® yarn tool, PULL NEEDLE BACK 1 inch and PUSH NEEDLE INTO LOOP 1 inch.
Gauge
: 6 sts and 5 rows = 2 inches.
Stitches used
: SINGLE FAUXCHET® STITCH (push tool through FRONT and BACK LOOPS).
Special techniques
: CIRCULAR STITCHING; SEAMING.
Instructions:
To begin
: The CIRCULAR STITCH begins by threading the easyloop® yarn tool with the yarn color of your choice. After threading tool, pull yarn so there is 12 inches of yarn between needle tip and yarn end. Wrap yarn around your index finger loosely two full times (as in the CIRCULAR STITCH technique in The Art of Fauxchet® E-book). Adjust so there is only 1 inch of yarn between needle tip and the loops around your finger. Insert the threaded tool into the loops around your finger, forming a slip stitch and securing the stitch to the loops of yarn.
Row/round 1
: Create 10 Single fauxchet® stitches into the loops that are wrapped loosly around your finger. Slide this row of completed stitches off your finger and pull yarn end to tighten.
Rows/rounds 2-9:
Single fauxchet® stitch into each stitch in each row/round, working even to end of row/round 9. Do not make an extra turning stitch at the end of each round and do not turn work.
Assembly
: While leaving the needle tip inserted into the last stitch you made, insert a plastic egg (the same color as the yarn used or a contrasting colored egg) inside the circular stitched fabric.
Row/round10
: With the plastic egg inside the fabric, single fauxchet® stitch around the next row/round, decreasing every other stitch (as in the DECREASING technique in The Art of Fauxchet® Book).
Row/round 11
: Using the SEAMING technique in The Art of Fauxchet® Book line up the open ends of the stitched fabric and double slip stitch into each remaining stitch of both layers of fabric closing the seam. At the end of the row, end work by fastening off with 1 extra chain stitch into the last stitch you made.
Finishing
: Cut yarn, pull yarn end to tighten and weave loose yarn end in.
Your Recently Viewed Projects
Join our community of 5 million crocheters! Right now!
Get free crochet patterns, exclusive partner offers, and more.
Thank You for Signing Up!
There was an issue signing you up. Please check your email address, and try again.