How is Yarn Sold? (Yarn Packaging Types)
When it comes to the different yarn packaging types you find with bundles of yarn, how do you know what to buy? We'll fill you in!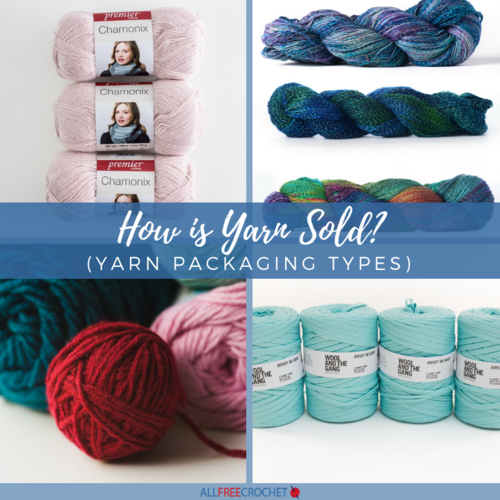 If yarn came in one type of packaging that would be easy enough to understand but that is not the case! If you've been to a yarn shop or looked online for yarn, then you know about the diverse styles of packaging.

It can be difficult to understand the differences, especially if you are just getting started in crochet (or any yarn craft). That's why we are here to answer the popular question, How is Yarn Sold? And go over the yarn packaging types available.

Learn about each yarn unit and shape, their names, and other basic information like the amount of yarn in each. We also have a wonderful yarn infographic for you to download. It's especially helpful if you are a visual learner.

No need to wonder again if that yarn bundle you're looking at is a skein, hank, cake, or ball. This crochet reference article will walk you through the fine details of the most popular types to help you better understand your next yarn selection.




Table of Contents​​​​​​​​​​​​




​​​​​​​Skeins of Yarn​​​​​​​​​​​​​​​​​​​​​​​​​


​​​​​​​Hanks of Yarn​​​​​​​​​​​​​​​​​​​​​​​​​​​​


​​​​​​​Balls of Yarn​​​​​​​​​​​​​​​​​​​​​​​​​​​​


​​​​​​​Cakes of Yarn​​​​​​​​​​​​​​​​​​​​​​​​​​​​


​​​​​​​Cones of Yarn​​​​​​​​​​​​​​​​​​​​​​​​​​​​


​​​​​​​Free Yarn Packaging Infographic
​​​​​​​​​​​​​​​​​​​​​​​​​​​​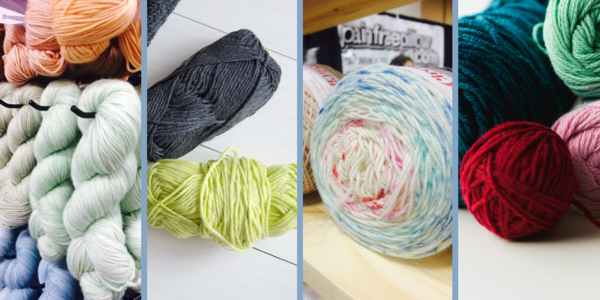 Skeins of Yarn
This is probably the most common type of yarn packaging around. According to Merriam-Webster, the skein of yarn definition is "a loosely coiled length of yarn or thread wound on a reel." Since that's not entirely helpful in understanding yarn skeins, let's dig a bit deeper.

A yarn skein (the pronunciation is skān, like skate but with an "n" instead of "t") is sometimes used as a length measurement but that's far less common these days. Now it's the type or shape of yarn. Skeins are oblong bundles that tend to have a center pull strand end (though sometimes the yarn end is on the outside).

Below, you'll see the standard skein packaging you'll find from yarn companies. In the infographic at the bottom of the page, take a look at the other skeins commonly found or created by yarn crafters. The pull skein is rolled with purpose and has the center pull end. The bullet skein involves wrapping yarn in the middle, going the opposite direction of the skein.

Skeins are sold by weight. The average skein weighs about 7 ounces.
 
There are a lot of things to keep in mind as you start learning how to crochet, from the tools you need to the techniques you need to know. Before you can even get to choosing your yarn colors and brands, you need to understand yarn weights and more. Learn everything you need to know with our page,Solved: Best Yarn for Crochet
Hanks of Yarn
A hank of yarn, also commonly referred to as a yarn hank, is a way to package yarn in a loose and clean manner, allowing for less tangling. There are a few different types of hanks. The most common type is the twisted hank. You can find the twisted hanks in both s twist and z twists. That's the direction that resembles the letter, either an "S" or a "Z", so it's fairly simple to see when looking at the yarn twist.

The images below all show twisted hanks but there are less common hank types that you'll see examples of in the infographic below. A regular hank has the yarn loosely gathered in an oval shape. A folded hank involves the length of yarn folded together.

Hanks are common, especially when it comes to specialty yarn. High-quality yarn looks nicer when presented in a hank and is easy to see the quality or variegation when relevant. Hanks are also one of the easiest types of yarn packaging to re-wind. Many buy hanks and then wind them into balls or other manageable shapes without introducing tangles as is more common with skeins. Learn How to Wind a Yarn Ball with this tutorial.

Hanks are sold by length. The average hank is 300 yards but it depends on the type of fiber.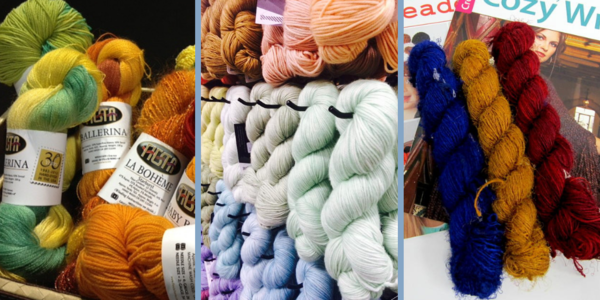 Balls of Yarn
At the very least, you've seen cartoons or illustrations of kitties playing with balls of yarn (side note: yarn and cats are a dangerous mix - always keep your yarn away from pets). Balls of yarn are also some of the most recognizable types of yarn packaging. When it comes to the ways in which yarn is sold, balls are common, though you are more likely to buy one of the other yarn packages and roll it into a ball yourself.

Balls are easy to work with and the ends can be pulled from the center or on the outside. The spherical shape helps avoid tangles as you're working. Many crocheters and knitters will turn a skein or hank into several smaller balls to make the yarn easier to work with. In the infographic below, you will also see that there are two main types of balls, the regular and the donut ball, which has a hole in the middle (this is the most common type of ball you'll find for purchasing).

That's why it's difficult to pinpoint how much yarn you'll get in a ball of yarn. If purchasing, it will most likely be the same amount as a skein or part of a skein.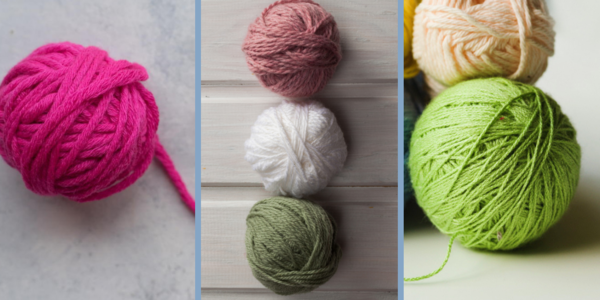 Cakes of Yarn
How is yarn sold? Well, this may be the sweetest option. Like most quilting fabric packaging, the cake of yarn is a bit confusing. To help you remember, the yarn is rolled into a shape that looks like a small cake with a flat top and bottom with rounded sides, which is how it got the name. Besides the shape, it's similar to a ball of yarn.

A cake is a compact bundle of yarn formed with a mechanical or hand ball winder. It is often variegated. The way it's packaged allows prospective buyers to see all the color changes without unwinding the cake. Plus, the flat bottom of this yarn packaging helps it stay in place when the crafter is using the yarn.

Cakes are sold by length and weight. The average Caron Cake is 383 yards and weighs 200 grams.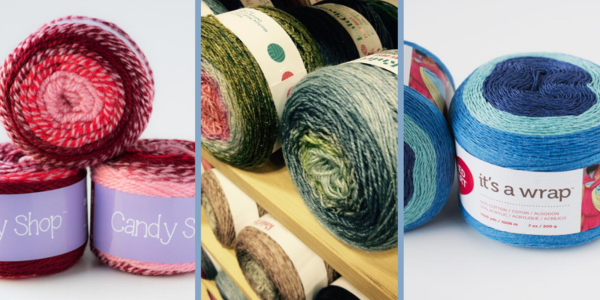 By far, worsted weight yarn is the most popular weight for any crochet project. Here at AllFreeCrochet, we have thousands of free crochet patterns for worsted weight yarn that we've organized just for you. Find a new pattern to try in our collection of20+ Worsted Weight Yarn Crochet Patterns
Cones of Yarn
Cones of yarn (and thread) usually involves large quantities of yarn and so it tends to be the most budget-friendly type of yarn packaging. Cones of yarn involve a vertical cylinder in the center with the yarn wrapped around it. It can be the same thickness all the way around or taper off to a thinner top.

Fabric yarn, such as jersey, is a popular type to find in cones, along with the thinner DK and crochet thread used in crochet. It's wrapped tightly around the center pole and can be left when in use or re-wound into a ball.

The Chronicles of Yarnia explains how much yarn is in a cone with their article, "How Many Skeins In A Cone?" For example, there is about four and a half skeins worth of yarn in just one 8 ounce cone.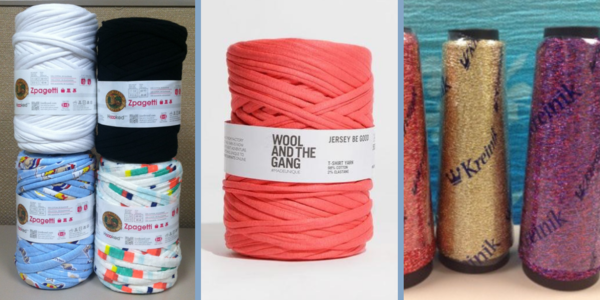 Free Yarn Packaging Infographic
Never forget again when you have this handy infographic on hand. Save it to your phone or desktop computer. Print this out by clicking on the image below or the button. Keep it in your yarn room, by your computer, or in your purse for when you go yarn shopping.


Get the Yarn Packaging Infographic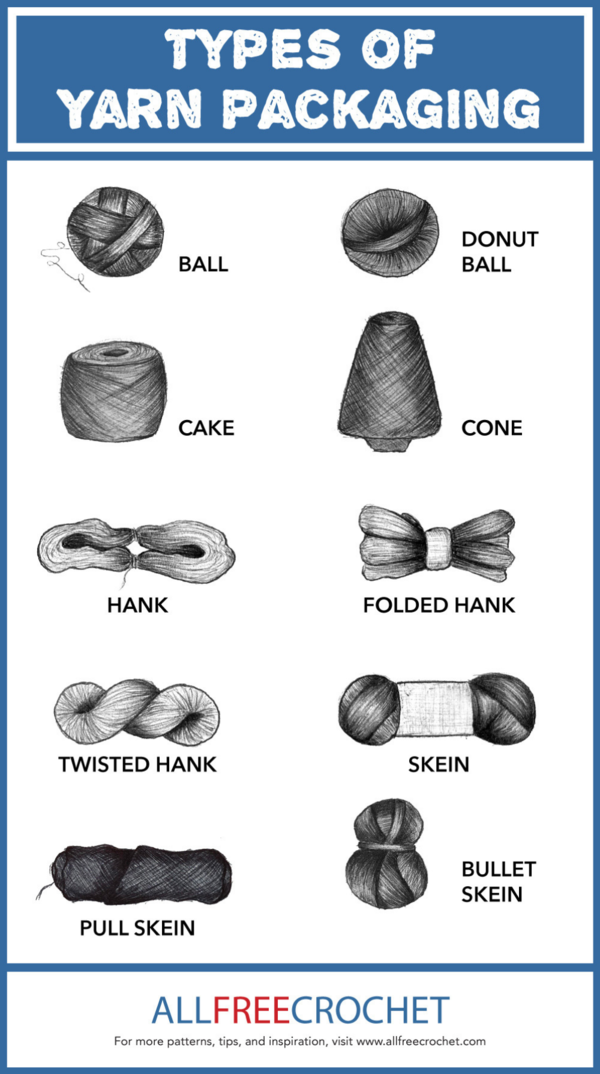 Your Recently Viewed Projects
Join our community of 5 million crocheters! Right now!
Get free crochet patterns, exclusive partner offers, and more.
Thank You for Signing Up!
There was an issue signing you up. Please check your email address, and try again.