Shawls for Charity: An Interview with JourneyCare Hospice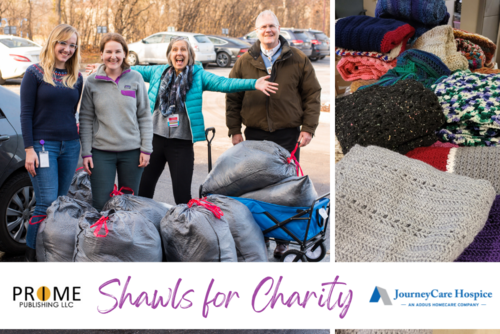 Since 2015, Prime Publishing has been proud to host shawls for charity drives. We collect comfort shawls and blankets, handmade by our generous readers, to donate to patients in need in the Chicago area. Our 2022 drive collected over 200 shawls for our charity partner JourneyCare to distribute. To learn more about JourneyCare, and the impact the donations have on their recipients, we reached out to Tim Lankford, MAPS, BCC, Hospice Chaplain. Tim kindly provided insight and inspiration in the interview below.
What is JourneyCare?
JourneyCare is the largest provider of Hospice Services in Illinois, serving patients and families throughout the greater Chicagoland area and surrounding counties.
Tell us about working at JourneyCare. How long have you been involved with this organization, and what's the most rewarding aspect of your job?
I have been on staff with JourneyCare for over five years and volunteered for thirteen years previously. I have the honor and privilege of accompanying patients, along with their loved ones, in the last months, weeks, days, hours, and moments of their earthly life. It is a sacred and authentic space where I laugh, cry, and pray with people every day.
I know JourneyCare works with a handful of different hospitals in the Chicago area. Can you tell us a little bit about who receives the shawl/blanket donations? How do you decide how/when to distribute them?
Yes, we have an inpatient unit at Rush and Northwest Community Hospital, as well as our standalone inpatient unit in Barrington, IL. These are like intensive care units for hospice patients. Most of our patients are in their homes or at various facilities. We give your shawls to patients, often on admission, and sometimes family members who are struggling. Chaplains regularly give them to patients, but nurses and social workers, nurse assistants, and sometimes even doctors provide them to patients as well.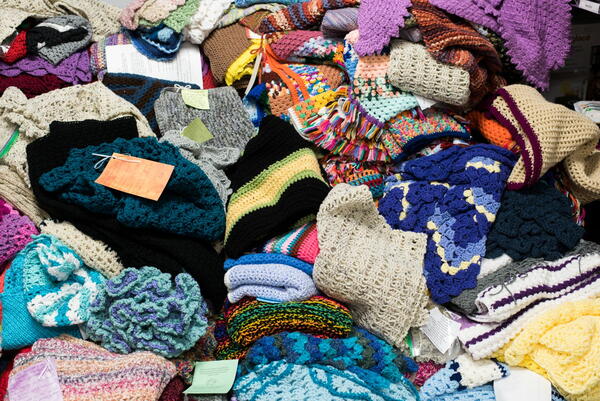 Why are these donations so important/appreciated?
People are elated to receive these beautiful handcrafted works made by someone they don't even know... especially when they learn that the donor typically prays for them as they make the shawl/blanket. I often tell them we are going to cover them with prayers.

At a time when words are not sufficient… the shawls speak volumes. I am regularly moved by the resultant smiles, laughs, and tears of joy and gratitude. When patients die, loved ones often want the shawls as a keepsake, and others inquire if it is okay to bury them with the patient. Some patients never take them off. 

Thank you... thank you to all who have or will give us a shawl or blanket. God bless you for making a difference… and providing a light in the darkness.
Is there a particular type/style of shawl/blanket that is most useful for patients to receive?
We welcome what generous donors would like to make. However, unisex is great so we can give to men as well. I often ask if they have a favorite color or two and try to accommodate.

Again, we are not choosy... but regular color requests are blues, greens, and pink, as well as earth tones and pastels, white, grey, black, purple, lavender, and yellow. We also welcome red, white, and blue patriotic blankets/scarves that we give to veteran patients. And various color combos that you make are great.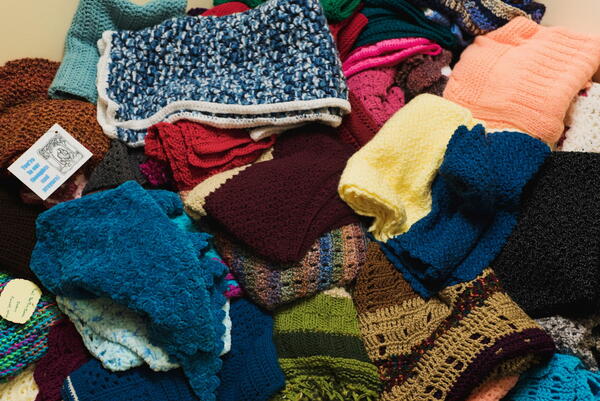 Are there any other types of donations you accept? What other ways can folks support JourneyCare or hospice providers in their area?
The Hope Foundation, a 501(c)(3) non-profit organization, was established to provide resources that go beyond the normal scope of the hospice benefit to our patients. Examples include assisting those in need and struggling with cost of care burdens, funeral expenses, and final wishes... like travel expense for a family member to say goodbye in person.

To make a tax-deductible donation, write a check to The Hope Foundation and mail to:

Addus JourneyCare Hospice       
3021 Lorna Road, Suite 200
Birmingham, AL 35216

A receipt will be sent to you in the mail once the donation is received.
Thank you to Tim Lankford for sharing the story of JourneyCare and their patients and families. And thank you to our wonderful readers who make a handmade shawl for someone in need!

To stay up-to-date on our upcoming shawl drives, visit AllFreeCrochet.com or sign up for our email newsletter.
Find More Crochet for Charity Ideas (and Free Shawl Patterns!)
Your Recently Viewed Projects
Join our community of 5 million crocheters! Right now!
Get free crochet patterns, exclusive partner offers, and more.
Thank You for Signing Up!
There was an issue signing you up. Please check your email address, and try again.