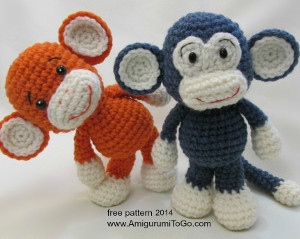 Make Your Own Monkey
Make your own monkey decorations to keep anywhere around the house with this adorable intermediate pattern. Give these cute crochet animals to your kids as little stuffed animals to play with or make a whole barrel of monkeys! Amigurumi crochet is always fun, so monkey around a little bit and have a good time making these cute crochet animals. Make a day out of it with your kids to get them involved so they can enjoy the process and the final product.

Yarn Weight(4) Medium Weight/Worsted Weight and Aran (16-20 stitches to 4 inches)
More Details
The Art of Amigurumi Crochet

Amigurumi crochet, originating from Japan, is a beloved craft that brings to life a wide array of charming and cuddly creatures. The term "amigurumi" combines the Japanese words "ami," meaning crochet or knit, and "nuigurumi," meaning stuffed doll or soft toy. Together, they create a delightful craft that involves crocheting small, stuffed animals or plush toys.

What makes amigurumi crochet so enchanting is the use of single crochet stitches in the round, which results in a seamless and continuous fabric. The soft and plush nature of the finished product makes these creations irresistible to both kids and adults alike.

A Barrel of Crocheted Monkeys

This intermediate crochet pattern invites you to venture into the world of making monkey decorations that are brimming with personality. Whether you decide to create one or make a whole barrel of monkeys, the process promises to be enjoyable and rewarding.

These cute crochet animals can be made in various sizes, depending on your preference. You may choose to crochet larger monkeys to use as statement pieces in your living room or create smaller versions to adorn shelves, mantelpieces, or your little one's bedside table.

Making Memories with Your Kids

Crocheting these charming monkey decorations is a wonderful opportunity to involve your kids in a creative and engaging activity. Set aside a special day to monkey around with your little ones, teaching them the art of crochet and watching their eyes light up as they bring their own cute crochet animals to life.

The process of crocheting together fosters not only creativity but also bonding and communication. As you work side by side, share stories, laughter, and the joy of creating something with your hands. The final product becomes a tangible representation of the time spent together, making it even more special and meaningful.

Choosing the Perfect Yarn

One of the delights of amigurumi crochet is the vast array of yarn colors and textures available to choose from. When picking the perfect yarn for your monkey decorations, consider the overall aesthetic you want to achieve.

For a classic and timeless look, you might opt for natural tones like browns and grays, reminiscent of the monkeys' wild counterparts. Alternatively, vibrant and playful colors can infuse your crochet animals with a sense of whimsy and fun. The choice is yours, and there are no limits to your imagination.

Customizing Your Monkeys

Once you've mastered the intermediate crochet pattern for these adorable monkey decorations, feel free to unleash your creativity by adding personalized touches. You can experiment with different facial expressions, accessories, or even varying sizes of ears, arms, and legs to create unique characters.

Why not make a family of monkeys, each with its own distinct personality? Or, if you're feeling adventurous, crochet a monkey that sports a little outfit, like a tiny crochet scarf or a miniature hat.

A Decorative Ensemble

As you finish crocheting your cute monkey decorations, it's time to find the perfect spots to display them around your home. These little crochet animals add a touch of charm to any space, making them an excellent addition to your home decor.

Place them on bookshelves, window sills, or even suspended from the ceiling to bring a playful ambiance to any room. They also make thoughtful and heartfelt gifts for friends and family, spreading the joy of amigurumi crochet far and wide.

A Playful Journey in Crochet

So, whether you're a seasoned crocheter or a newcomer to the art of amigurumi crochet, this intermediate pattern offers a delightful journey of creativity and fun. Create your adorable monkey decorations and watch as they brighten up your home, capturing the hearts of everyone who lays eyes on them.

Embrace the joy of crocheting with your kids, sharing the magic of crafting and making memories that will last a lifetime. Let your imagination run wild as you customize your crochet animals and bring unique characters to life.

So, gather your materials, spread out your yarn, and let the crochet hooks dance as you monkey around with amigurumi. Get ready to immerse yourself in the world of cute crochet animals, discovering the enchantment of this cherished craft, one stitch at a time.
Your Recently Viewed Projects