What is Tapestry Crochet?
This guide provides everything you need to know about tapestry crochet. What it is, how to do it, plus free tapestry crochet patterns to try!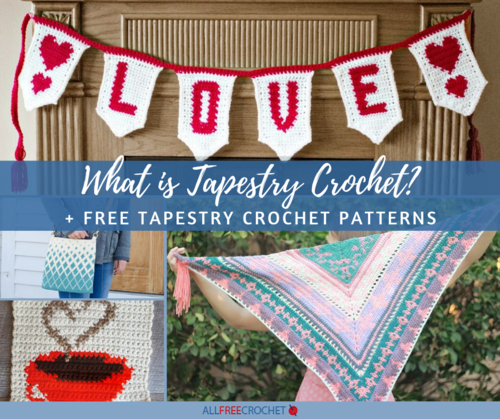 Tapestry crochet is a unique crochet method that allows you to create a precise and visually stunning design within one project.

With the tapestry crochet technique, you can use multiple different yarn colors in a single crochet row. When combined, they make a beautiful design or picture.

For crocheters who like adding fine details to their projects, this is a great method to use since the ability to switch yarn colors within a small space will make the overall image appear sharper.

When it comes to tapestry crochet, granny square patterns tend to be the most common type of project. However, this technique can also be used to make elegant crochet bags and purses, too. You can even make tapestries like those that inspired this crochet technique.

Below, learn all about this crochet technique. First, we're answering "what is tapestry crochet?" with a detailed explanation. After you've learned all about it, it's time for examples. Then we're going over how to design your own tapestry design with an example. Lastly, find our favorite free tapestry crochet patterns for you to try.

Sign Up For More Free Patterns >>>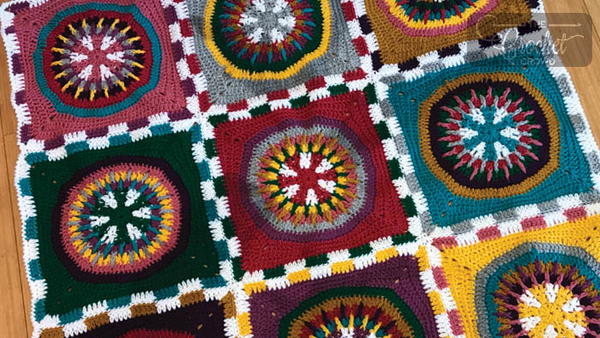 Tapestry Crochet Explained
According to Red Heart Yarn, there are two main ways that tapestry crochet can be displayed in crochet patterns: one way is to have the directions listed in rows, and the other is to have a visual image grid of the overall design.

Let's discuss these two types. First, tapestry crochet explained in a written pattern. The Crochet Poker Chip Blanket Pattern that's shown above is a beautiful example from The Crochet Crowd. Mikey purposely designed it so that the crocheter can make the blanket with or without the tapestry technique.

Instead of showing a grid or diagram, it explains it in the pattern:
 
To explain the second, we're using Bernat's Deco Crochet Tapestry as an example. In the written pattern, it explains that the tapestry crochet design is made using separate balls of yarn that should not be carried over as you work.

There's also a chart (aka grid, or diagram), which is shown in part below. This helpful image shows the rows and the colors that are used for each. There's also a key with the colors to help distinguish it even more.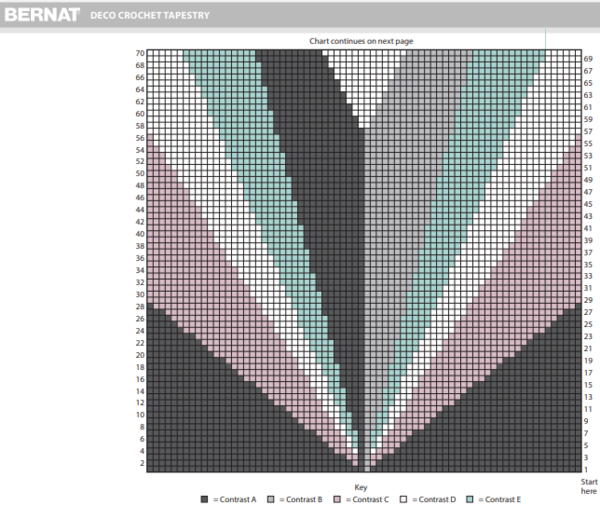 How to Design Your Own Tapestry Crochet
One of the other unique things about tapestry crochet is that you can design your own pattern! Because it uses grids and single crochet, it's easy enough for anyone to create a picture to crochet.

The minimum number of colors is two, which means that you can create a simple design that won't take a lot of work to design or crochet. However, the more advanced you get on creating and crocheting, you can add more colors or design more intricate images.

Design your own tapestry crochet diagram by hand or on your computer. You can even find a tapestry crochet pattern generator app or website (like Stitch Fiddle).

Some of the easiest designs to start with are basic geometric or simple shapes. Something like a heart is a great piece to begin with.

We would suggest trying a few existing patterns before creating your own but either way is simple if you understand how tapestry crochet works. Scroll to the next section for some of our favorite free patterns!

Supplies Needed:
Grid paper
Black pencil/marker
Two or more colored markers/pencils
OR digital graphic design program (Microsoft Paint, Canva, Stitch Fiddle, etc.)
Using the grid paper, mark off a grid for the full size and shape of the crochet piece you want (such as a blanket or granny square).

Note: Each square can represent any unit of measurement you'd like, such as 1 square = a 1-inch square.
 
Create a key (if desired) to designate the colors of yarn being used.
 
Using color 1, create a design using the grid (such as the pink heart shown below). The main color (like the empty white space in the image shown below) can be colored in if desired or simply marked in the key.
 
Crochet your tapestry design!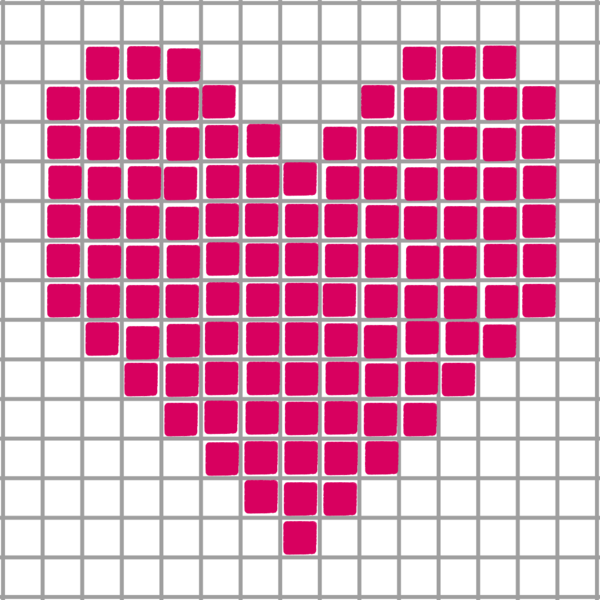 Free Tapestry Crochet Patterns
Although tapestry crochet may seem challenging at first, the careful handiwork spent making sure each stitch is perfect will definitely pay off when the project is complete. The beauty of tapestry crochet makes it a perfect method to use for all your future crochet quilt or holiday projects.

One reason why tapestry crochet is a good method to use for crochet projects with fine details is because of the elegant designs crocheters can make with this technique. Whether it's big or small patterns, the tapestry method allows crocheters to craft intricate detail work that will really make a project shine.

According to The Spruce Crafts, one note you should keep in mind about tapestry crochet projects is the fact that each pattern will be different for right-handed versus left-handed crocheters.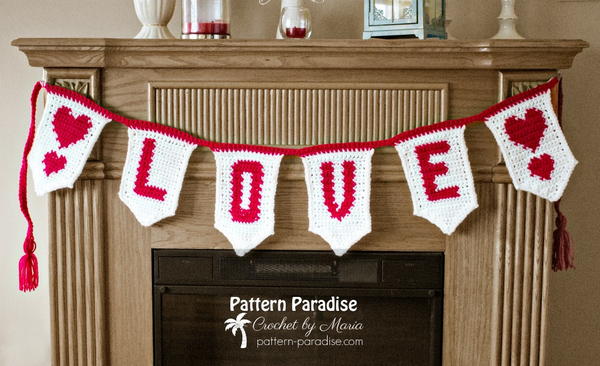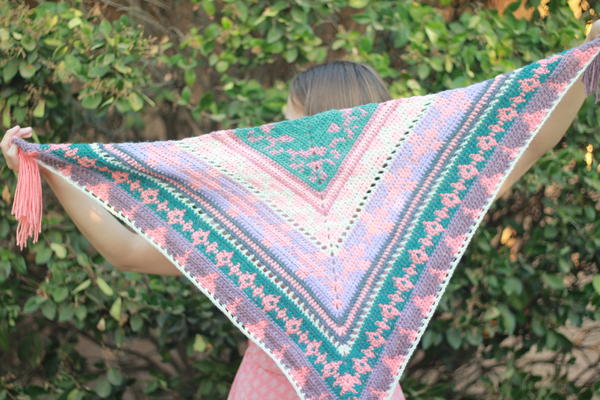 These brilliant patterns are only a few of the many projects you can make with tapestry crochet. With so many possibilities, you'll be able to create any fabulous design once you learn how to master this technique. Find out how elegant tapestry crochet can make all your future crochet crafts look!
Which kind of project do you want to use tapestry crochet for?
Your Recently Viewed Projects