Crochet Scarf Designs: Cute Crochet Scarf Patterns For All Seasons
By: The Editors at AllFreeCrochet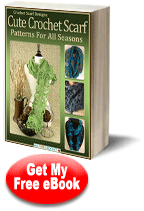 Crochet Scarf Designs: Cute Crochet Scarf Patterns For All Seasons
As we enter into yet another new year, I like to reflect on the past as well as take a sneak peek into the future. Of course we can't tell what's in store before it happens, but we can somewhat assume, at least in the crochet world. If you've been shopping at any time in the past few months (which I'm sure you have), you're most likely to see crochet scarf designs if you look to your left and again if you look to your right. It seems as though cute crochet scarf patterns are all around us these days and they're not just for the winter anymore.

When we were kids we would get wrapped up in bulky crochet scarves and warm winter coats before we went outside to play in the snow. Nowadays you will see people walking in the park during the summer with these fabulously bright and amazing scarves in multiple crochet colors. Easy crochet scarves, or any scarves for that matter can be worked up in either bulky heavy yarns or thin and lacy yarns. In any case, we've put together a list of our favorites, and hopefully yours, of crochet scarf designs and cute crochet scarf patterns. You will easily find what you're looking for as we've divided them into seasons! Make one for every season in all the crochet colors you want.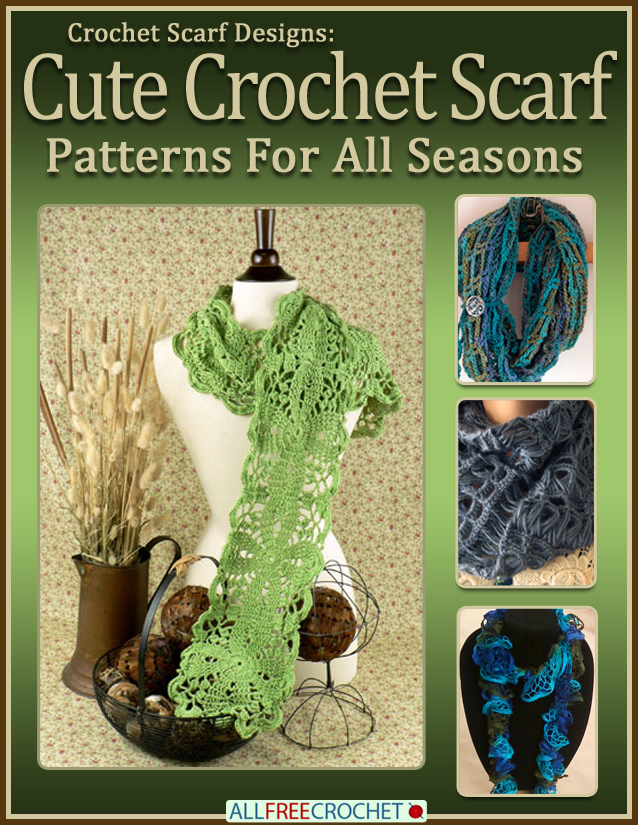 Download your absolutely free copy of Crochet Scarf Designs: Cute Crochet Scarf Patterns for all Seasons today!
Crochet Scarf Designs Table of Contents
Note from the Editor
Dear Crocheter,
We're here to give you a friendly reminder that your outfits are awesome but they'd be even better accessorized with a scarf! We have scarves for every season made with lightweight yarn or bulky. Whether it's below zero or you're in a tank top and shorts, you're outfit will look super cute with one of our crochet scarf designs. You can easily work one up in under an hour and keep in mind they make great gifts, too.
Cute crochet scarf patterns truly can give you the perfect finishing touch to your outfit. Scarves are modern, chic and will make you feel like a fashionista. We've learned scarves are no longer just for the winter season so be sure you join the new trend.
You can find more illustrated crochet stitches, patterns, tips, tutorials and videos for free at http://www.allfreecrochet.com.
Our eBooks, like all our crochet patterns, are absolutely FREE to members of our crochet community. Please feel free to share with family and friends and ask them to sign up at our website for our free e-mail newsletter.
Happy Hooking,
The Editors of All Free Crochet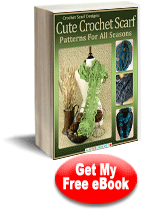 Download Crochet Scarf Designs: Cute Crochet Scarf Patterns now!
What's Inside This Free eBook
Spring Crochet Scarf Patterns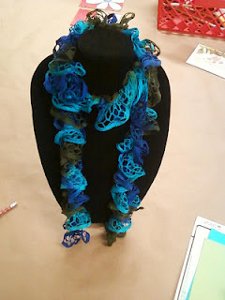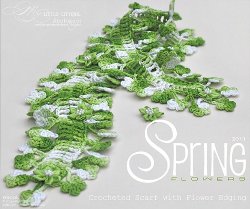 The Flirty Spring Scarf is very feminine and dainty so if you're looking to bring out the girlie side of you then this is the way to do it. Although this spring crochet scarf is shown in darker colors you can use brighter ones if you wish. Premier Starbella yarn is used which is a beautiful yarn to work with. Not only does it come in a variety of variegated colors, but you can separate the yarn before you work with it, which is how you get the lacy look. All the crochet scarf designs for all seasons are waiting for you in this eBook.
The Spring Flowers Scarf shows off an earth-toned green and white look which reminds us of the freshly grown spring grass. Easy crochet scarves like this one are a great accessory you can add to any outfit. The floral look is sure to give you compliments all season long. Crochet spring scarf patterns all season long!

Summer Scarf Crochet Patterns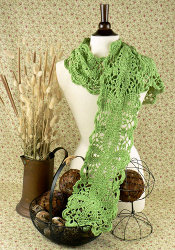 The Dainty Green Scarf uses Naturally Caron Spa yarn in a green sheen color, but again, you can use any color that suits you best. Crochet scarf designs like this are chic and modern and will never go out of style. Pair this scarf with a nice top and dress pants for the office or a tank top and cute jeans for a night out. The picot stitch and cluster stitch are both used for this design. Adding fringe to the bottom of this scarf is optional.
Fall Crochet Scarf Patterns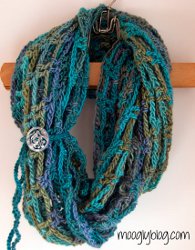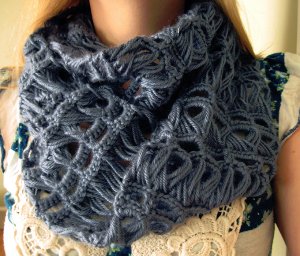 The Artfully Simple Infinity Scarf allows you to use your imagination as you can use any size hook and yarn you want. This specific crochet design uses Red Heart Boutique Unforgettable in Tidal with a button embellishment. Just one skein of yarn is required for this fun scarf measuring 50 to 60 inches when complete.
The Infinity Broomstick Lace Scarf speaks for itself and says "I'm chic, fashionable and will look amazing on you." Your wardrobe is begging you to include this in your collection of crochet scarf designs. Cute crochet scarf patterns like this can be worn during the fall or winter months.

Crochet Winter Scarf Patterns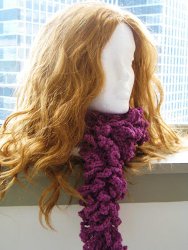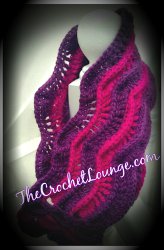 The A La Mode Boa Scarf is a fancy crochet design that screams "let's party!" Single crochet and double crochet stitches are used to create this playful look. The crochet instructions are listed step by step with images provided to help you with the pattern. This scarf is cute over a thin sweater or under a heavy winter coat. Pair it with some dangly earrings and you have an adorable outfit!
The Serenity Ripple Scarf gives off a relaxing vibe to where you can calm yourself and be carefree for a bit. Look great and stay warm with cute crochet scarf patterns like this. The ripple crochet stitch can give you the image of waves and the ocean which will immediately take you to another place. This scarf is easy enough for the beginner. Find some cute crochet scarf patterns in this eBook, just download it right now.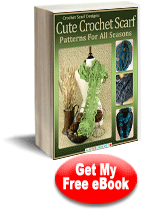 Download Crochet Scarf Designs: Cute Crochet Scarf Patterns now!
Need Help Downloading?
AllFreeCrochet eBooks are free, downloadable crochet pattern collections all organized around a central theme. They are all PDF documents that can be downloaded off of our website, saved to your computer, and/or printed out for easy reference while crafting and crocheting.
If you are having trouble downloading our free eBooks, visit our FAQ page here: How to Download Our eBooks.
Don't Miss Our Other Free eBooks
Be sure to check out our entire collection of free eBooks, where you will find all of the best downloadable crochet patterns. You'll find titles such as:
Sign Up for Our Free Newsletter
With so many crochet scarf designs to choose from it can be quite difficult to pick which ones you want to make. That's why we've stepped up to the plate and picked out a few of the cute crochet scarf patterns for you, and they are all just a click away. Simply download your free copy of Crochet Scarf Designs: Cute Crochet Scarf Patterns For All Seasons eBook for instant access to these patterns and more. With your copy of Crochet Scarf Designs: Cute Crochet Scarf Patterns For All Seasons eBook, you can also subscribe to our Hooked on Crochet newsletter to become part of a fabulous and friendly crochet community. In subscribing to the newsletter you will receive:
New FREE patterns and crochet designs made available to you throughout the year.
Access to our free pattern library full of 1000's more free crochet patterns.
The opportunity to share ideas and help others in the crochet community.
Six weekly emails with free crochet patterns, crochet designs,tips, collection pages, videos and more.
Chances to win crochet books and products from our weekly giveaways and contests.

Each season of the year brings something different whether it's a change of temperature or a change of color so let's embrace each of those seasons with fabulous crochet colors and designs.If you haven't downloaded our eBook by now then you must do so! We have crochet scarf designs that will keep you stylish and warm all year long. Crochet Scarf Designs: Cute Crochet Scarf Patterns For All Seasons is fantastic for everyone with a crochet hook.
If you're looking for some new accessories or outfit embellishments then work up a pattern from this eBook; the patterns are sure to make you feel chic, modern and like a fashionista. You're sure to find something you love in the Crochet Scarf Designs: Cute Crochet Scarf Patterns For All Seasons eBook. Once you subscribe to receive our newsletter, Hooked on Crochet, you will really see how neat it is to be part of the crochet community. If you've searched for crochet scarf designs, cute crochet scarf patterns, or easy crochet scarves, let AllFreeCrochet.com be your one-stop shop. Our newsletter and free crochet patterns are absolutely free to the consumer and will blow your mind. Grow your pattern collection and download this eBook for free right now.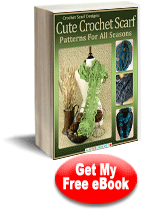 Download Crochet Scarf Designs: Cute Crochet Scarf Patterns now!
Tags / Related Topics
Your Recently Viewed Projects
Images from other crochet readers

Love these projects? Get MORE delivered to your Inbox – FREE Click Here!