12 Free Halloween Crochet Doily Patterns
Explore these elegant yet spooky Halloween crochet patterns.
Free Halloween crochet doily patterns will elevate your October decor to a new level. Add elegant yet spooky decorations to your pumpkins and table!

Our collection of doilies includes all sorts of lovely designs for your favorite scary holiday! All Hallow's Eve doesn't have to be frightening. Instead, it can be bright and fun or gorgeous and dramatic depending on which doily pattern you choose.

Below, you'll find a range of doily designs you'll be excited to create this season. Some of the designs below are traditional doilies for the table worked up in Halloween colors. Others include spiderweb designs, because of course doilies for Halloween naturally lend themselves to spiderweb designs! You'll even find a wearable pattern below, and a few other decorative items you'll love. For example, add doilies to pumpkins for a crazy-elegant look! Enjoy browsing these free crochet patterns for Halloween, and have fun decorating this October.
Free Halloween Crochet Doily Patterns
1. Trick or Treat Doily

This ridiculously elegant doily is detailed with the most beautiful stitches I've seen! Put your crochet skills to the test by starting with a gorgeous orange flower and branching out into lace ad overlapping stitches.

Get the Pattern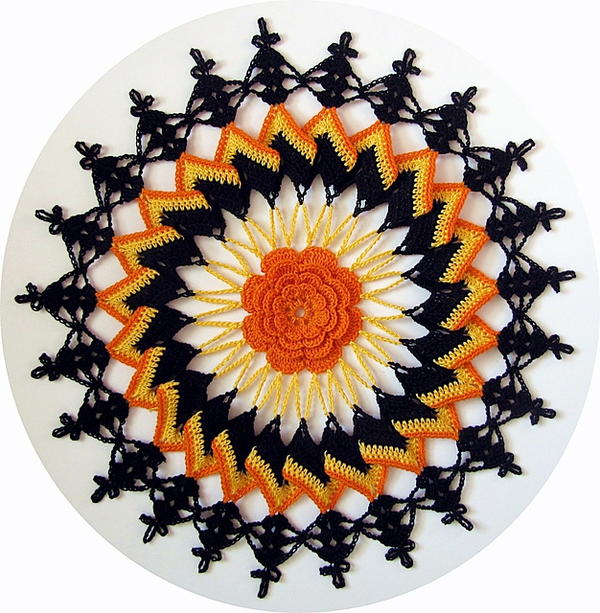 2. Pineapple Pumpkin Crochet Lace Pattern

Could pumpkins possibly look any classier? An orange ribbon and some black yarn are the tools you need to crochet the prettiest, spookiest pumpkin decoration. No need to carve pumpkins when you can dress them up this way instead!

Get the Pattern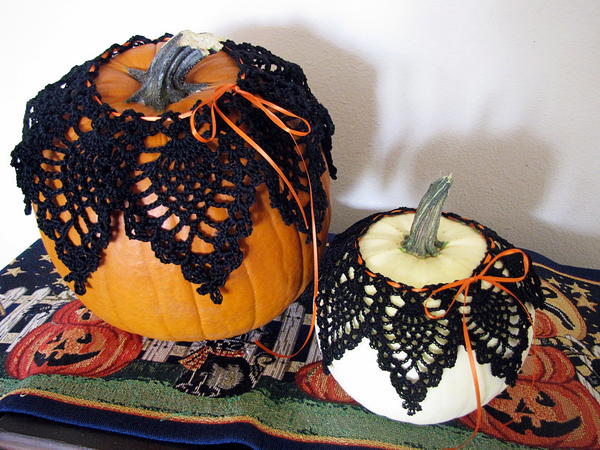 3. Spiderweb Doily

Unfortunately we only have a small image available for this pattern (so if you're viewing this article on a desktop computer it looks blurry because it's a bit stretched out). Please don't let that stop you! This elegant doily utilizes open stitches to create a pattern reminiscent of those creepy crawly friends. Even if spiders aren't your favorite, you can't deny how gorgeous their webs can sometimes look!

Get the Pattern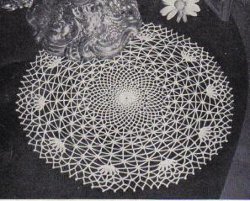 4. Halloween Boo Doily

How cute is this? If you're a fan of filet crochet, say Boo! with your table decor! You could also frame this and hang it up as wall decor this Halloween.

Get the Pattern
5. Halloween Doily

If you're more of a beginner and you're looking for a smaller Halloween doily to crochet, give this pattern a whirl! It measures 10 inches in diameter when you're done, which is a solid size for sitting underneath your favorite vase of October flowers.

Get the Pattern
6. A Pineapple Lace Shawl

Though not necessarily for Halloween, this doily shawl pattern is filled with allure in its rich, dark color. Accessories a witch or Bride of Frankenstein costume with this elegant crochet creation, and continue to wear it year round as a night-out accessory.

Get the Pattern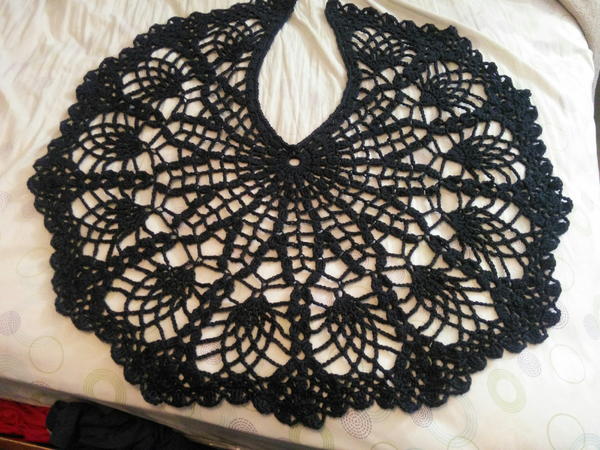 7. Halloween Motif Garland

Crochet several mini doilies to make your own garland for the banister or for the fireplace this season! This is a great opportunity to practice making these lacy beauties in the round so you will be equipped to work on larger projects!

Get the Pattern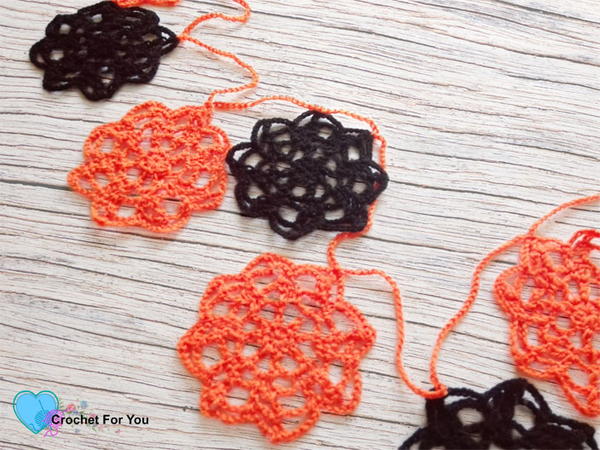 8. Spider Web Table Topper

Make the ULTIMATE super lacy table topper with this pattern! It's great practice for working on patterns with very open stitches, and you'll get to make an elegant border, too!

Get the Pattern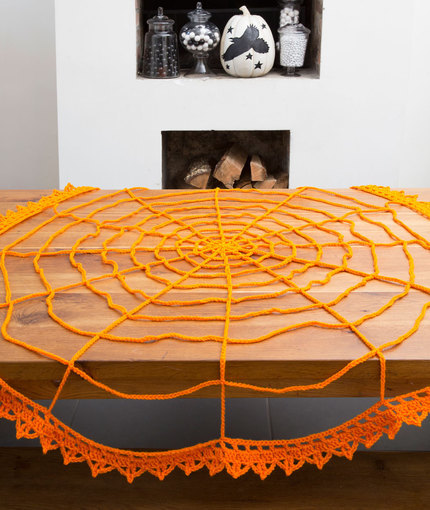 9. Haunting Lace Pumpkins

If you love the pineapple lace pumpkins pictured above, give this spooky pattern a try, too! With the look of cobwebs and nicely contrasting yarn in Halloween colors, these pumpkins will be a cheery decoration for your home this October.

Get the Pattern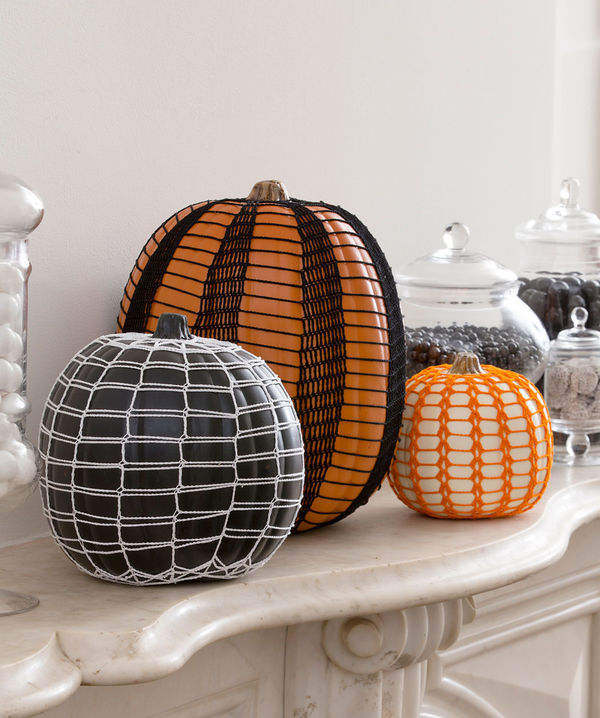 10. Spooky Spiderweb Square

These GORGEOUS squares have the doily look with those lacy stitches backed by black yarn for contrast. Create a lovely square doily to serve as a placemat or a rest for that dining room centerpiece.

Get the Pattern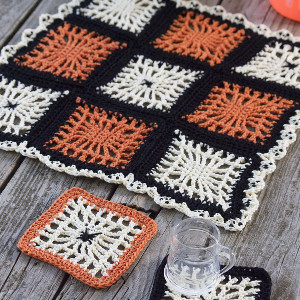 11. Spiderweb Table Topper

How about this stunning table topper to make? Once you get the hang of this pattern, you'll be able to work those open lace stitches easily. And the way it drapes off the edge of the table is just fantastic! PERFECT for an entryway table to set that bowl of Halloween candy on.

Get the Pattern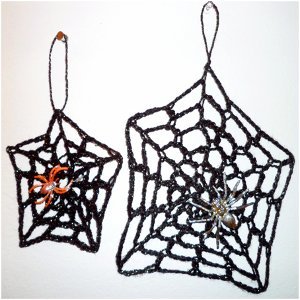 Bonus! Watch the Video Tutorial:
Your Recently Viewed Projects