Man Crafts: 10 Free Patterns to Crochet for Men
Man Crafts: 10 Free Patterns to Crochet for Men
One of the most common ways for women to show their love is through homemade gifts. If you're looking for a unique way to show the man in your life a little love and appreciation, making him something homemade is always a great place to start. If you're worried about finding the right project that he will love, then don't worry; man crafts are more abundant than you might think. There are so many free patterns to crochet for men to choose from including free crochet hat patterns, crocheted afghans, and free scarf patterns. He is sure to love any one of these crocheted man crafts.
If you're a man in search of the perfect crochet pattern to make for yourself, then you've come to the right place. This collection of Man Crafts: 10 Free Patterns to Crochet for Men includes the very best crochet patterns we have to offer for boys and men of all ages. No matter what your skill level is in crochet, you'll definitely find just what you're looking for in our latest collection of man crafts because there is such wide variety of free patterns to crochet for men to choose from.
Download your free copy of Man Crafts: 10 Free Patterns to Crochet for Men today!
Man Crafts Table of Contents
Note from the Editor
Hi Crocheter,
Man crafts are always fun to make, but can sometimes be difficult to find. Feminine crochet patterns are easy to find; there's lace, frills, and flowers everwhere you look. However, crochet is not just for girls! Believe it or not, guys appreciate homemade crocheted patterns, too.
Crochet patterns for men can be hard to come by, which is why we've collected our favorite free patterns all in one place for you to enjoy. Each one of these patterns would make an excellent homemade gift idea for any special occasion including birthdays, anniversaries, holidays, and Father's Day. You'll find patterns for men and boys of all ages including toddlers, teens, and adults.
You can find more patterns, tips, tutorials and videos for free at http://www.allfreecrochet.com.
Our eBooks, like all our crochet patterns, are absolutely FREE to members of our crochet community. Please feel free to share with family and friends and ask them to sign up at our website for our free e-mail newsletter.
Happy Hooking,
The Editors of All Free Crochet
Don't Miss Our Other Free eBooks
Be sure to check out our entire collection of free eBooks, where you will find all of the best downloadable crochet patterns. You'll find titles such as:
What's Inside This Free eBook
Accessories to Crochet for Men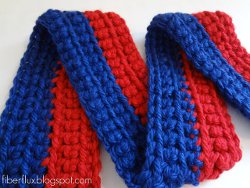 Little Man Scarf: The bold colors of this classic striped scarf pattern makes this the ideal pattern for men and boys of any age. Red and blue are typical boyish colors that you can't go wrong with; even kids will enjoy wearing this homemade scarf. You could also customize the look of this scarf by using two of his favorite colors. Use the colors of his favorite sports team or choose his high school or college colors for a pattern he can wear to football games. It's a timeless design that will never go out of style.
Da Beard Hat: You don't have to waste time at the mall searching for the perfect homemade gift idea for him; this unique crochet hat pattern is sure to be a hit! It's a quirky design that he will absolutely love. This free crochet pattern is the ultimate home run of man crafts. It's designed to not only keep his head warm, but his face as well. He will want to wear when he goes to football games, while he's shoveling snow, and even when he's simply running errands around town.
Manly Crochet Afghan Patterns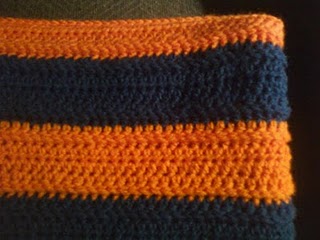 Manly Sports Lapghan: If your son, boyfriend, husband, or dad is a self-proclaimed "sports guy," then he's going to love this free crochet afghan pattern. This crocheted afghan is one of the best free patterns to crochet for men because you can completely customize it to match his favorite team. Plus, it's quick to work up so it makes a great last-minute gift idea. Give this to him for his birthday, Christmas, Father's Day, or just because.
Masculine Ripple Afghan: The red and black colors of this free crochet afghan pattern makes this the perfect pattern for any man cave. Ripple afghans are an easy and appealing design element to make and look great in any house. It's a great blanket for him to use if he gets cold watching TV or playing video games.
DIY Clothing Crochet Designs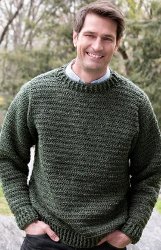 Simple Sweater for Him: This is a timeless sweater will be a great addition to any man's wardrobe. The simple style of this classic crew neck sweater makes this a great option for practically any occasion including birthdays, holidays, or just everyday wear. Use any color tweed yarn that you think he might like best.
Al's Dickey: If your guy isn't a huge fan of scarves or bulky winter sweaters, this free crochet pattern is a great option. It's simply a rectangular piece that's worn around your neck to prevent cold air from blowing directly down his shirt. This is a quick and easy pattern to complete and it would make a great last minute-gift idea for the holiday season. This dickey is one of the most versatile free patterns to crochet for men that you can find. In fact, you could even crochet one for yourself; then you two could be twins! Not all man crafts are strictly for men only.


Download your free copy of Man Crafts: 10 Free Patterns to Crochet for Men now!
Need Help Downloading?
AllFreeCrochet eBooks are free, downloadable crochet pattern collections all organized around a central theme. They are all PDF documents that can be downloaded off of our website, saved to your computer, and/or printed out for easy reference while crafting and crocheting.
If you are having trouble downloading our free eBooks, visit our FAQ page here: How to Download Our eBooks.
Sign Up for Our Free Newsletter
There are so many free patterns to crochet for men that get overlooked. We know it can sometimes be hard to find just the right thing to crochet for your man, which is why we've created this comprehensive collection of man crafts for you to choose from. From basic crochet scarf patterns, to sports-themed crocheted afghans, the options are endless. Lucky for you, we've gathered the best of the best for you to make. This collection of free patterns to crochet for men will definitely keep your hook busy until Father's Day, Christmas, or his birthday. Our latest eBook includes patterns for every crocheter, regardless of your skill level. Simply download your free copy of Man Crafts: 10 Free Patterns to Crochet for Men for instant access to these patterns and more. With your copy of the Man Crafts: 10 Free Patterns to Crochet for Men eBook, you can also subscribe to our Hooked on Crochet newsletter to become part of a fabulous and friendly crochet community. In subscribing to the newsletter you will receive:
New FREE patterns made available to you throughout the year.
Access to our free pattern library full of 1000's more free crochet patterns.
The opportunity to share ideas and help others in the crochet community.
Six weekly emails with free crochet patterns, tips, collection pages, videos and more.
Chances to win crochet books and products from our weekly giveaways and contests.
Once you subscribe to receive our newsletter, Hooked on Crochet, you will really see how neat it is to be part of the crochet community. If you've searched for crochet advice on how to organize your yarn, or how to change color, or even what kind of yarn to buy, let AllFreeCrochet.com be your one-stop shop. Our yarn blog, StitchandUnwind.com, is also a great resource for all your yarn needs. Our newsletter, blog, and free crochet patterns are absolutely free to the consumer and will blow your mind. Expand your crochet library collection and download this eBook for free today.



Download your free copy of Man Crafts: 10 Free Patterns to Crochet for Men now!

You can also download this book for FREE at Amazon.com and iTunes!
Download Man Crafts: 10 Free Patterns to Crochet for Men from Amazon.com (for Kindle readers)
Download Man Crafts: 10 Free Patterns to Crochet for Men from iTunes (for iPad readers)
Your Recently Viewed Projects
Join our community of 5 million crocheters! Right now!
Get free crochet patterns, exclusive partner offers, and more.
Thank You for Signing Up!
There was an issue signing you up. Please check your email address, and try again.