Summer Crochet Patterns: 16 Easy Summer Crochet Patterns
By: The Editors of AllFreeCrochet

Updated July 12, 2016
Summer Crochet Patterns: 16 Easy Summer Crochet Patterns
Summer is here! Summer is here! Or at least we're finally getting some warmer weather to lift our spirits. Once summer is on the horizon we'll begin to see green grass, blue skies and blooming flowers everywhere we look. What's even greater about the summer season is the fashion; the crocheted fashion! Summer crochet patterns are so fun to sport as you won't see many designs like the ones you have. If you create your own summer crochet patterns then you're sure to be the unique one out of your friends.
Here to help you out is this brand new eBook, Summer Crochet Patterns: 16 Easy Summer Crochet Patterns. When you're headed to the beach or pool you have to be sure you have all the essentials you need. From hot crochet patterns like DIY beach cover ups and crochet barefoot sandal patterns to DIY beach bags and other summer crochet ideas, we have it all. All the summer crochet patterns we've chosen for you are easy summer crochet patterns so you can have them just in time for your pool adventures or summer vacations. If you've ever found yourself staring in your closet trying to decide what clothes, sandals or beach bags to sport then you'll love the options we've provided, so let's take a look!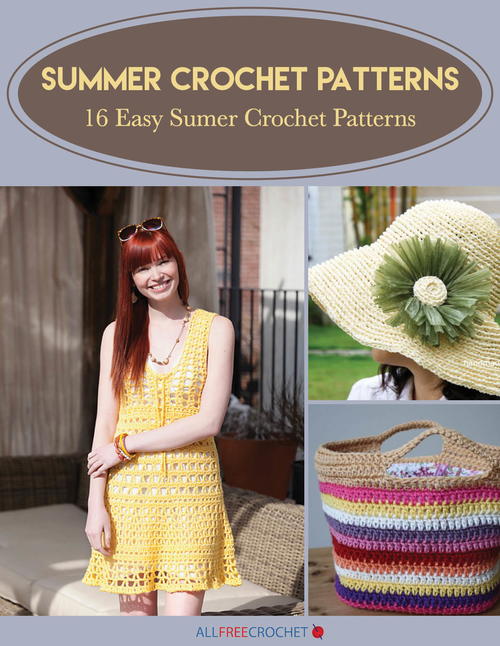 Download a copy of your free eBook, Summer Crochet Patterns: 16 Easy Summer Crochet Patterns!
Summer Crochet Patterns Table of Contents
Note from the Editor
Hey Yarnie,
Isn't it great to be a crochet addict? While we're constantly looking for fabulous crochet patterns for you, we also come across patterns we'd like to make ourselves. With summer on its way, we've been scouring the net trying to find some of the hottest patterns around…and we did!
From hats, to beach bags and sandals, we've found some of the cutest summer patterns we think you'll enjoy. We even found a few unique patterns that blew us away. If you like popsicles and hitting golf balls during the summer then stay tuned because this eBook has it all!
You can find more illustrated crochet stitches, patterns, tips, tutorials and videos for free at http://www.allfreecrochet.com.
Our eBooks, like all our crochet patterns, are absolutely FREE to members of our crochet community. Please feel free to share with family and friends and ask them to sign up at our website for our free e-mail newsletter.
Happy Hooking,
The Editors of All Free Crochet
What's Inside This Free eBook
DIY Beach Cover Ups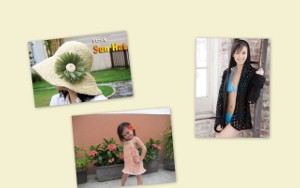 The Party By the Pool Cover Up is one of our favorites. You can be the newest trendsetter by wearing this cover up any way you wish. Keep it open to show off that skinny mini bikini or close the front with a tie. You can also wear it to work or a night out on the town with a cute top, a pair of slacks or a pencil skirt. This DIY beach cover up really is versatile to your liking.

The Child's Swim Suit Cover Up is a darling crochet design for those little divas in your life. She can wear this cover up while at the beach or walking the boardwalk. She'll love the way she looks in it, but it'll also help block the sun (with sun screen of course). Multiple crochet stitches are used for this easy summer crochet pattern, so get practicing.

Crochet Barefoot Sandal Patterns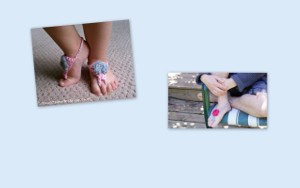 The Barefoot Sandals have become quite trendy just recently, so jump on the bandwagon and join in on the fashion fun! Dress up your feet with some easy summer crochet patterns like this one. This is a quick crochet design that can be worn in just minutes of making them.

The Toddler Barefoot Sandals are similar to the adult ones. If your kids don't like wearing shoes and socks around the house, but want to have a little fun, these barefoot sandals are great. Whip these up quickly and embellish them with flowers for girls or action figures for the boys.
DIY Beach Bags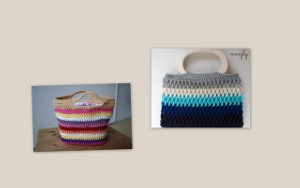 The All-Purpose Striped Basket is nice because it can be used for many things. Keep it in the house for storage purposes or bring it along to any destination you wish. The striped crochet design is a nice element that can be customized to suit your own color preference. This bag can be stiffened with fabric lining or starch softener so it's easier to hold your belongings.

The Deep Blue Sea Purse just screams "summer". The different shades of blue remind us of the water while the handles bring in the representation of the sand. This purse gives a few different options of what kind of purse you want your finished product to be: a clutch, a crocheted handle style bag or a wooden and plastic handle bag. You can even use bamboo handles to really get the feel of summer.
Summer Crochet Ideas
The Popsicle Snuggy is not one of those patterns that comes to mind when you think of summer. However, these might make really neat crochet beach patterns as it'll help keep the popsicle from dripping all over the place. Frozen treats are a must-have during the dog days of summer, but you might not necessarily like your fingers being frozen, too. This snuggy will help keep your fingers warm. Best of all, you can use leftover yarn to work it up.
The Gopher Golf Club Cover can be worked up for the men and the ladies. Help keep your clubs from getting super hot while sitting out in the sun with this cover. The crochet design can be made to fit a variety of driver sizes, which is great for the golfer in your life.
Get a sneak peek of this free summer crochet eBook below: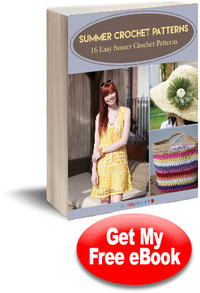 Download your free copy of Summer Crochet Patterns: 16 Easy Summer Crochet Patterns, now!
Need Help Downloading?
AllFreeCrochet eBooks are free, downloadable crochet pattern collections all organized around a central theme. They are all PDF documents that can be downloaded off of our website, saved to your computer, and/or printed out for easy reference while crafting and crocheting.
If you are having trouble downloading our free eBooks, visit our FAQ page here: How to Download Our eBooks.
Don't Miss Our Other Free eBooks
Be sure to check out our entire collection of free eBooks, where you will find all of the best downloadable crochet patterns. You'll find titles such as: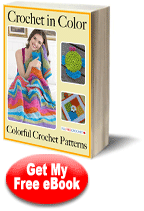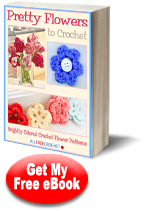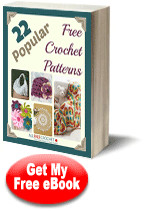 Sign Up for Our Free Newsletter
We have 16 summer crochet patterns available for you to choose from. From beachwear and cover ups, to footwear, bags and other summer crochet ideas, we're sure to have something you like. With all the easy summer crochet patterns to choose from, all you need to do is simply download your free copy of Summer Crochet Patterns: 16 Easy Summer Crochet Patterns for instant access to these patterns and more. With your copy of Summer Crochet Patterns: 16 Easy Summer Crochet Patterns, you can also subscribe to our Hooked on Crochet newsletter to become part of a fabulous and friendly crochet community. In subscribing to the newsletter you will receive:
New FREE patterns made available to you throughout the year.
Access to our free pattern library full of 1000's more free crochet patterns.
The opportunity to share ideas and help others in the crochet community.
Six weekly emails with free crochet patterns, tips, collection pages, videos and more.
Chances to win crochet books and products from our weekly giveaways and contests.

If you've been looking to spruce up your summer wardrobe then now is the time to do it. Show off your sense of fashion with your very own crochet designs. We make it easy on you with easy summer crochet patterns, so what are you waiting for? Be sure you subscribe to the newsletter for even more summer crochet patterns.
Once you subscribe to receive our newsletter, Hooked on Crochet, you will really see how neat it is to be part of the crochet community. If you've searched for summer crochet patterns, let AllFreeCrochet.com be your one-stop shop. Our yarn blog, StitchandUnwind.com, is also a great resource for all your yarn needs. Our newsletter, blog, and free crochet patterns are absolutely free to the consumer and will leave you wanting more. Expand your crochet library collection and download this eBook for free today.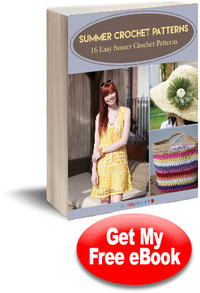 Download your free copy of Summer Crochet Patterns: 16 Easy Summer Crochet Patterns, now!
Images from other crochet readers

Tags / Related Topics
Your Recently Viewed Projects
Love these projects? Get MORE delivered to your Inbox – FREE Click Here!