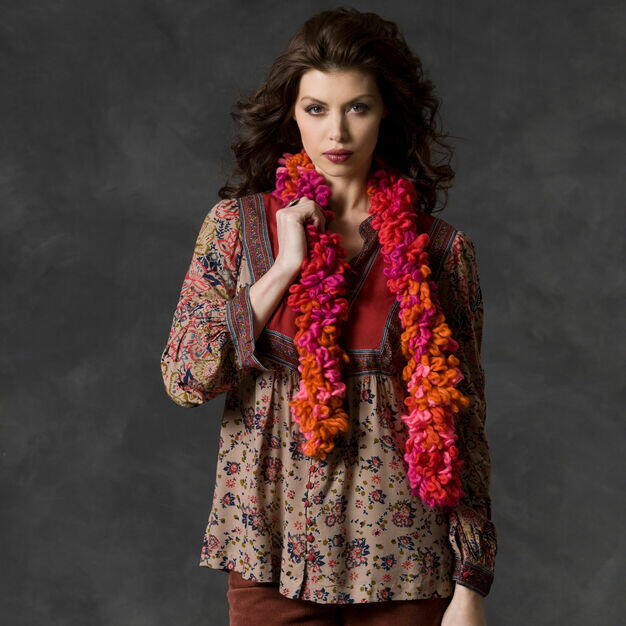 In A Jiffy Scarf
All you need is a few minutes to complete this In A Jiffy Scarf. Yes, you read that correctly- minutes, not hours! This super quick crochet scarf pattern doesn't even require crochet hooks. Use loopy Swerve yarn to make a boa-style scarf by simply making a chain with your hands. This is a great craft idea for all ages. If you've been trying to get your kids involved with crochet, this might be the perfect pattern to start with.

SUPPLIES: RED HEART® Boutique Swerve™: 1 ball 9946 Fizzy OR 9337 Galaxy.

Size: Scarf Measures 3" wide x 45" long.

Gauge: Gauge is not important for this project.

NOTE: This scarf is a chain that is made by hand rather than with a crochet hook. Use the palm of your hand to measure each chain so that the chains will be consistent in size.


SCARF:
Unwind the ball of yarn and lay it flat on the floor or table. Take one end of the yarn and match up with the opposite end, doubling your yarn.
Using your hand and doubled yarn, make a slip knot leaving a 5" tail and adjust loop to width of your hand.
Pull yarn through the loop to form a chain.
Using the palm of your hand to adjust the size of chain.
Continue to pull yarn through each chain formed until you reach 45". Tie off.
Knot each end three times and trim remaining yarn.

Read our full review of Red Heart Boutique Swerve yarn.

Check out Red Heart's company profile and other great patterns!
Your Recently Viewed Projects