21 Must-Make Free Dishcloth & Scrubbie Crochet Patterns
Find a crochet square or crochet spiral scrubbies pattern you'll love with these free designs.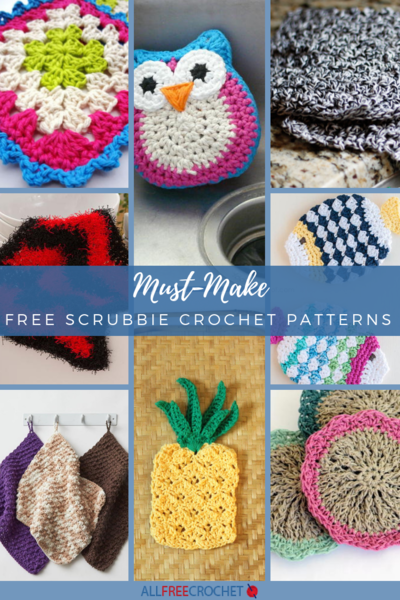 We all know a good kitchen is the center of a happy home; it's the place where you gather, hunt for snacks, and prepare meals for the people you love. For such a personal place, your essentials should be handmade, like these 21 Must-Make Free Dishcloth & Scrubbie Crochet Patterns.

Dish washing may not be the most fun part of being in the kitchen, but using spunky, colorful kitchen crafts will make you smile at the style in your sink.

From simple and traditional squares to funky crochet owl scrubbies, these free crochet patterns have every possible variation of one of the most necessary items in your kitchen. There are colorful options, like the Sweet Cupcake Dishcloth, or there are more subdued choices that will go with any kitchen color scheme, like the Grayscale Beginners Crochet Dishcloth.

This collection also includes circular dishcloth patterns, which have a mesmerizing spiral effect that is hard to capture in any other shape. For those dishcloth rebels out there, there are also several patterns that take crochet dishcloth patterns to a whole new level with food and animal shapes.

These crochet dishcloths all combine function with personality and can be used to clean your dishes, wipe down your countertops, or decorate your sink. With all these options, you can set the tone for your own kitchen theme.

Subscribe to the Hooked on Crochet newsletter for more great patterns!

PLUS! We have a video tutorial right below from our friend Heidi Gustad for a simple round crochet scrubbie. Take a look and learn it right now!
Table of Contents
How to Crochet a Dishcloth 101: Beginner Crochet Dishcloth Patterns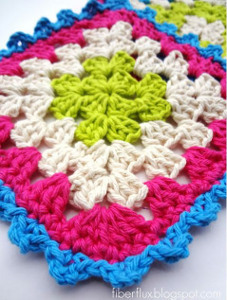 Learn how to crochet a beginner scrubbie with these simple patterns. Crochet dishcloth patterns like the ones collected here are one of the best ways to learn how to crochet.

Their shapes are simple and often involve only one type of stitch, so you'll be able to catch on in no time.

However, just because they're beginner crochet patterns doesn't mean that they aren't useful! Just look at how beautiful this Sweet Cupcake Dishcloth is!

This is no practice swatch that you'll just throw away later; instead, these will be useful kitchen items for many years to come.

Because they're usually quick and painless to whip up, they also make great homemade gifts, and you could easily make a set to bring to a housewarming party as a unique, heartfelt gesture.
 
The Classic Square: Easy Crochet Dishcloths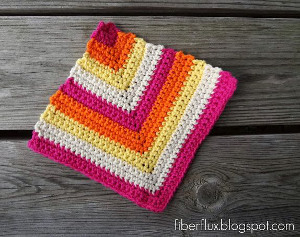 The traditional take on an easy crochet dishcloth can be a way to let your crochet skills shine. This collection offers endless variations of the classic square dishcloth.

It won't matter whether you are mixing up the colors with a rainbow of stripes like this Rainbow Sherbet Dishcloth or deciding to test out a new stitch type, like the Crinkle Stitch Crochet Dishcloth shown in the list below because they are both fun and funky.

Their tough, ribbed texture makes them great for getting rid of tricky stains. With such endless combinations of pattern and color, it makes sense to work up several, and they're such useful items that you won't be sorry to have a few extra around.
Round and Round: Circular Crochet Dishcloth Patterns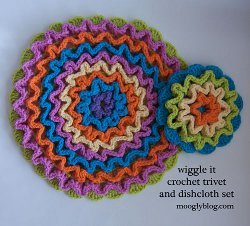 Circular crochet is a fun way to reinterpret a dishcloth crochet pattern. By giving it a nontraditional shape and interesting texture, it will no longer be just an ordinary rag laying around, but instead a decorative part of your kitchen.

Even better, a lot of these circular dishcloth patterns can double as coasters, so the time you spend on this project will be two for the price of one. For example, this Wiggly Trivet and Dishcloth Set provides you with a couple of projects in one.

Find a  crochet spiral scrubbies pattern you love with these pretty designs below. We think there's something for everyone who loves crocheting in the round.
Scrubbies with Style: Funky Crochet Dishcloth Patterns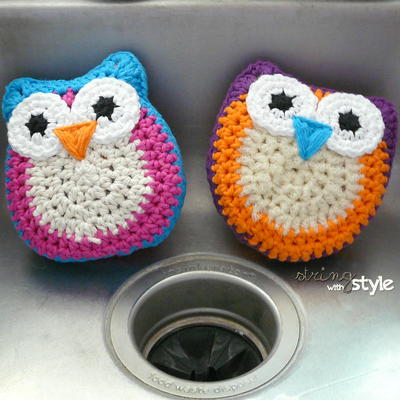 This collection of scrubbie patterns has so much personality, your kitchen will hardly be able to contain it. From owls, like these Owl Dish Scrubbies shown, to pineapples to ice cream, these little guys won't even look like tools for work, but their tough yarn quality lets them scrub with the best of them.

These out-of-the-box patterns will make your dishcloths a talking point and a constant reminder of how valuable your crochet hooks can be.

Even your kids might perk up at the chance to play in the sink with fish toys (and who really needs to tell them they're helping you clean, right?).
What's the best thing that happens in your kitchen?
Your Recently Viewed Projects
Join our community of 5 million crocheters! Right now!
Get free crochet patterns, exclusive partner offers, and more.
Thank You for Signing Up!
There was an issue signing you up. Please check your email address, and try again.