What Size is My Crochet Hook? How to Measure a Crochet Hook
No label on your hook? Learn how to determine crochet hook size with this guide! When you can size a crochet hook, you'll be better prepared for all things crochet!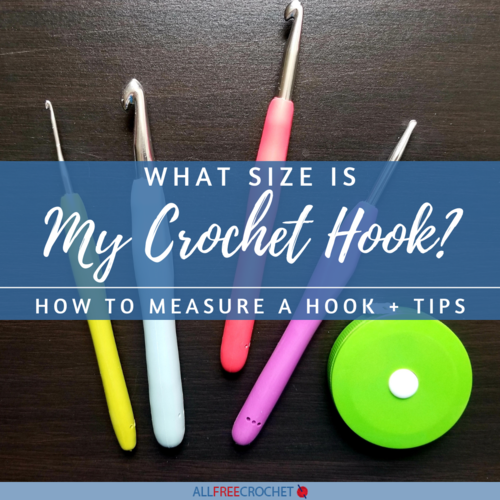 If you're lucky, your crochet hook is labeled with the size. However, sometimes they aren't. So, how do you determine crochet hook size? There are a few different ways.

We'll start with explaining the crochet hook sizes available and then answer the question, "What Size is My Crochet Hook?" that you may be asking. This guide will help you learn how to measure a crochet hook and more.

This page has a lot of helpful information about crochet hooks, including crochet hook size charts, information on ways to figure out the size you're working with, and resources for hooks that may help you with your crochet skills and knowledge.

If you are a beginner, then be sure to check out our incredibly helpful page, Crochet Hook Sizes: Choosing the Right Hook Size. It has everything (and we mean EVERYTHING) you need to know about hooks and how to choose the best one.

This page right here also has lots of information to help you but mostly it's going to assist you if you're working with an unlabeled crochet hook or if you're unsure of which crochet hook you need to buy for your next project.

Sign Up For More Free Content & Patterns >>>
 
Table of Contents
Crochet Hook Sizes Charts
Before we get to answering the question, know your hook options! Each crochet hook size chart below will help you learn what sizes are available to you as well as the conversions. Crochet hook sizes range by country and there are also a few different ways that they can be labeled.

For example, if you have a crochet hook that says 5mm, you can look at one of these charts and know that it's also referred to as a H/8 hook or size 6 hook, depending on where you live.

Right click and save the chart below or click to visit the page it is featured on, The Best Crochet Hook for Beginners, to learn more and download it there.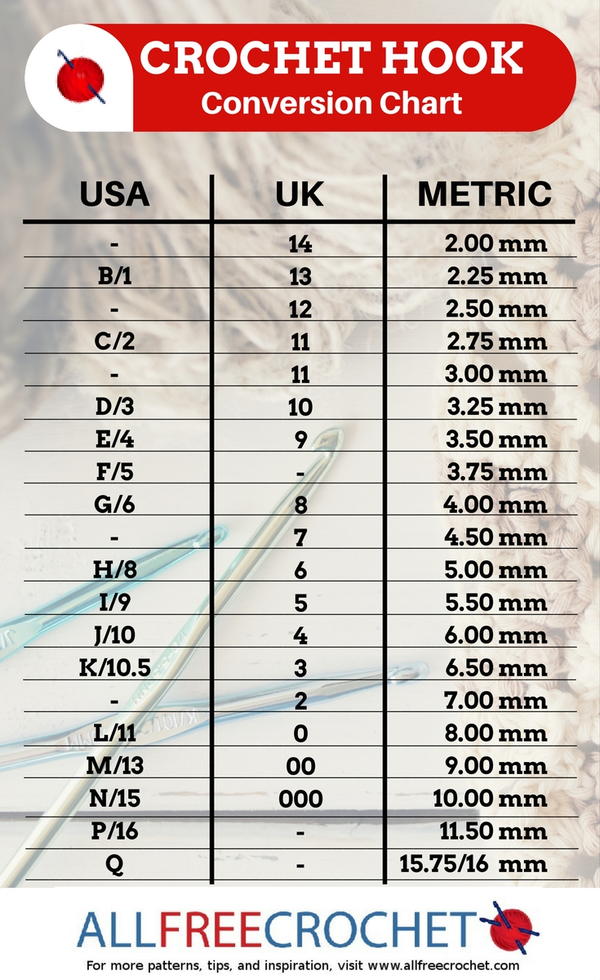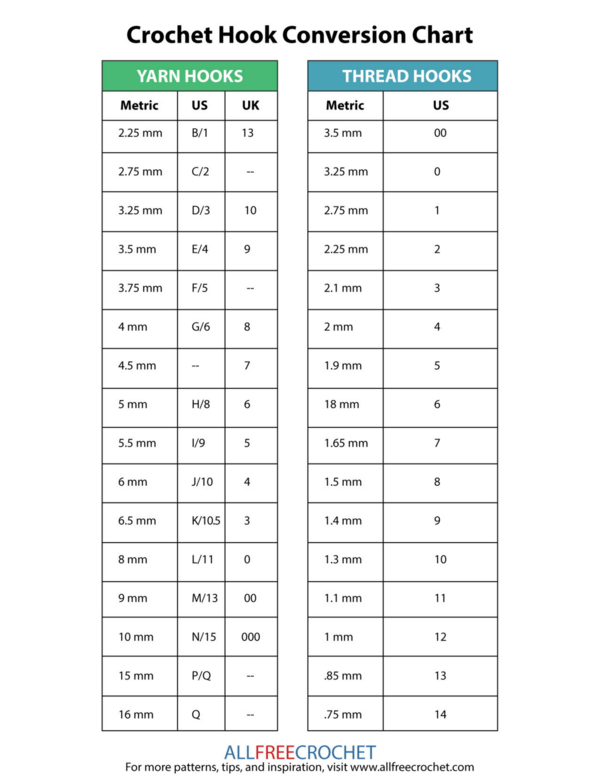 Using Tools to Find Hook Size
There are a few different options for figuring out the size of your crochet hook and determining what you need to do and use for your next crochet project.

You can use tools, such as the Susan Bates Knit Chek, which is a helpful accessory for both knit and crochet. This little plastic piece has holes that allow you to check your hook size. All you do is push it through the holes to find the one that fits best. Then read the size. You can also use this tool to check your gauge. Scroll past the picture below to learn more about gauge.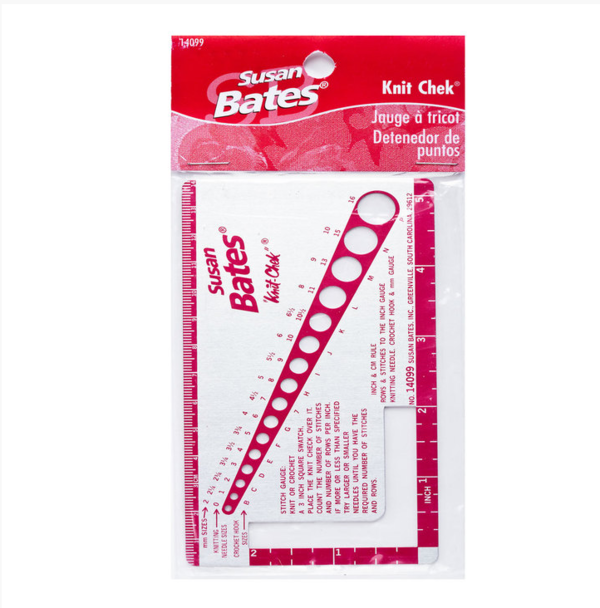 Using Gauge to Find Size
Since gauge and hook size go hand-in-hand for many crochet projects, you can create a gauge swatch with the hook you plan to use and measure that. Now, figuring out crochet gauge will not tell you exactly what size hook you're using but, if you have a yarn label that suggests a size and tells you the gauge, you can know if you're close once you create a swatch. Then you'll know if you have to go up or down a size for the project you're planning to make.

Red Heart has a great intro video for measuring crochet gauge:
You can also learn more about crochet gauge and how to make a swatch and measure it by checking out our page: What is Gauge in Crochet?
By Hand: How to Measure a Crochet Hook
Now, learn how to measure a crochet hook without a gauge. If you don't have the tools and don't want to make a swatch just yet, here is the easiest way to measure a crochet hook by hand. All you need to size a crochet hook is the crochet hook in question and a measuring tape (or ruler) with millimeters.

First, let's go over crochet hooks and what you'll see. Many crochet hooks do have the size marked on the hook somewhere. In the image below, you can see that the first section on the left has crochet hooks with gripping rubber. The size is located at the bottom (in this case, shown in millimeters).

Aluminum crochet hooks without grips, like those shown in the middle of the image, show it on the side, usually in the middle. Usually, it will have both the US measurement name and the millimeters. On the right, there are some wooden hooks with the label on the side as well.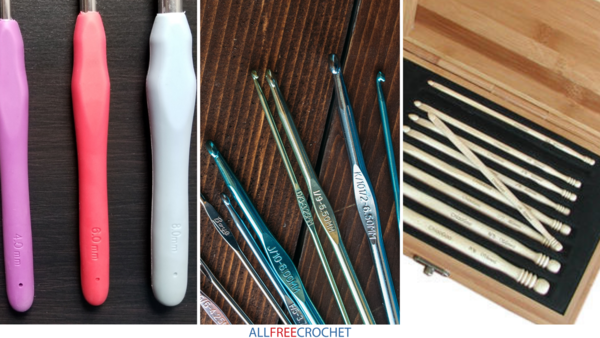 However, as you may be experiencing right now, some crochet hooks are not labeled. If you throw out the packaging and cannot recall, then that's probably what led you here!

As you can see in the image below, there are three different types of crochet hooks that are not labeled. Most commonly, it will be plastic or polyurethane or nice quality wood crochet hooks that do not have the measurement marked. But don't worry, because they are easy to measure! Scroll pas the image to learn how.
So, how to determine crochet hook size? Take a look at your crochet hook. Below the hook and the tapered angles, you'll see a wider part that's perfectly circular. The hook may change shape below that for gripping, so you want to make sure that you're measuring in between those two parts of your hook.

See the arrow in the image below to see where the best place to measure on these hooks would be: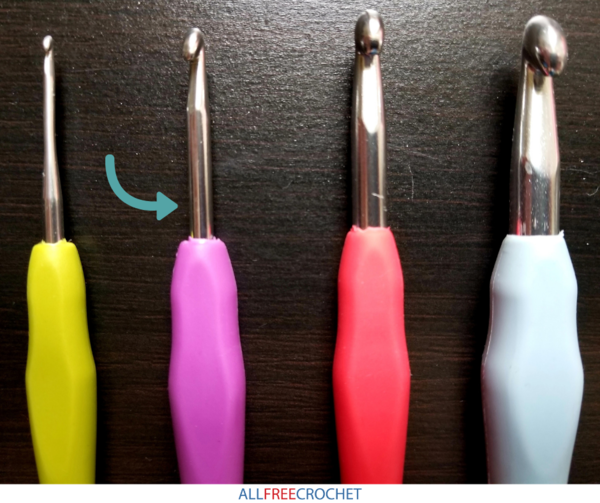 Take your tape measure or ruler and set the 0 edge line at the left side of the hook and count the millimeters to the other side. Whatever number it is will denote the size.

NOTE: You are not measuring the circumference, you are measuring the diameter. Across, not around.

As you can see in the image below, the hook being measured is 2mm. Looking at the chart shown above, 2mm is equivalent to US 4.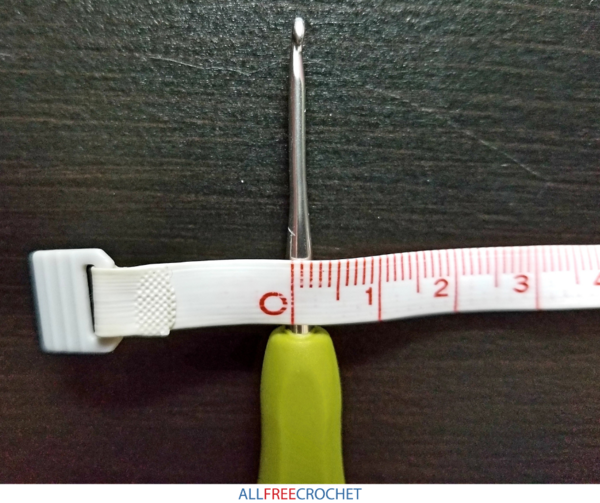 As you can see in the image below, the hook being measured is 8mm. Looking at the chart shown above, 8mm is equivalent to US L/11 and UK 0.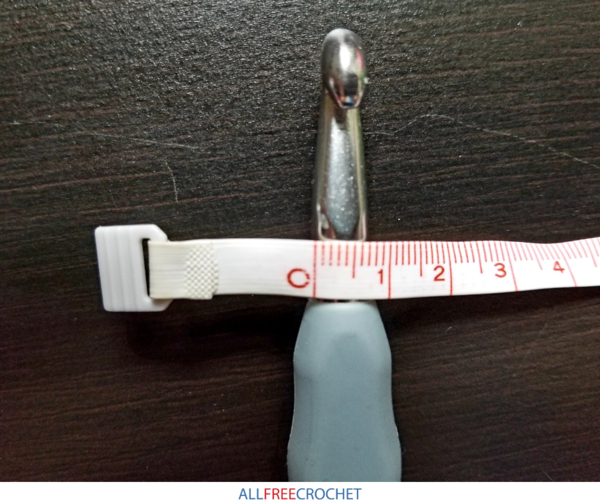 Krista Childers is the Senior Content Editor for AllFreeCrochet. She has a passion for creative writing and trying every craft at least once. Find more of her work here:Krista Childers
Your Recently Viewed Projects
Join our community of 5 million crocheters! Right now!
Get free crochet patterns, exclusive partner offers, and more.
Thank You for Signing Up!
There was an issue signing you up. Please check your email address, and try again.