11 Granny Square Crochet Patterns for Square Crochet Projects
By: Nicola Trumbull, editor for AllFreeCrochetAfghanPatterns
11 Granny Square Crochet Patterns for Square Crochet Projects eBook
If you crochet, then you are probably familiar with the classic granny square. We've teamed up with our friends at AllFreeCrochetAfghanPatterns and crochet designers to make the 11 Granny Square Crochet Patterns for Square Crochet Projects eBook just for you. We've combined our love for granny squares and crochet projects into the ultimate guide for crocheting granny squares. If you don't know how to crochet granny squares yet, then this is a great place to learn!
Obviously, granny squares are used to make granny square afghans. Many designers have come up with unique versions of the classic square and we've included some in this eBook. Full of possibilities, this eBook will show you how to crochet ponchos, granny square purses purses, and even granny square jewelry. As this traditional form of crocheting grows more and more popular, crocheting has adopted the granny square into a variety of fresh forms.
Download your copy of 11 Granny Square Crochet Patterns for Square Crochet Projects eBook today.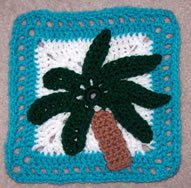 Palm Tree Square - Summer breezes, lazy beach days, and swaying palm trees are what this granny square is all about. Learn how to crochet a basic square and then attach the palms with a yarn needle after the square is finished. This technique creates a nice three dimensional look while still creating a wonderful crochet square that will bring the beach to you.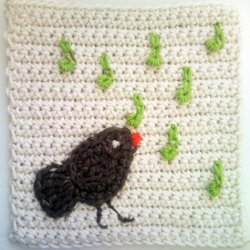 Song Bird Square – This basic granny square is adorned with a cute little crochet bird and embroidered music notes. I can't think of a more springy crochet square! Picture this granny square with little blue or pink birds for a crochet baby blanket. Birds are a popular home décor trend and this granny square will help you keep up with the trends. Pair this square with flower crochet squares or even the Pretty Butterfly Square and you'll have a crocheted afghan that just seems to "sing" spring.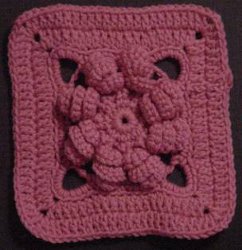 Corkscrew Square – Speaking of flowers, this crochet square looks just like a flower. With a unique and puffy flower crochet center, this crochet granny square has many possibilities. It's a six or seven inch square that can help make your next crochet project extra special. Use this granny square to make a textured granny square afghan or crochet baby blanket. Babies love to try touching new textures and this crochet square can help introduce a child to soft and puffy textures.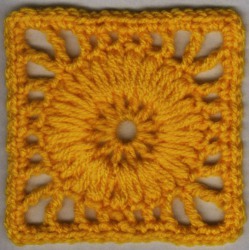 Wagon Wheel Puff Motif – This granny square gets its name from its wheel like center. With a circular center and a puffy texture, this granny square pattern has many potential uses. Make a fun crochet purse with a fabric lining or make light crochet throw. Crochet many of these 10 centimeter squares in different colors and connect them to create a unique crocheted afghan.
Pretty Butterfly Square – Spring is here! This butterfly literally leaps off the square and will light up a room with its pretty wings. I suggest using variegated yarn to create spontaneous and beautiful wing patterns for this granny square. Little girls will love a granny square afghan made from these squares and flower crochet squares combined. Butterflies are always popular and with this granny square pattern you will learn how to crochet your very own!
Download your copy of 11 Granny Square Crochet Patterns for Square Crochet Projects eBook today.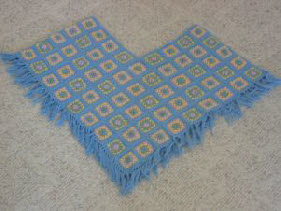 Granny Square Poncho – Check out this adorable poncho! Made entirely from crochet granny squares, this poncho is for cute little girls. In the in-between seasons, it's hard to know just kids should wear since it's sometimes too warm or too cold for sweaters or t-shirts. This poncho offers a nice compromise. By using crochet granny squares to create this poncho, your child will be comfortable and cozy at the same time. Complete with a cute fringe, this granny square poncho is perfect for chilly spring and autumn days.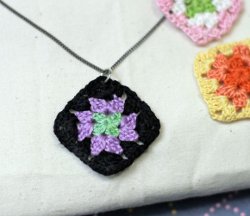 Tiny Granny Square Necklace – How cute is this? Super cute! For those who are obsessed with crochet and love to crochet granny squares, crochet this granny square necklace. Simple and dainty, you'll find yourself making your one of a kind fashion statement and making some for your crocheting friends too! Use the basic crochet granny square patterns in this eBook to make a tiny version using leftover yarn or embroidery thread. If you're feeling adventurous, you can try other styles of granny squares too.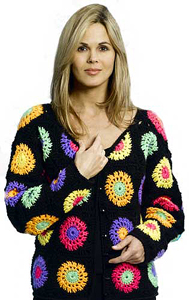 Granny Square Jacket – A fun and funky granny square jacket will keep you nice and warm. Using bright yarn and a black "background," these crochet squares really pop. For something a little different, picture the granny squares in neutral tones with light accent colors. This crochet jacket has a lot of potential and this crochet pattern can be made with other granny squares as well. You'll love to cozy up with this jacket during the spring and fall seasons.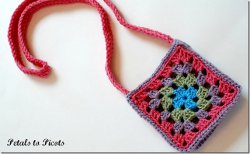 Granny Square Purse Pattern – Once you see how easy this crochet pattern is, you'll want to make this little granny square purse for every little girl you know! Just crochet two basic granny squares and connect them with this simple purse handle and you'll have an easy crochet gift for little girls. Make this pattern for grown-ups by making the purse strap extra-long so that the purse becomes an over-the-shoulder bag.
Download your copy of 11 Granny Square Crochet Patterns for Square Crochet Projects eBook today.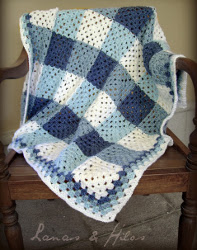 Lakeshore Plaid Blanket – Alright, I know that joining granny squares together can be a big pain. But with this crochet blanket, you don't have to worry! All of these squares are joined as you go for easy crocheting. When you're done, you'll have a convincing plaid or gingham crochet blanket. This pattern includes other color schemes to crochet and you will absolutely love the results. Picture this granny square crochet blanket draped over your living room chair – now get started crocheting this pattern by downloading this free eBook!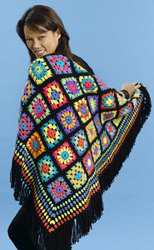 Brightly Colored Throw – Everyone's favorite: the classic granny square afghan. I have one just like this at my grandparents' cottage from way back when. Crochet this timeless granny square afghan with the black edges to make the bright colors truly pop. With this granny square pattern, you'll learn how to join granny squares together and how to add fringe to your finished crochet throw.
Download your copy of 11 Granny Square Crochet Patterns for Square Crochet Projects eBook today.
With your free copy of 11 Granny Square Crochet Patterns for Square Crochet Projects eBook, you can also subscribe to our Laying It All Out newsletter to become part of a fabulous and friendly crochet community. In subscribing to the newsletter you will receive:

• Four weekly emails with free crochet patterns, tips, collection pages, videos and more.
• New FREE crochet afghan patterns made available to you throughout the year.
• Access to our free crochet afghan pattern library full of 1000's more free crochet patterns.
• The opportunity to share ideas and help others in the crochet community.

So join in on the fun and download 11 Granny Square Crochet Patterns for Square Crochet Projects eBook now, it's free! While you're at it, be sure you subscribe to receive our newsletter Laying It All Out, too. Don't wait any longer, all the free crochet afghan patterns, granny square crochet patterns, baby blanket patterns, and more are right at your fingertips. These free crochet patterns will not only make you a better crocheter but they will bring inspiration for future projects!
Your Recently Viewed Projects
Something worth saving?
SAVE all your favorite patterns
ADD personal notes
QUICKLY reference your patterns