11 Crochet Baby Cocoon Patterns
By: The Editors at allfreecrochet.com

Updated November 21, 2016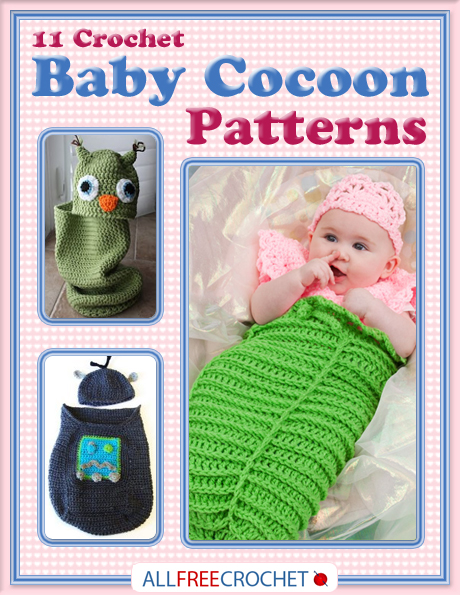 Did you know that a lot of newborns arrive during the month of September? Couples enjoy themselves more around the happy holidays like Christmas and New Year's, hence the September popularity of baby of arrivals. Other popular months are June, July and August. Many people enjoy having summer babies so they can plan birthday parties outdoors and enjoy the warm weather. With expectant parents come baby showers!
We have put together a fabulous collection of cocoon patterns just for you! Learn how to crochet some of the cutest and most unexpected patterns. I'm telling, you really can get creative when it comes to designing your own patterns. Try not to follow the paths of others by following the crochet pattern to a tee. Change it up a bit and add your own personality into it and come up with something fabulous. You can even get some great baby photography out of some of them once that little peanut makes his arrival. If you don't want to miss out on some very unique and original crochet patterns then you must download this eBook for free right now! You'll love every pattern you find. Whether you or someone you know is having a boy or a girl we have something perfect for that cute little bundle of joy.
Download your free copy of 11 Crochet Baby Cocoon Patterns today!
Baby Cocoon Patterns Table of Contents:

What's Inside the Crochet Baby Cocoon Patterns Free eBook
Crochet Patterns: Baby Cocoon Sets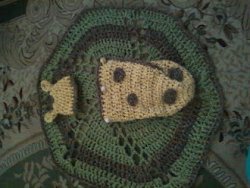 When your baby is first born, you want to keep every bit of him or her nice and warm, including the most important part—the head. These sets make great baby shower gifts to give. The Giraffe Baby Cocoon set (shown) is one that all new moms will just adore. The crochet hat will keep the baby nice and warm when he's awake, but then you can swaddle him in his new cocoon for nap time. Once you work up the crochet cocoon and hat, sew on the individual spots to create the most adorable little giraffe. Babies need a lot of things in the first few months, so why not go with a set?
Crochet Patterns: Baby Cocoon Animals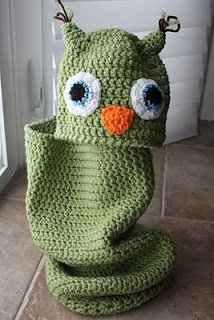 Have you seen a cocoon for your baby that looks like an animal? These free patterns are so neat and fairly new; I haven't seen them around much, yet. The Owl Baby Cocoon (at right) is one of the cutest designs ever, and capitalizes on the beloved crochet owl trend. This cute little owl is worked in rounds, making sure that at the end of every round it is slip stitched closed throughout the entire crochet pattern. What's great about these baby crochet patterns is that you can choose any colors you wish. If you don't know the gender of the baby, then neutral colors like green and yellow are the way to go. Otherwise, this Owl Cocoon would look great in either pink or blue. You can even customize the look and add a little more flare to the hat and add pom poms to the little ears for a fun look.
Crochet Patterns: Unexpected Baby Cocoon Designs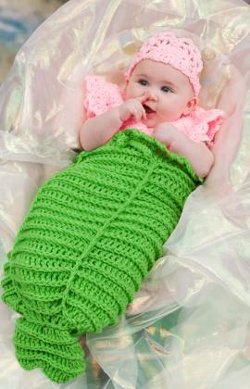 What's your favorite item to crochet for baby? If we haven't convinced you to make one of these super cute crochet baby cocoons yet, then just wait a bit longer to see what's in store for you next. Expect the unexpected when it comes to designing your own patterns. This fabulous Mermaid Cocoon (shown at the left) is one of my favorites. Dress your baby girl in this perfect pattern and even use it as a photography prop for her first photos. Mermaid lapghans are all the rage right now, so you can make one for yourself and match—having a "mini me" is one of the most fun parts of being a new mommy. How do you crochet something like this? Well, this pattern is worked in rounds using the half double crochet stitch and the back post single crochet stitch. Each piece is worked separately while the mermaid top and tiara are actually worked in rows!
Crochet Patterns: Let's Play Dressup Cocoons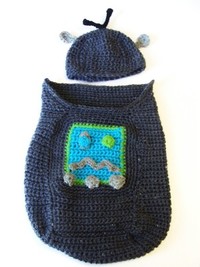 Do you want some other dress up ideas for your darling little boy or girl? There are also fun costume cocoons you can crochet for baby, like a Sweet Princess Cocoon-ghan or a fun and futuristic Robot Cocoon and Hat (right) that features a front panel and a tiny baby hat with little antennae. Perfect for Halloween costumes or just as photo props, these fantastic crochet cocoons are the perfect gift for baby. These patterns are great ways to establish how unique and special your little one is (and how adorable they are when you go all-out on their outfits!). Plus, these are comfy—dressing up your baby won't be a fight because they'll love snuggling up in the warm blanket feeling of a cocoon.


Note from the Editor
Dear Crocheter,
Has baby fever hit you yet? It seems that more and more women are announcing they're having babies. Either that or they're due this summer. And what a perfect gift to give that expectant mother is a baby cocoon to swaddle baby to sleep. Baby swaddlers or cocoons are great to keep baby warm and cozy during any season. These cocoons make baby feel safe, and they'll be sleeping in your arms in no time. We have put together some of the finest patterns for baby cocoons. Make one or make them all. Your little peanut or someone else's peanut will love being wrapped in these cocoons!
You can find more illustrated crochet stitches, patterns, tips, tutorials and videos for free at http://www.allfreecrochet.com.
Our eBooks, like all our crochet patterns, are absolutely FREE to members of our crochet community. Please feel free to share with family and friends and ask them to sign up at our website for our free e-mail newsletter.
Happy Hooking,
The Editors of All Free Crochet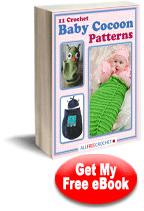 ---
Download your free copy of Crochet Baby Cocoon Patterns now!
---
Don't Miss Our Other Free eBooks
Be sure to check out our entire collection of free eBooks, where you will find all of the best downloadable crochet patterns. You'll find titles such as: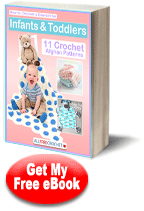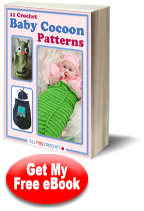 ---
Download your copy of 11 Crochet Baby Cocoon Patterns now!
---
Need Help Downloading?
AllFreeCrochet eBooks are free, downloadable crochet pattern collections all organized around a central theme. They are all PDF documents that can be downloaded off of our website, saved to your computer , and/or printed out for easy reference while crafting and crocheting.
If you are having trouble downloading our free eBooks, visit our FAQ page here: How to Download Our eBooks.
Sign Up for Our Free Newsletter
With your copy of this eBook, you can also subscribe to our Hooked on Crochet newsletter to become part of a fabulous and friendly crochet community. In subscribing to the newsletter you will receive:
New FREE patterns made available to you throughout the year.
Access to our free pattern library full of 1000's more free crochet patterns.
The opportunity to share ideas and help others in the crochet community.
Six weekly emails with free crochet patterns, tips, collection pages, videos and more.
Chances to win crochet books and products from our weekly giveaways and contests.

With each and every baby being unique and having their own personality, they deserve something special, just for them. These handmade crochet baby patterns are the perfect thing to express just how special baby is. I know that you will truly enjoy this eBook from start to finish. Once you subscribe to receive our newsletter, Hooked on Crochet, you will really see how neat it is to be part of the crochet community. Our newsletter and free crochet patterns are absolutely free to the consumer and will blow your mind. Become a happy hooker today and download this eBook for free. You should also take a peek at our yarn blog, Stitch and Unwind, for great crochet, knitting, and afghan patterns galore! You won't be disappointed.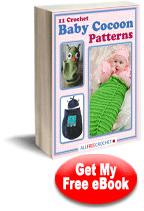 ---
Download your copy of Crochet Baby Cocoon Patterns today!
---
If you LOVE these patterns and want more ideas for your baby, check out some of these free baby crochet patterns:
What other styles do you like to use to dress your baby up?
Images from other crochet readers

Tags / Related Topics
Your Recently Viewed Projects
Love these projects? Get MORE delivered to your Inbox – FREE Click Here!